The other day I was thinking about all of the black comedies that were on television when I was growing up. To some extent, The WB was built on the backs of these shows. The only line-ups that could contend with NBC's Must See TV was over on FOX with Living Single, Martin, and New York Undercover. Even TGIF's block had a black show (Hanging with Mr. Cooper) sidled up to Full House and Step by Step. I never had to think to myself, "where are the people that look like me?" because they were there, in abundance, everywhere I looked. This was a time before there were 300 channels and I had about 7 channels in my rotation. There were even shows like Good Times, 227, The Cosby Show, A Different World, and The Jeffersons in syndication so it was obvious that there had been black people on television for a minute. Then it sort of tapered off. We still had Girlfriends, The Parkers, One on One, The Bernie Mac Show, That's So Raven, and a couple others. Then there were the few. Then it sort of just stopped. Keep in mind, I'm not that old so these are only 90s shows I legitimately remember watching during their original runs. I mean, my parents were in high school when The Cosby Show started airing so shows from the late 80s that snuck into the early 90s didn't really make an impact on me because I was either not alive or but a wee babe. I apologize for not being older than I am, it is my greatest strength and weakness.
But back to the point: there were SO MANY. Take a look at this list of shows I didn't include that you all are going to yell at me for not including: In the House, Malcolm and Eddie, In Living Color, Family Matters, Hanging with Mr. Cooper, The Steve Harvey Show, and The Parent 'Hood. And that's still not all of them! On to the list!
---
10. The Wayans Bros.
1995-1999 The WB
Did you know The Wayans Bros. was the first show The WB ever aired? This was back in the days when if you were a truly successful comedic act, you'd probably end up having a show with your name on it. The brothers were coming off a successful stint on In Living Color and this show helped launch them into a movie career which eventually brought us the Scary Movie franchise and White Chicks. Not to mention all the catchphrases John Whitherspoon as Pops (which is the character he plays in basically everything) gave us. The show capitalized on Shawn's ability to effectively straight man the over-the-top physical comedy of Marlon and nothing stands the test of time better than good physical comedy.
---
 9. Kenan and Kel
1996-2000 Nickelodeon
The show was created by Kim Bass who co-created Sister, Sister and starred All That cast members Kenan Thompson and Kel Mitchell. This was one of the shows meant for kids that I remember my mom also watched; no one could talk about orange soda for years without her breaking into Kel's orange soda jingle. Thompson is now a cast member on Saturday Night Live.
---
 8. The Famous Jett Jackson
1998-2001 Disney
I think this show was single-handedly responsible for the uptick in black preteens and teenagers wearing colored contacts because of Lee Thompson Young's hazel eyes. He pretty much invented the drop head slightly, raise eyebrows thing that's come to be a staple in every Disney star's repertoire. He also raised one eyebrow a lot and this was slightly before I got super into The Rock and "The People's" everything. The more I think about it, the more I'm concerned my gender identity might be Jett Jackson? He went on to play Detective Frost in our favorite lesbian baity television program, Rizzoli and Isles before his death in 2013.
---
7. Smart Guy
1997-1999 The WB
T.J. Henderson (played by Tia and Tamera Mowry's younger brother, Tahj) was a cute chump of a kid and tiny genius and his sister was a fellow smarty pants and women's rights activist so what was there not to like? (answer: below) This show was almost immediately airing on Disney Channel after it got canceled so it was a constant presence in my life for about five years. I would like to state for the official record that I was never on board with the Mo and Yvette sexual tension and like to believe she went on to fight the good fight of bisexuality once she got to college.
---
 6. The Jamie Foxx Show
1996-2001 The WB
I miss a time where a show could spend four minutes just to have a dance-off between two characters. This series was powered by the constant face-offs between Jamie and bougie co-worker Braxton escalating the light skin vs. dark skin battle to levels never before seen in the black community. The show made it damn near socially acceptable to put your hand in someone's face while making the noise of a braking car. It also made 'broham' a thing people said which was great. Jamie Foxx is obviously insanely talented and likable and this show proved it time and time again.
---
5. Moesha
1996-2001 UPN
This show was huge. They would bring on whomever they damn well pleased regardless of whether they could act or not. Ginuwine! Master P! All of Dru Hill! It also got DARK. There was some real shit that happened on the show. What I remember most was not liking Q and thinking Frank was corny. Let's all fondly recall the time before Ray-J was a skeezeball.
---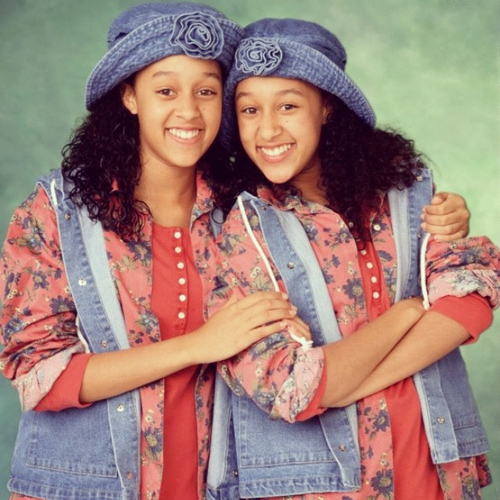 4. Sister, Sister
1994-1999 ABC and The WB
This show began with a dude agreeing to let two STRANGERS move into his house, let's never forget that. This show also survived the twins graduating and going to college which was truly a feat. It was, in my opinion, star studded: Marques Houston, Gabrielle Union, Brittany Murphy, Jackée Harry, and everyone's favorite foreverteen, Bianca Lawson. You couldn't be in a bad mood while watching Sister, Sister.
---
3. Living Single
1993-1998 FOX
Living Single was the original Friends. The Brooklyn sextet showcased young black people in their 20s with a variety of jobs and outlooks on life. It often found Queen Latifah in tank tops as her character Khadijah and Erika Alexander's Maxine eating leftovers like a boss. That cast truly seemed to enjoy each other and it had one of the dopest theme songs of all time. I'd like that song to be played at my funeral while all my friends diddy bop, holding back tears.
---
2. Martin
1992-1997 Fox
This show was IT. It was The Thing. It still continues to be V. Important. "Damn, Gina" has even made a resurgence in popular culture despite that not being a catchphrase? We stuck with this show through everything: the weird cartoon head sequence, the on set controversies, Martin's weird obsession with "being a man." This show scarred me as a child because I was very into taekwondo and my family members called me Dragonfly Jones which I thought was mean and cried about publicly on one occasion. Martin Lawrence played many other roles on the show, the most memorable being Jerome and Sheneneh. Other characters worth remembering fondly are Bruh Man and Hustle Man (Tracy Morgan).
---
1. Fresh Prince of Bel-Air
1990-1996 NBC
Has anyone in the history of everdom heard someone say they don't like this show? It's the most universally loved show of all time, point blank, period. The first time I came to LA, the only place I wanted to see was Bel-Air. The bungee jump proposal is the funniest most heartbreaking scene of all time. R.I.P. Trevor. Will Smith is our nation's greatest treasure.