CHRIS PUREKA TOUR DIARY
Audiostraddle is going on the road with the amazingly talented singer-songwriter Chris Pureka! Photographer and first-time Autostraddle contributor Elizabeth will be reporting from Chris' tour through California, using her backstage pass to give us an exclusive  behind-the-scenes look at Chris' life on the road, which is sure to include plenty of anecdotes, interviews and candid moments. The tour is in support of Chris' new album, How I Learned To See In The Dark, which according to our Record Store Day feature, many of you already own and love.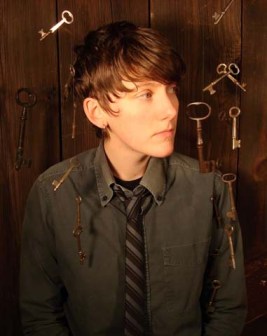 We're inviting you along for the ride. We're offering three readers the chance to meet Chris Pureka and win a double pass to one of the Californian shows.
To enter, you need to:
1. Check out the tour dates below and see which one you can attend.
Wed 19/05 – San Francisco, Slims
Thurs 20/05 – Santa Cruz, The Catalyst
Sat 22/05 – Los Angeles, The Mint
2. Email music[at]autostraddle[dot]com with one or more questions you'd like us to ask Chris while she's on tour. The person with the most interesting question/s wins. This comp will be drawn Sunday 5/16 @ 12pm, so get in quick! Don't forget to tell us which show you want to attend.
3. Don't forget to tell us which show you want to attend.
If you don't live in any of those Californian cities, don't sweat. Chris is doing an extensive US tour and you can study the full schedule here.
3. Follow us on Twitter (@audiostraddle and/or @autostraddle).
LADY SOVEREIGN COMES OUT
Finally a musician comes out who we've all heard of / isn't a country music star. British rapper Lady Sovereign has opened up about her sexuality and personal life, two topics she's quite famously avoided discussing since the beginning of her career. In the upcoming issue of Diva Magazine, Lady Sov says,
"Magazines would always ask about it but [questions about my sexuality] would get stopped by my publicists. It was my choice, too, because I was a bit worried about it but now I don't really give a shit. You can't hide away forever. It's just stupid and now I've come out I feel a lot more comfortable with myself. But it was a bit scary back then because some people do have horrible opinions."
That's true. Because we were one of those magazines when our interview with Lady Sov was canceled last year on account of our sexuality. It was awesome.
LILITH FAIR COMING DOWN UNDER
Some good news for our Aussie readers. Earlier this week Defamer Australia reported that Lilith Fair is coming to Australia! Probably. It'll be interesting to see which acts from the USA Lilith Fair tour will make the long trek down under, if any. But we can't imagine the festival going ahead without Missy Higgins taking a place at the top of a bill.
NEWSOM ON "ARTY SPICE"
Virtuoso harpist, songwriter and indie darling Joanna Newsom told the Guardian what she really thinks about Lady Gaga and Madonna, and you probably won't like it.
"I'm mystified by the laziness of people looking at how she (Gaga) presents herself and somehow assuming that implies there's a high level of intelligence in the songwriting. Her approach to image is really interesting, but you listen to the music and you just hear glow sticks. Smart outlets for musical journalism give her all this credit, like she's the new Madonna… Although I'm coming from a perspective of also thinking Madonna is not great at all. I'm like, fair enough: she is the new Madonna, but Madonna's a dumbass!"
Joanna later emailed the Guardian to backpedal clarify and just ended up calling Gaga "Arty Spice."
NEW TRACK FROM M.I.A
M.I.A has premiered a new track, "XXXO", on Radio 1. NME observes that the song is a comment on relationships in a high-tech world, with the artist using text-speak for lyrics and name-dropping Twitter and iPhones. What do you think?
CHERRYBOMB NYC
I wish I lived in New York City, 'cause if I did then on Friday night (May 14) I'd be able to go to Crash Mansion to see Cherrybomb, a night of awesome female-fronted bands including People You Know, AwShockKiss, PURRR and Audiostraddle favourtites Hunter Valentine. I recommend it to anyone who lives nearby, it'll be a killer night. If you don't live in the area either then check out the links anyway, you might just find your next obsession.
SIA TWEETS
Wonderfully talented singer-songwriter Sia has spoken out about fans who can't respect boundaries. Through a series of tweets, Sia upset a few people when she warned her fans not to expect any more from her than great music and performances. But that's fair enough, srsly.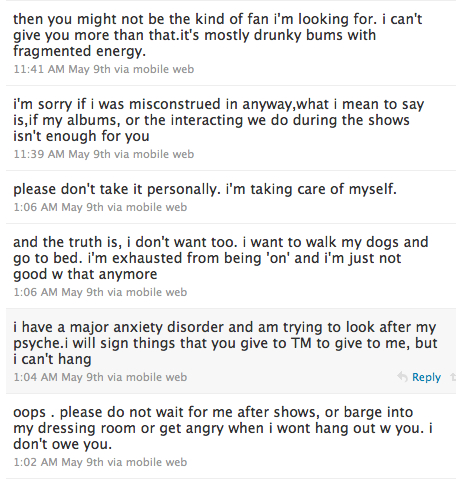 THE BLACK KEYS
US blues rockers The Black Keys' long-awaited album, Brothers, is now streaming on NME. UK readers can hear full tracks, everyone else gets 30 seconds.
NEW FROM LILO
Remember when we analysed Lindsay Lohan's first single and ode to SamRo, "Stuck"? Now two more new Lilo tracks have appeared on YouTube. The first is "Can't Stop, Won't Stop," a Duff-esq sounding track that has nice hook but sadly uses male pronouns. And there's also "I Wanna Be Bad," which I hope Lilo throws on the cutting room floor.
NEW VIDEO FROM BERTIE BLACKMAN
Right now I'm loving "Peek-A-Boo", the new single and music video from Australian singer-songwriter Bertie Blackman, whose music has recently featured on Gossip Girl. "Peek-A-Boo" is a cover of Siouxsie and the Banshees 1988 single, check it out –
+
NEW VIDEO FROM KATIE MELUA
Hugely successful and probs not-so-straight British singer-songwriter Katie Melua is ready to release her fourth album, The House. Her music wasn't my jam on first listen, but now I'm finding quite lovely. Maybe you will too. Check out the video for her first single, "The Flood," below.