Hey it's Mother's Day! This celebration has turned into another one of those fake holidays that make Hallmark shiver with anticipation. But it's happening whether we like it or not, so Autostraddle is here to help you celebrate, without cheesy cards or flowers.
Everyone has a mom, and some people have gay moms. There are a bunch of lesbian moms in the world, actually! Some of our favorites include our Executive Editor Laneia; Vikki from UpPoppedAFox; Alice Walker, feminist and author of The Color Purple; our Editor-in-Chief Riese's mom; and Heather with her two Mommies! SO MANY LESBIAN MOMS.
There are also a lot of famous people out there with gay moms, and we're willing to bet you didn't know about a lot of them. So here's a list for you! Happy Mother's Day!
---
+
Ally Sheedy
Sure, you wanted to eat her sammich in The Breakfast Club, but it's Sheedy's Mama, Charlotte, who's as gay as the day is long. Would you like to ponder the idea of the gay gene now? Do you have some feelings about lineage? Me too.
Dorothy Dandridge
Dorothy Dandridge! First African-American woman to be nominated for an Oscar and all-around fantastic actress!  Did she win? No, because the world was fucked up then. But her mother was a gay lady!
Aaron Melcher
This is the guy that starred in that that amazing Afghanistan "Telephone" video currently tearing up the internet, and some intrepid gays found out that he's got two Moms! What did Mom have to say about it? :
"I am the VERY proud mom of the handsome redhead, Sgt. Aaron Melcher! He's been a class clown his whole life! He's an amazing son, PHENOMENAL husband and AWESOME soldier. He's found a way to bring humor to a very chaotic place. I couldn't be prouder."
Jodie Foster

Jodie Foster's mother = gay. Deal with it. Jodie Foster = also gay. Come on now.
Jena Malone
Jena Malone is another one of those actresses that gay girls tend to identify with. She picks those outsider characters that ring so true to us lesbians. But we would have a better chance with Malone's mom than with the actress herself.
Constance McMillen
She didn't speak about it much to the press, but Constance McMillen — the Mississippi lesbian who was barred from prom — has a gay mom, too!
50 Cent
50 Cent's music is shockingly homophobic, especially considering his mom was bisexual — although she died under mysterious circumstances when 50 was still a kid. Some of his lyrics even reference his mom's relationships with women, but I guess he didn't take away any lessons of tolerance.
Mary Shelley
There are a lot of crazy stories surrounding Mary Wollstonecraft Shelley, author of Frankenstein. Like, for example, how she kept the heart of her husband Percy Shelley wrapped in a sheet of his poetry until her death, 30 years after his.
She was also the daughter of famous 18th century feminist Mary Wollstonecraft. Probs a lot of you know about Wollstonecraft's contributions to the beginnings of feminism, but did you know she was also queer? It's hard to pin down her sexuality with exact labels. Lesbianism wasn't much of a thing in the 1700s, after all. But she was known to have had several romantic attachments with women.
Rene Russo
Her mom was a lez! We don't really know much else about Russo because she's straight and makes movies with people like Pierce Brosnan.
The L Word Characters
How many gay moms appeared in The L Word? Let's count! Dana Fairbanks's mom had a lesbian crush in a stable, Alice's mom was bisexual for a hot minute, Helena's mom went from hasbian to full blown lez by the end of Season 3, and of course Molly and Phyllis brought it back around with their lesbian awakenings in Season 5.
And I mean let's not forget about everyone's favorite gay Moms of all time, Bette & Tina with the magical disappearing baby Angelica who was so well-parented that she never even required a babysitter: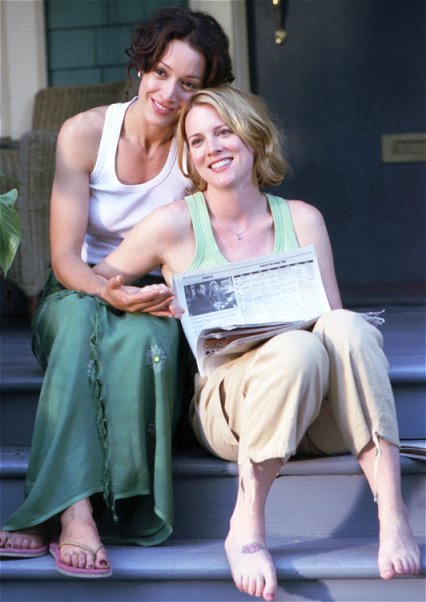 Obvs these gay moms come as no surprise, because I'm sure you all own the deluxe L Word box set and have seen every episode 100 times, right? But the fact that the Chaik was bold enough to use the same plot line so many times was certainly surprising.
Your Mom!
Ok, obligatory bitching about L Word plots aside, the gay mom phenomenon is actually more common than you would think. When Team Autostraddle compared notes, we realized that not only did a couple of us have out lesbian moms, but even more of us are 95% sure that our Moms are totally gay, but we aren't gonna name names.
So hey, let's be all scientific and take a poll! How many of you have gay moms or think your mom is gay? Tell us in the comments.