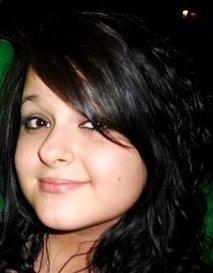 CONSTANCE MCMILLEN'S GAY PROM:
"A hearing has been scheduled in the case of Constance McMillen, the Mississippi lesbian high school student whose story has made national headlines after her school canceled the prom because she wanted to bring a female date. The ACLU is suing the Itawamba School District." (@towleroad)
Hey guess what! Constance's Mom is a lesbian! She sort of just throws it out there during an interview on the Michelangelo Signorle radio show. Our editor-in-chief's mom is a lesbian as well, and like five of our team members think their moms are secretly gay. Anyone else wanna join the Gay Mom 'n' Daughter Club? Also in the interview with Signorle, Constance says she figures "maybe 70% of the kids at school are taking it out on her that the prom was canceled."
She also says that the administrators told her that they'd forbidden same-sex couples because people were going with friends to save money with the couple discount and that was making the school lose money.
Our Queer Prom Gallery has been getting heaps of linkage (from Andrew Sullivan, Good Magazine and Feministing just to name a few) so thank you to y'all spreading the word! Based on what people are saying about it on other websites, we realize that most people honestly didn't realize so many young women are now and have been proudly bringing their gay dates to the dance. Visibility is key in making people feel like they're not alone. We hope after prom this year we get hundreds more photos!
Constance's story has BLOWN UP. And we're hoping that it means other schools will hesitate before making similar decisions — because it's not gonna make them look so good.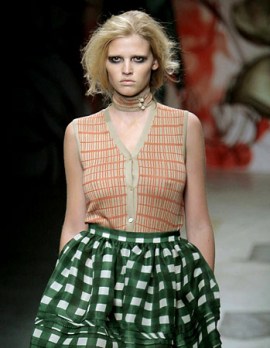 BODY IMAGE:
The Express UK declares that "Curvy Cover Girls are the Future" because: "Not since the supermodel hey day back in the late Eighties have we seen so much bounce on the catwalks. At the recent Prada and Louis Vuitton shows, boobs were definitely one of the defining features."
Jezebel calls bullshit: "We'd welcome any divergence from a standard that can be hauntingly gaunt. But let's not get carried away with the Dove-style celebrations. These women are "curvy" in the way Lara Stone is curvy: They have tiny waists and very little body fat, but they have relatively large breasts. Neither feminine ideal breaks the mold particularly."
Yeah. Here's some actual curvy girls for ya though, if you're interested.
GAY BABIES:
In case you didn't know, there's a new trend afoot, and I'm breaking the story for you here: Many people actually want their little boys to turn out gay. (@momlogic)
TAMPONS:
Kotex's new ad makes fun of years of ridiculous commercials (@salon)
MARRIAGE:
Chanel designer Karl Lagerfeld has some choice words about gay marriage and adoption: "I see more lesbians married with babies than I see boys married with babies. And I also believe more in the relationship between mother and child than in that between father and child." (@towleroad)
9/11:
The gay terrorist who could have stopped 9/11: Roston theorizes that Shakir's sexuality was part of the recruitment, since it left him open "to being flipped" under the threat of being exposed. (@gawker)
MISS ENGLAND:
The Miss England competition has replaced the bikini portion with a sports contest. (@huffington post)
GIRL GEEKS:
In this kickass response to a Guardian article praising LOTR's few female heroines, Jezebel pretty much echoes Autostraddle's reasoning for inventing our geeky blog Technostraddle, as it also applies to why geek culture is female/feminist-friendly in general: "Geek culture is, fundamentally, about outsiderness. It's often literally about aliens (or, in LOTR's case, about monsters and men/hobbits who become monsters), but it's also a marginal subculture that appeals to people who feel marginalized." (@jezebel)
DRUGS:
Is the war on drugs a lost cause? "Reform advocates say no other single federal policy is more responsible for gross racial disparities in the federal criminal justice system than the crack/powder sentencing disparity. Even though two-thirds of crack cocaine users are white, more than 80 percent of those convicted in federal court for crack cocaine offenses are African American." (@racialicious)
FOOTBALL:
In case you didn't hear, last week it was announced that the very first female football foach was hired. If that blew your mind too, you should just head on over and look at how happy she looks. (@jezebel)
BUNNIES:
Did your parents ever read The Country Bunny and The Little Golden Shoes to you when you were little? If they did, you have awesome parents who wanted you to grow up fighting prejudice! (@new yorker)