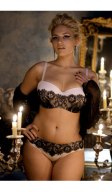 By popular request, our latest gallery celebrates sexy, curvy smokin' hot girls who not only have fully functional skeletons, but actual bodies (flesh, muscle, fat) too! Let us celebrate hot women who look more human than gazelle — limbs, breasts, ass & all!
Sure, you could probably fold Shane up and fit her in your suitcase, but as Sir Mix-a-Lot once so aptly put it, "I'm tired of magazines, sayin' flat butts are the thing." Airbrushing limbs away is so 2009.
Thanks to reader MsNJS for shooting us some pics to add to this gallery! Also check out models.com preview of V Magazine's Size Issue: Curves Ahead, three of these photos are from there.
Also a quick tip for you computer-savvy people — this works on all websites that use galleries like this — if you want to save an image or tumble! it, simply Zoom Out on your browser (command + negative sign on a Mac) and you'll see the "right-click" to "view image" and/or "save image" trick is enabled, and viewing will make it full size again).