We are not here to suggest that if you'd just shop queer, all will be well. However, if you are someone with a little disposable income to burn, you might as well support queer folks running small businesses! So whether it's buying online from artists, craftspeople or restauranteurs, attending live workshops or shows, or investing in a gift card, these are some of our team's favorite queer-owned businesses to support, and their reasons why. This is by no means a complete list, so we suggest checking out our Queer Girl City Guides, this on-going list compiled by Lex and please, please add the small, queer-owned businesses that you love in the comments! Additionally, we know engaging in commerce is at best a stop-gap measure for keeping people afloat, and we have other mutual aid resources for you too.
---
Clothing + Fashion
Archie
Gigi's Flair Emporium 
Pin queen Gigi makes beautiful, queer, glittery pins for all occasions. My favorites are her Patty And Selma pins (hairy legs and attitude? Yes plz!), The She She Lounge Pin, and 100% That Bitch. Not only is Gigi an awesome person, but many of her pins give back to the community!
KaeLyn
Mirror Mirror
My actual stylist for over a decade and megababe, Bianca Dibello, is selling Take Care of Yo'self self-care kits with all-vegan hair products and fun goodies. Buy one for yourself or to send to your femme bestie. What a delicious way to support a queer salon-owner who can't be open right now while also supporting self-pampering and staying home!
NewGreyHair
Elijah loving creates adorable teeny tiny miniature aloe plants, tacos, burgers, and grilled cheese tchotchkes to adorn your body, home, or accessories. They also make patches for your tattered jean jacket that say fun things like "eat the rich/stone your landlord/burn all prisonswp_postsand donate half to charities that support liberation!
MsHandsome
Black-owned business featuring "bold, proud, unapologeticwp_postsstylish hats, tees, and accessories with lines specifically for handsome trans folks and handsome women. What's not to love? Get yours or one for your boi.
More Options For Your Fashions:
This post on sustainable queer designers
Wildfang
Otherwild
Rebirth Garments
HauteButch
TomboyX
---
Home + Kitchen Goods
Carolyn
Neon Altar
Neon Altar's "potent goods for modern witches" include a great selection of tarot cards, crystal pipes, books, cast-iron cauldrons and more.
Bang Bang Crafts
Maybe you need a tiny ceramic quarantine creature friend? Maybe you want to send someone else a tiny ceramic quarantine creature friend and want to also have a card to go with it? Portland-based Bang Bang Crafts, "sophisticated sculpture for the youthful spirit," has you covered.
I did an interview with Sana Javeri Kadri for my cooking series, The Dyke Kitchen, because her company Diaspora Co. does amazing work decolonizing the spice trade, and, in addition to hawking the most seriously flavorful Indian spices, she makes everything beautiful. Diaspora Co. is also doing really fun live cooking shows on Instagram. So, if you're at home and banging around the kitchen, practicing for your Chopped appearance with your picked-over assortment of COVID groceries, consider ordering some well-sourced, very tasty spaces.
---
Food + Restaurants + Alcohol Stuff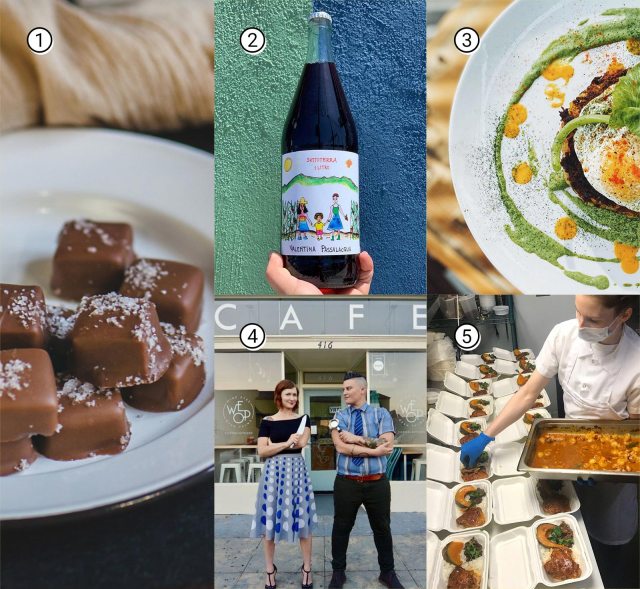 KaeLyn
Hedonist Artisan Chocolates (Rochester, NY)
I can't express to you in words how incredible this chocolate is. It's a little pricey, but that's because everything is literally handcrafted and loving packaged. My faves are the ginger pistachio chocolate bark, chocolate covered orange peels, and mini almond toffees, all of which are also vegan! I live around the corner from this place and I often send them as decadent gifts to friends who've moved away.
Carolyn
Vinovore LA (Los Angeles, CA)
This partly-queer-woman-owned neighborhood wine shop focuses only on "female winemakers." When you can go inside, they have descriptive hand-written tasting notes for nearly every bottle and usually a dog or two running around. Now that you can't, they're doing curbside pick up orders, no-contact local delivery, and shipping to select states.
Jewel LA (Los Angeles, CA)
Jewel is a plant-based, queer-owned restaurant in Silver Lake. In addition to their usual menu, they currently have produce boxes from Tutti Frutti Farms, pantry stuff like oat milk and nut butter, pizza kits, and more for order and pickup or local delivery.
Wide Eyes Open Palms (Long Beach, CA)
Near Long Beach and dying for a coffee someone else made? Queer-owned Wide Eyes Open Palms is currently open for limited hours Friday through Sunday (call or check their Instagram to make sure). They also offer a few retail items like housemade jam, coffee beans, matcha and chai mixes, chapstick and more.
Kamala
Kismet (Los Angeles, CA)
Kismet is co-owned by queer chef Sarah Hymanson, and I love eating there. It's where I go to impress people I care about because the jeweled rice with the egg yolk in the middle is one of the most ridiculously delicious things I've ever tasted, and the chicken at the rotisserie is fab, but the schmaltzy potatoes undo me, and I don't even love potatoes as much as some people. They've had to close their dine-in space, but are still doing pick-ups and delivery at the rotisserie, which might be the treat that you need on a blue day.
Vanessa
Red Sauce Pizza (Portland, OR)
This was my favorite pizza spot in Portland, long before I started dating the owner, so I promise I'm not being biased when I say it's the best pizza in town! This queer-owned neighborhood shop serves pizza, salad, sourdough bread, and yummy desserts, and they've got their no-contact pick-up service down to a science (they are also still doing delivery). Red Sauce employs a ton of queers, caters to a very queer clientele, and genuinely cares about their community in a way that inspires me. If you're in Portland and craving pizza during quarantine, Red Sauce is here for you.
If you're looking for queer-owned restaurants to support through this pandemic that might be more local to you, you can also check out Eat Queer.
---
Sex Stuff
Archie
Early To Bed
Not only does Early To Bed have a superb selection of sex toys and lube, but they are paying their employees fully while their brick and mortar shop is shut down due to COVID-19. As we all watch independent shops struggle to stay open during this time, we're also witnessing how rare it is for businesses to be accountable to their employees. So buy some lube goddamn it!
Carolyn
GNAT Glitter Kink
By and for queer femmes, GNAT makes beautiful femme-centric BDSM gear like cuffs, collars, strap-on harnesses and more. Some items are ready to ship, but most are custom, so you can get the perfectly fitted glitter-vinyl harness of your dreams.
---
Art + Books + Comics
KaeLyn
Archie's Store
Because you need a signed copy of Greasebats THE BOOK or some real cute, real queer, "bad real badwp_poststees and pins for your next Zoom hang from your favorite comic. Also, duh.
Category is Books
Super rad indie queer bookstore in Glasgow (UK) that delivers LGBTQIA+ books to your door! They offer a "pay it forward shelf,wp_poststoo, if you either want to donate towards the shelf or get a free book delivered to you!
Gay Breakfast
All your favorite shows and ships in one place! It's like you're shopping at your dream con from your own couch! Seriously cute pins and prints especially if you're a fan of Steven Universe (and also other non-SU things, but a lot of super cute Steven Universe fan art).
Archie
Pyewacket Books
Selling weird and rare books on a variety of themes–everything from satanism to bondage–this queer antique bookstore in Oakland is worth wading through digitally. Pyewacket Books believes anyone can collect books and aims to be a resource for making book collecting more accessible.
Isabella Rotman
Some folks might remember Isabella's illustrations from past A-Camps, but her illustrations don't stop with flag designs. Her This Might Hurt Tarot Deck is absolutely beautiful and she's got pins, patches and zines as well at her online store. If you did love the flag designs tho, check out her Society6.
Vanessa
Alex Simon
Alex Simon is the glittery unicorn femme artist behind Make Good Choices, a line of ceramic functional art that includes one of a kind pipes, mugs, and more. If you've found yourself smoking a lot of weed, drinking a lot of tea, or simply wanting to gaze at something beautiful and shiny and made with a lot of love during the quarantine, Alex's work might be for you. Check out her Instagram @makegoodchoices for examples of her work (wait until you see her Hitatchi magic wand pipes) and details about upcoming sales.
---
Life-Improving Services/Classes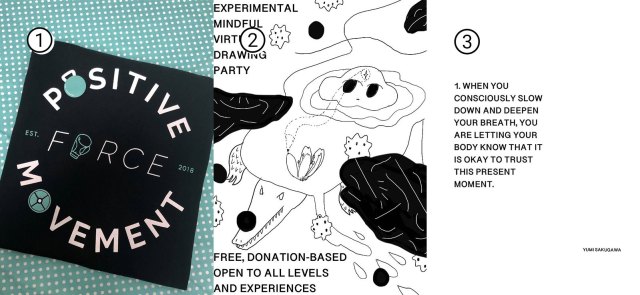 KaeLyn
Positive Force Movement
Lore McSpadden-Walker and their crew had to close down their space, so they're offering a bunch of affordable online exercise classes, training, and coaching to keep us all healthy and thriving during the pandemic. You can even get some friends together and create your own private small group online class! All instructors and classes are fat-accepting, inclusive of folks with disabilities, trans-inclusive, and follow the principles of Health At Every Size!
Archie
Yumi Sakugawa
Artist Yumi Sakugawa is most known for their beautiful books and they're now sharing their various skills in webinars focused on creativity. Their webinars are great for cultivating a mindful creative practice. There's a few that are donation-based (experimental drawing, how to meditate).