Today is National Coming Out Day, the day we make our lesbianism and gayness and bisexuality and trans-ness and all forms of queerness known to the wider world. Robert Eichberg, who co-founded this day in 1988 with his lesbian activist pal Jean O'Leary, said in 1993 (two years before he died of complications from AIDS), "Most people think they don't know anyone gay or lesbian, and in fact everybody does. It is imperative that we come out and let people know who we are and disabuse them of their fears and stereotypes."
So, with that in mind, let's celebrate 16 LGBTQ+ celebrities who came out in iconic ways and changed the conversation around equality. This list is, by no means, exhaustive, and I look forward to hearing about some of your favorite, most inspirational, most groundbreaking coming outs in the comments!
---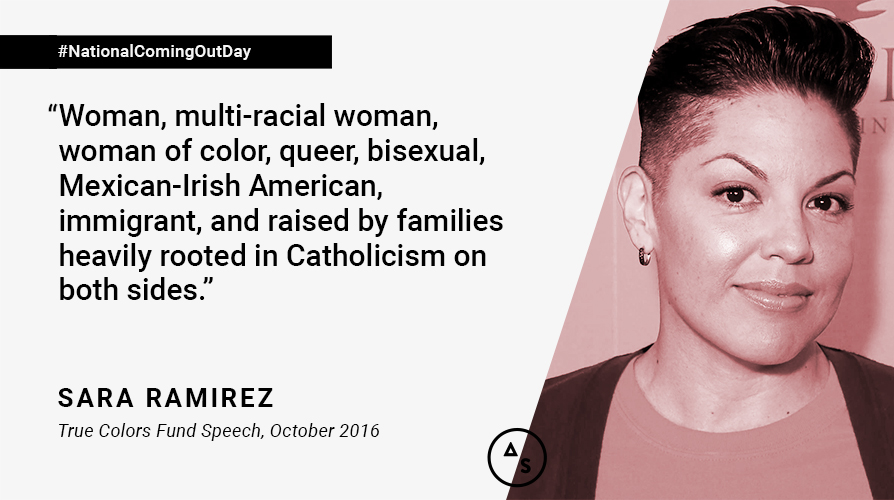 Sara Ramirez came out as bisexual in a speech at the True Colors Fund in October 2016, but she was so excited to share her truth with the world that she jumped the gun on the speech being released and posted the coming out portion of it on her Instagram. Ramirez also has the distinction of being the only woman to play two bisexual TV characters who made it into our  "best ever" list.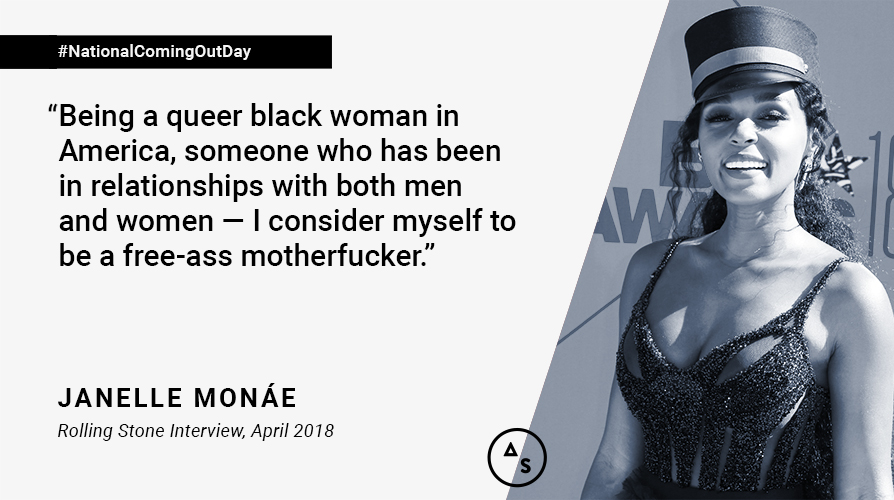 When Janelle Monáe decided to come out, she came the fuck out. There'd been plenty of speculation about her sexuality over the years, especially her very special friendship with Tessa Thompson, with everyone labeling her sexuality with whatever fit their own narrative. Well, she chose her own label, thank you very much — free-ass motherfucker. She also shared a special message for her fans right before she released her very queer, very critically acclaimed Dirty Computer album: "I want young girls, young boys, non binary, gay, straight, queer people who are having a hard time dealing with their sexuality, dealing with feeling ostracized or bullied for just being heir unique selves, to know that I see you… This album is for you. Be proud."
LCD Soundsystem's Gavin Rayna Russom came out  in July 2017, at the age of 42. "There was legitimately something unmanageable for me about living as a cis man," she told Pitchfork. "I was working so hard just to present this image of myself that ran very deeply counter to who I really am." Her work hasn't slowed down since then; she remains one of the most celebrated DJs and synth players in the industry.
Gloria Carter came out last June in the song "Smile" on Jay-Z's 4:44 album. Early in the track, Jay-Z raps, "Mama had four kids, but she a lesbian. Had to pretend so long that she's a thespian." Ms. Carter, herself, gave a speech at this year's GLAAD Media Awards — to a standing ovation — in which she talked about her decision to come out to Jay-Z. "For me, this was the first time that I spoke to anyone about who I really am. My son cried, and said, 'It must have been horrible to live that way for so long.' My life wasn't horrible. I chose to protect my family from ignorance. I was happy, but I was not free." She encouraged everyone in the banquet hall to find a way — like her — to find their freedom.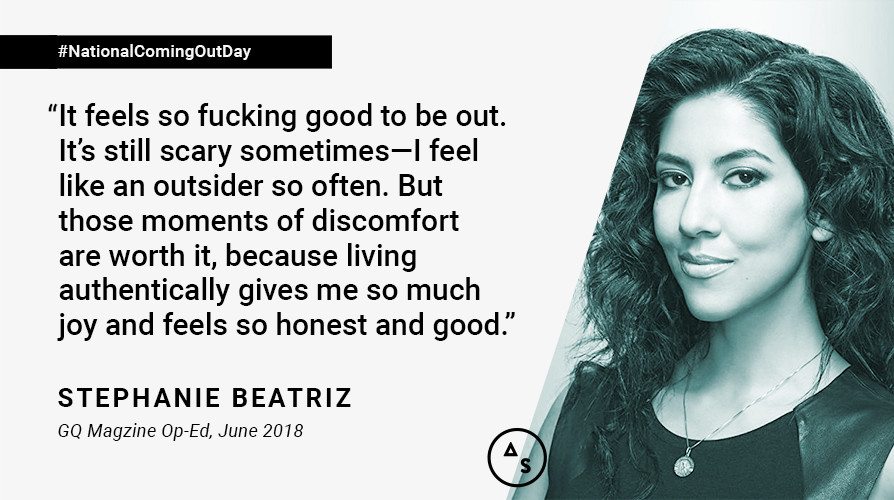 Stephanie Beatriz came out in the most chill way imaginable. She retweeted an interview in which Aubrey Plaza said, "I fall in love with girls and guys. I can't help it" and simply commented, "Yup." Since then she has spoken openly and often about her bisexuality, even penning an essay about it for GQ. She also responded very lovingly to the news that she swept our inaugural Gay Emmys.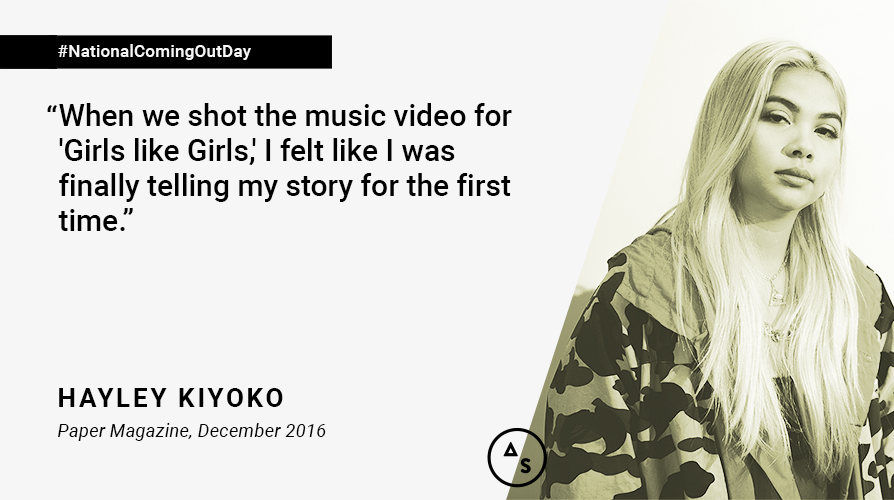 Everything you need to know about Hayley Kiyoko you will find it in the Nylon magazine profile Riese wrote for their Pride issue this summer. If you just want to know about her coming out, though, that dates back to December 2016 when she told Paper magazine that she loved filming the video for "Girls Like Girls" because she is, in fact, a girl who likes Girls.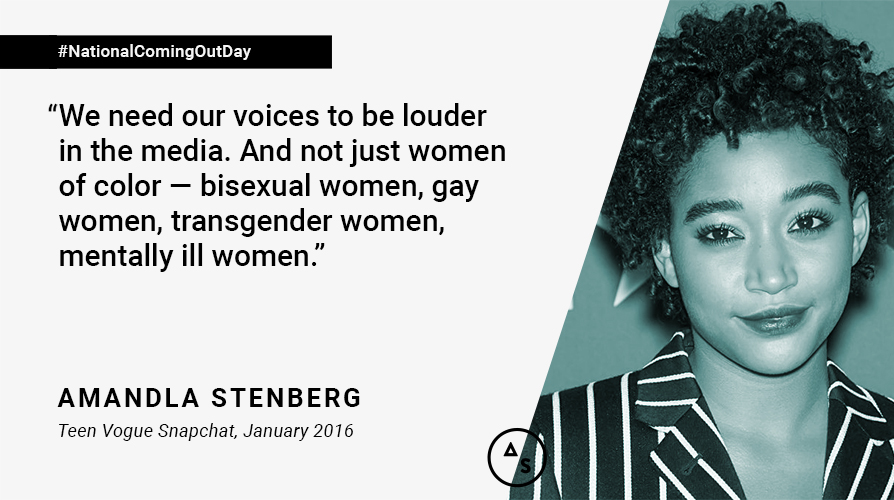 Amandla Stenberg came out on Teen Vogue's Snapchat in January 2016, when she was only 17. At the time Stenberg came out as bisexual, but has since said, "I realised that I'm gay – not bi, not pan, but gay." Riese also noted when she first wrote about Stenberg that she inadvertently also came out as "a perfect human."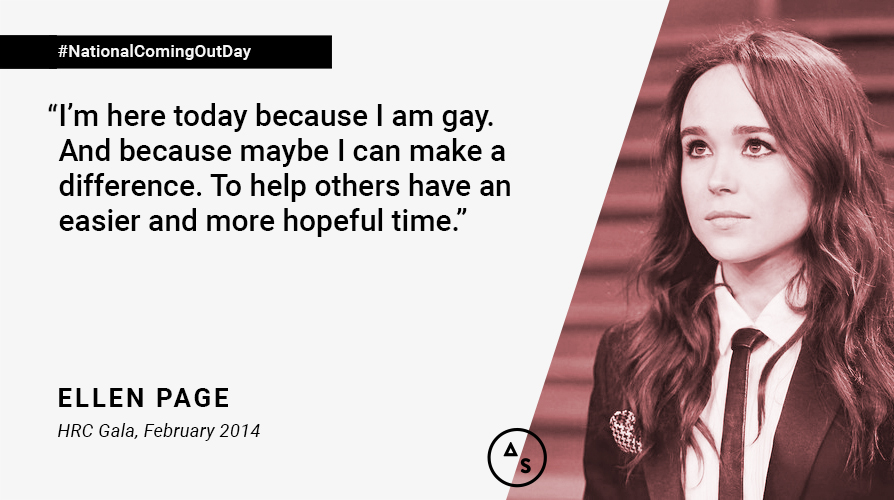 Ellen Page gave one of the most moving coming out speeches in recent memory at a Human Rights Campaign gala on Valentine's Day in 2014. She was visibly nervous when she began speaking, and barely able to hold back her tears when she said "I'm here today because I am gay." She picked up steam as she went along, and hasn't even flinched back toward the closet since that day. She hosts Vice's Gaycation, she starred in one of the saddest gay movies of all time with Julianne Moore, and she got herself a wife!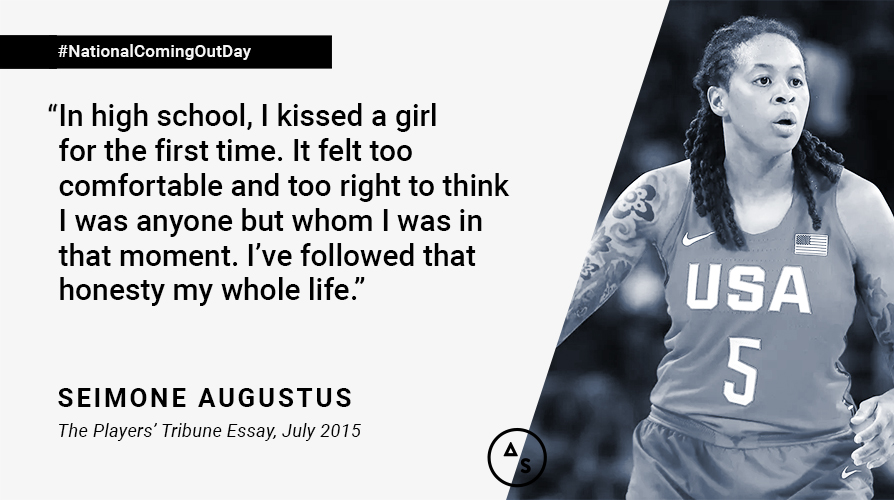 It's easy to look at the WNBA in 2018 and assume the easiest thing in the world to do is be an out lesbian. But when Seimone Augustus came out in 2012, that was not the case. The league was still two years away from fully embracing its queer women fan base (which it had basically been actively rejecting since its inception), and there were very few openly gay players in any professional sport. It's hard to overstate Augustus' impact: At LSU, she won the Naismith and was a two-time All-American. She was the #1 WNBA draft pick in her class. And she was an immediate superstar in the league. She left the closest door open a whole lot wider when she walked out. Augustus wrote an essay about meeting her now-wife, falling in love, and getting married not long after the Supreme Court made marriage equality legal nationwide. It's called "It is So Ordered" and it's my favorite essay about love and it will crack your heart wide open.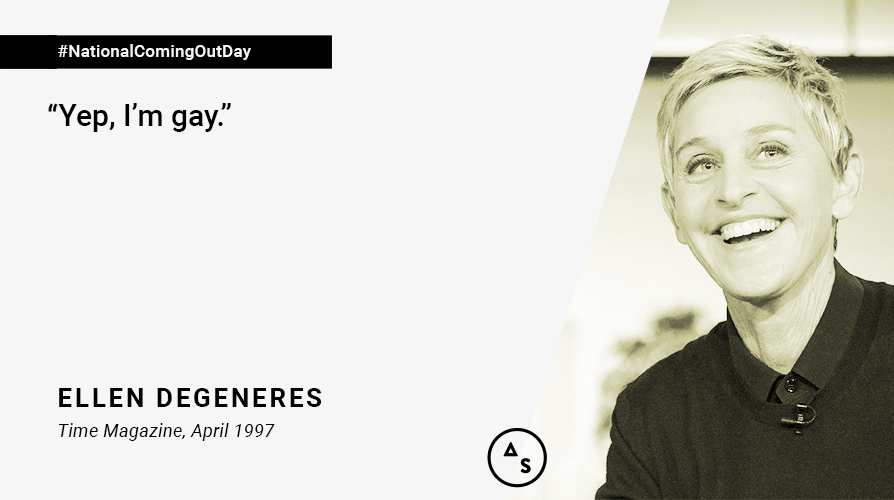 There's no coming out more iconic than Ellen DeGeneres'. Three words — Yep, I'm gay — and the whole world caught on fire. Her sitcom was ultimately cancelled; she became the scapegoat of the religious right for almost a decade; and her career almost didn't recover. Now she's one of the most beloved women (and definitely the most famous lesbian) in the world. Her name's on everything, her talk show's everywhere. She was even awarded a Presidential Medal of Freedom during President Obama's last term.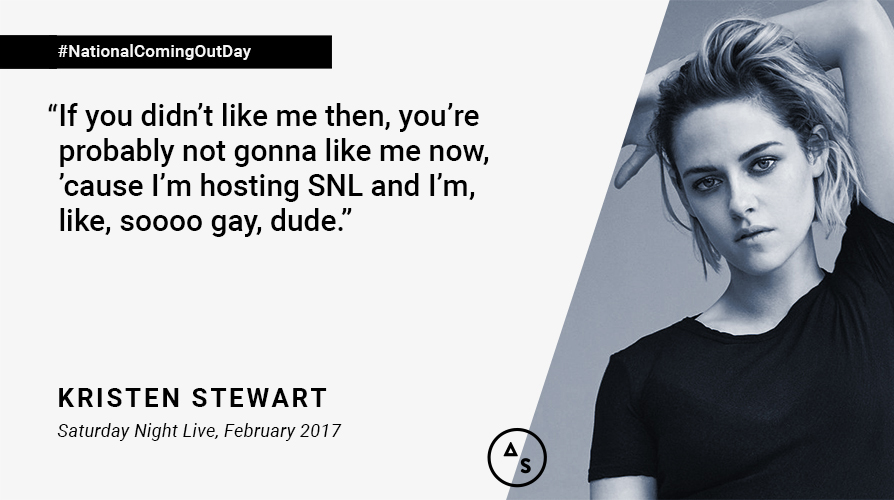 I couldn't remember all the gay stuff Kristen Stewart did before she officially came out on SNL last year; luckily, Stef had me covered in the post she wrote about the episode.
In the last year, Stewart has become a fantastic, almost mythical character in gay lady circles. She went from being the fidgety, perpetually uncomfortable focus of constant queer-ish speculation to the real-life Shane our community has always deserved. In the last year alone, the notoriously guarded actress went from dating French actress/singer Soko to moving in with her on-again, off-again love Alicia Cargile, to holding hands at fashion shows with St. Vincent and most recently making out in cars with Victoria's Secret model and former Miley Cyrus paramour Stella Maxwell. It's safe to say that at this point in her career, Kristen Stewart doesn't give a fuck anymore.
Stewart is, to our knowledge, the only person who has come out to — among other things — troll the president of the United States.
Robin Roberts' sexuality was always just kind of… known. She's the reporter Obama reached out to when he wanted to announce his support of same-sex marriage. She was, as Brittani Nichols noted, once on an episode of Hannah Montana called "Can You See the Real Me" about how hard it is to live a double life. Roberts' had been with her partner for a decade when she finally, casually mentioned her in a public Facebook post around the holidays in 2013. Since then, she's been very open about her sexuality and her relationship. She even stopped by Ellen to chat about it.
The world really only knew Mara Wilson as Matilda until her memoir, Where Am I Now?, hit shelves in September 2016. Not long after that, she came out on Twitter (and also told us that: yes, she knows Miss Honey made everyone gay, but she had a completely different on-set lady-crush). Since then, she's been a fierce and vocal advocate of bisexual visibility and a frequent guest at A-Camp.
It seemed like Megan Rapinoe was waiting for a reporter to ask her if she's gay, and reporters were waiting for Megan Rapinoe to announce that she's gay — and finally she just called up Out magazine and put it on the record in 2012. She has been brilliantly, sometimes hilariously vocal about her gayness non-stop since then. These days, she's dating another Seattle pro sports superstar, Sue Bird, who just won another WNBA championship.
Former Adventure Time writer/Steven Universe creator and showrunner Rebecca Sugar came out as bisexual at San Diego Comic-Con in 2016, gently answering a question about why she's so great at writing queer women with, "Well, in large part it's based on my experience as a bisexual woman." More recently, Sugar came out as a non-binary woman on NPR, and explained how her identity helps shape those of the Gems on her show.
When Tessa Thompson came out just a few months ago, I legitimately rushed out of a doctor's appointment so I could celebrate with my co-workers. Somehow Carmen was able to keep a level head and write a beautiful piece about the cultural impact of Thompson's declaration that she's queer: "It's still rare to see a celebrity be this introspective and caring in their coming out, to lead with their heart and be purposeful about the responsibility of their fame, recognizing the huge impact their openness can have on their queer fans." Thompson didn't confirm her relationship with Janelle Monáe, but she did confirm that they "vibrate on the same frequency."