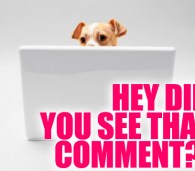 Oh hey there. Did I just see you on Autostraddle's new social networking feature? Do you, uh.. wanna go on a picnic with me? What if I bring some of these hot chicks? What about then? Also I know some people who are making a cool webseries, maybe we can invite them too. If all else fails, we can just learn the Judas dance and start a dance party.
Also I didn't know how to fit this in, but Sebastian wrote this really great article about his newfound heteronormative privilege, and Sarah totally warmed our hearts with this story about students protesting their anti-gay graduation speaker.
(Also I can't believe it took me this long to make a Friday joke?!)
---
On Formspring Friday: Ten Chances to Make the World a More Well-Advised Place:
The Coming Out Award to Grace_B:
I did it like this:
ME: Hey mom, I'm going to Fame tonight, so I'll be home late
HER: Isn't that a gay bar?
ME: Yeah, I'm going there to meet girls, cause I'm bisexual.
Yep, I totally came out over text message.

On Grey's Anatomy's Lesbian Wedding: A Night of Rage and Love:
The MerDumb Award to Liz:
So at first I read Mereck as Meridick, and I was like "well, that's appropriate".
The Rainbow Unicorn Award to moonshiner, kat: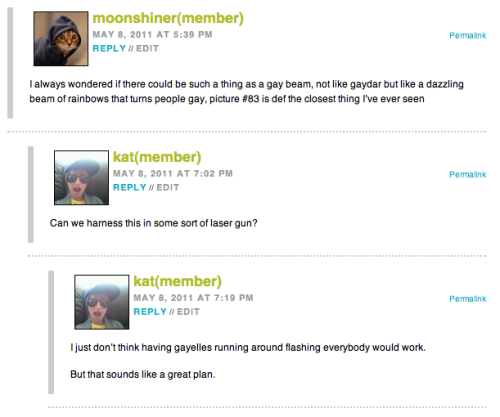 On This Sunday Funday Mother's Day Is Gay:
The The Planet For Real Award to novastar, Sawyer, fofiriam, jenissuper: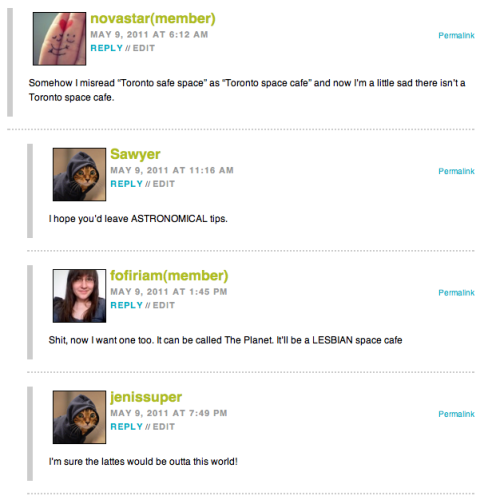 On Laneia's Team Pick: This Tumblr; Life As I Knew It:
The Tumblr = Lesbians and Cats Award to butterscotch clouds, Nicole B.:

On KickStart Autostraddle's New Web Series, UNICORN PLAN-IT, With Haviland Stillwell, Sarah Croce & Ashley Reed:
The Unicorn-Horn Award to Vida:
I'm gonna need to see Croce's (invisible) horn.
On Obama Needs Money, Gays Needs Rights, Let's Get Together and Feel Alright:
The Impish Pet Award to Chaos, kat, terracottatoes:

The 40 Quarters Award to Raksha:
Shit, sorry Obama. I already gave 60 quarters to UNICORN PLAN-IT and what little I have left I need for putting into motion my plan to get the fuck out of this country and as far away as possible. Best of luck, though!
The Let Him Know Award to softly, e:

On Introducing Autostraddle Social 1.0 Social Networking For Total Weirdos:
The Punny Award to Sally, Alice (SomethingClever), Maryann, allie, and everyone not picture: terracottatoes, smartypants, dizzy: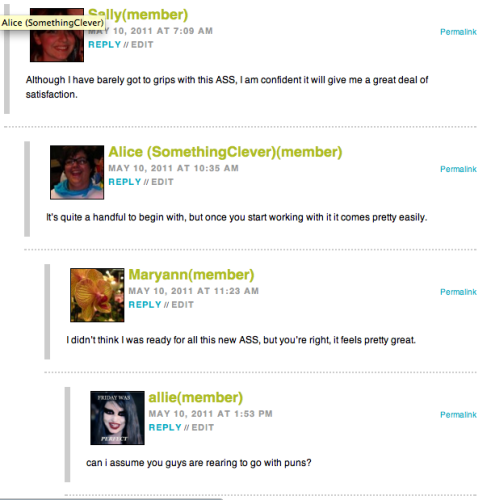 On Get Baked With Autostraddle: Picnic Edition:
The terracottatoes award for freaking terracottatoes to terracottatoes:
i have a bone to pick with you, laura. why the fuck did you just ruin my bicycrepe dreams? i'm no longer spoking to you.

On NOM Debuts Brand New Crazy Video To Stop Gay Marriage In New York:
The Stating It Bluntly Award to Janis Bing:
"Our right to infringe on other people's rights will disappear"
OH NOES
On Lizz's Latest Thing: Fuck Yeah Leather Jackets:
The Brittana Award to countrysongs, allie: