This week on Glee, a bunch of dudes had a lot of feelings, a bunch of girls wore prom dresses swiped from last year's production of Bye Bye Birdie, and — reader. Until Tuesday night, I'd managed this long to completely avoid listening to the song "Friday" in its entirety. I saw the first two minutes or so of the video when it debuted, found it funny, but also ultimately boring. I've since avoided it. It's easy to avoid things when the only thing I talk to besides myself is a stuffed dog I think will come to life one day, like Indian in the Cupboard.
That's all. I just wanted to share that with you.
So wow what an episode, right?! I mean, prom! PROM! It's the most wonderful time of the year! Everyone gets to wear a SHINY DRESS! When I look back on my life, I regret not wearing something more controversial to prom.

Every time I see the Jewfro guy's face, I know something stupid and annoying is about to happen.
This week, Jacob McDowner is there to let Puck know that Lauren has taken "his balls" and "stripped him of his manhood" and furthermore, word on the street is that "she's the one who wears the pants in this relationship." It's true. Puck is the only pussy-whipped boyfriend in the history of high school, and furthermore this guy's opinion is super-important to Puck, because this guy is super popular, and I'm super happy that he's on the show.
Meanwhile, Lauren the Ballstripper is worried she'll have to be the one who wears the pants to prom because Ann Taylor Loft, Filene's Basement and six Forever 21s didn't have a single thing that fits. Now she'll have to make her own dress, like Cinderella but without the help of the little birds. Before we can talk too much about the world of possibilities at Jo-Ann Fabrics, Mr. Shu arrives to perform his weekly ritual of writing a word on the whiteboard and underlining it.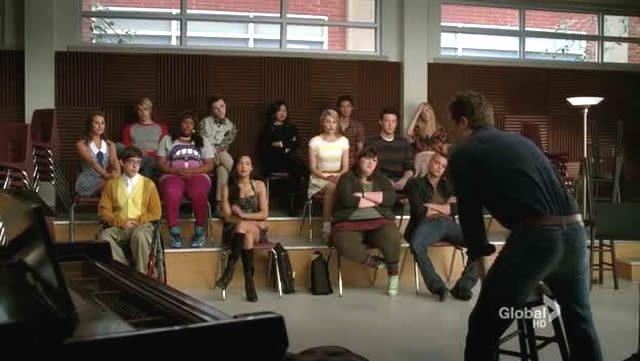 The word of the week is PROM!!
PROMMMMMMMMM
Prom is the fancy party which, according to a number of major television programs including Beverly Hills 90210 (OG) and MTV's True Life: I'm Going to Prom, is the most important event ever. It's more important than Vietnam.
You can get married as many times as you want, Quinn Fabray points out, but there's only one Junior Prom. Well — there's also Senior Prom, which I think is similar, but whatever, the hostess at Cracker Barrel said 40 minutes 'til my table so, let's hustle.
Glee Club's gonna perform at prom night because Air Supply canceled. Rather than hire a DJ or stick an ipod into a speaker and press "shuffle," they've recruited a rowdy team of outcasts everybody allegedly hates to perform — LIVE — at prom. I honestly think the only place where live bands perform at prom is television and the movies.
Mercedes stages a personal walkout because girlfriend does not have a date for this dance because Glee is racist.
But Brittany doesn't have a date either, Merecedes!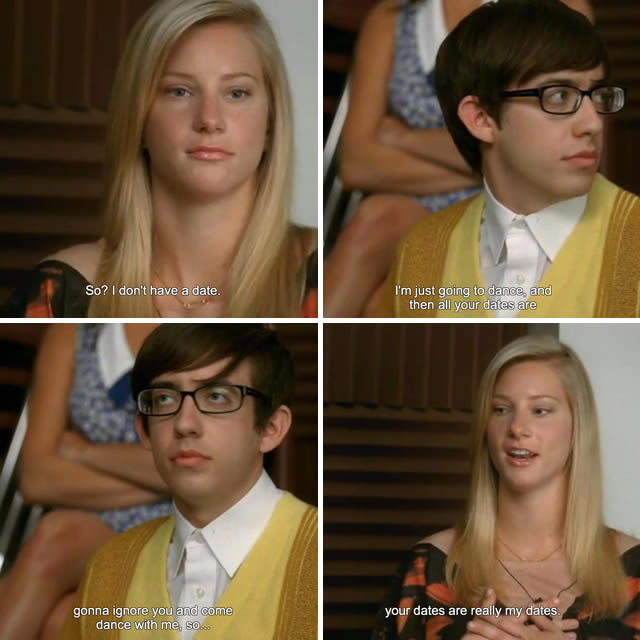 Good point but Mercedes has left the classroom and entered a McKinley High TIME FREEZE, which is when off-screen action is suspended (this will happen again later) in order for plot to be developed in another room, ideally over by the lockers. That's where they get their special powers. The lockers.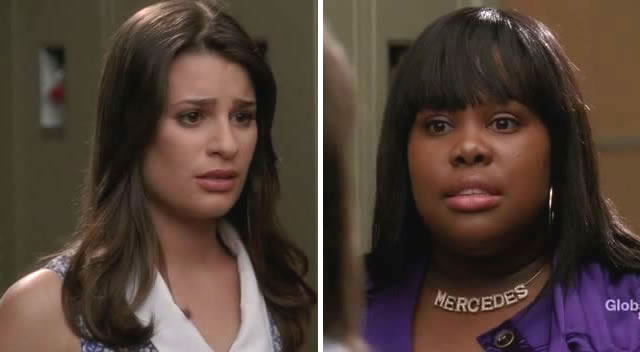 Mercedes, for reasons which have yet to be revealed to us, doesn't have a man. She wants a man, "the dress, and the damn corsage," but she doesn't have one. Why not, show? In the wise words of Autostraddle's very own Gabrielle Rivera, who's twitter you should probs follow…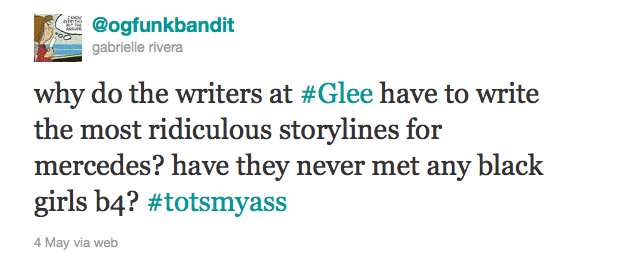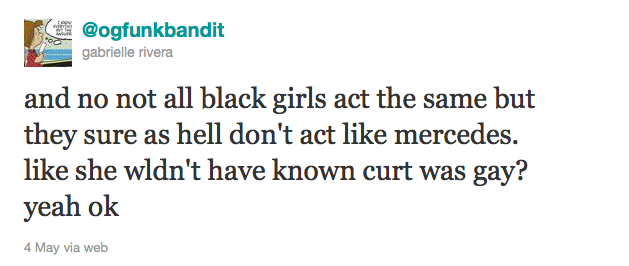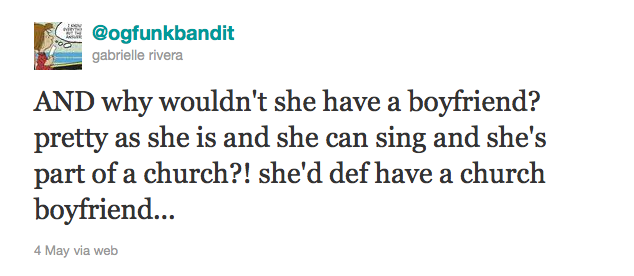 Mhm. Anyhow, Mercedes tells Rachel what she wants. I think she read it in a greeting card somewhere:
Mercedes: "I just wanted to be Cinderella. Just for one night. One night where a guy would look at me under those corny crate paper streamers and say, "You look so beautiful". And then he'd grabbed my hand and asked me to dance. Isn't that what prom is suppose to be about?"
No, prom is supposed to be about getting wasted and not getting caught. Look what happened to Donna Martin. She almost didn't graduate!

Blaine is afraid of the prom, because last time he went to a school dance he got his ass kicked. Kurt, annoyed by all this unnecessary last-minute backstory that really should've come up during one of their 567 chats about gay bullying earlier this season, is like "I'm wearing a Peter Brady shirt and a Great Jungle of Wal-Mart-Smock-inspired vest, so you better take me baby, or leave me."
Blaine remembers that he's crazy about Kurt, which is adorable. Seriously just photograph these two and cross-stich their faces onto a pillow already, I've got a twenty-dollar bill on my desk. It's broken though, I have to buy tape and tape it back together. Then, I will buy the pillow.

Mercedes & Rachel corner Sam in the theater with a Prom Budget, they put it together just that very afternoon in their clubhouse after picking their favorite boys in school and playing with cootie catchers and making their own hair accessories out of flowers from their mother's gardens. That's actually what inspired the most INGENIOUS part of The Boxcar Children's Prom Threesome Plan, which is to make corsages "from flowers in our mother's gardens."
I'm not sure why the only way these three humans can happily go to prom is if they strategically combine a guy who's already turned down one of the two–TWO!– girls he'll be taking, a very serious limited prom budget, earrings made out of macaroni and play-dough, and a twenty-dollar "loan," but whatever, it's Glee. Sam agrees, hopefully because he's into Mercedes or something.
Anyhow Next thing you know, people will be bringing dogs to prom, and then having children with dogs who are half-dog, half-child. Those half-dogchilds will grow up and become Prom Sorcerers.

Kurt, wearing Nazi Boots, a bandana swiped from Amelia Earheart's grave and the very same jumpsuit Dale Earnhardt was wearing when he won The Indy 500 on the moon, is participating in the Prom Fashion Panel, usually a girls-only affair, because he's an effeminate homosexual man who enjoys fashion.
Lauren, giving an accidental tip of the hat to Shane by skulking out of the dressing room in Chuck Taylors and a giant yellow situation, laments "I look like a lemon mereinge pie."
Kurt suggests she try navy, and his co-hosts practically come in their pants over this Andre Leon Talley-level genius insight. Even Lauren, who allegedly possesses not only her own ovaries but also Puck's balls, thanks Kurt profusely for his wisdom as if anyone in this room has managed to go her whole life without being told that navy is slimming. Did you guys know that black is slimming? It's true.
Lauren returns to the "dressing room" to Bibbity-Bobbity-Boo her way into Young Navydressland.
Next, Our Lady Lesbian emerges in her inspired-by-1995-Christmas-Barbie satiny red dress explosion. Kurt loves it. Loves it. Loves everything about it.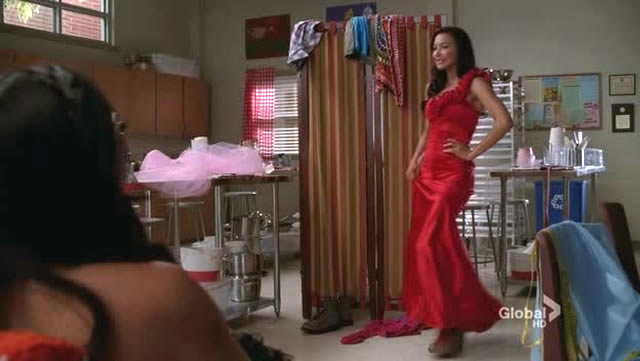 After unanimous approval, Santana asks to speak to Kurt privately, wherein she asks him to beef up personal security to enhance her appeal as the Eva Peròn Prom Queen. Interesting how Santana would rather look like a heartless asshole than admit her true motivations originate in a heart that beats just like everyone else's, feelings and all.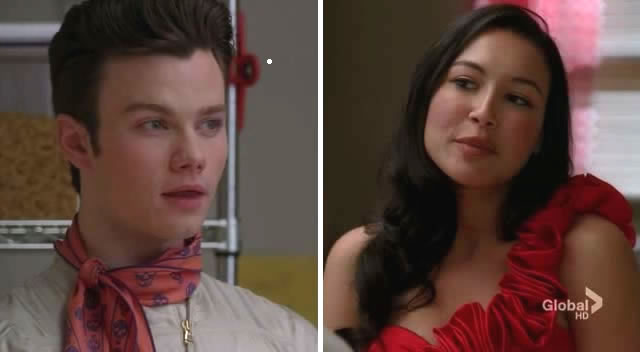 Have I mentioned yet being happy that Kurt's back at McKinley? Because I am. And not because I'm sick of Jason Mraz covers 'cause really WHO COULD EVER BE BARF

Rachel interrupts the stage crew probably fixing the set from the Great Rihanna Flood of 2010: "Members of the audio visual club, I possibly might sing this song at prom and when I'm done rehearsing I'd like your feedback — tell me if I was brilliant, or simply outstanding."
Then Rachel Berry breaks into "Rolling in the Deep" AND HARK! … who's that in the shadows of purple summer? It's Jesse St.James (He should start his own Whiskey brand, right? "gimme a shot of Jesse St.James" you know?), played by Jonathan Groff (noted homosexual, best friend to Lea Michelle).
Actually what's secretly happening here is that Wendla is calling into the mirror-blue night for Melchior to come discover the word of her body. She's not really gonna sing this at prom.

After their sexually tense duet, Jesse sits Lea down to apologize for being a complete fucking asshole.  He admits spying on New Directions via Rachel in order to obtain their fourth consecutive championship was "a bum deal. For a first, maybe, but a fourth? No way. I've come to make amends."
Looks like Rachel's not totally fucked after all…

Finn cares that Rachel is going to prom with Jesse St. James and Rachel bla bla bla bla bla bla. Finn doesn't know what kind of corsage to get, so he asks Rachel, who turns out to be obsessed with Quinn, you can see it in her eyes when this unfortunate conversation finally reaches its conclusion.

Meanwhile Santana is keeping herself in the closet by masquerading around the hallways with The Gay Guy in a red beret and shiny red jacket, protecting him from any bullies/closeted homosexuals lurking in the shadows.
Santana: "Teen gay! You may now proceed to the next checkpoint without fear of violence."
Santana: "I'm the law and order prom queen candidate."
Kurt: "I'm walking away from you now."
I bet if Santana kept this up, she could un-closet some lonely lez currently crying over a plate of Hashbrown Casserole at the Cracker Barrel who's desire to walk around with Santana all day would trump her desire to remain closeted. Well, this hypothetical lonely lez is out on the internet. She's out on Autostraddle Social. But you know what I mean?

Lest you were concerned these students don't learn anything besides how to sing thematically relevant pop songs without actually knowing how to sing, the occasional smidgen of Spanish and a little dollop of sex education, you'll be pleased to learn they're all enrolled in home ec, where they're making a thing with eggs and Brittany's confused: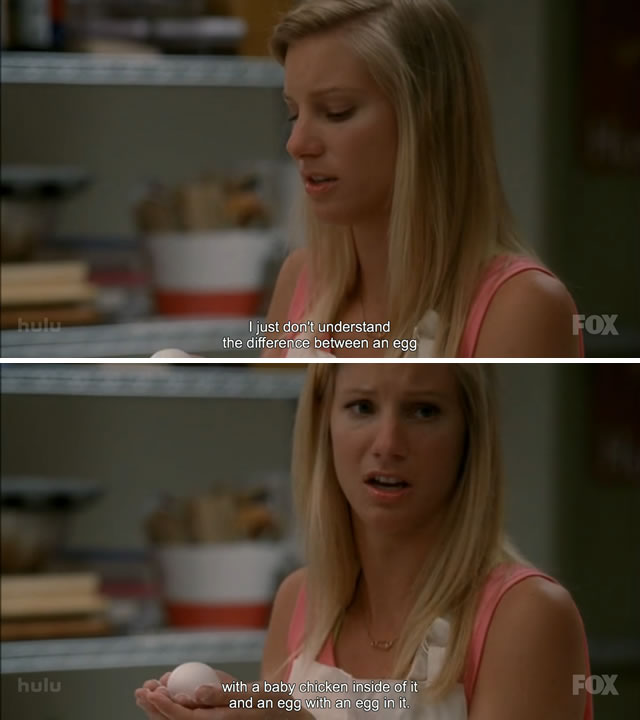 And Kurt has issues with the curriculum, because he's gay:
I'm ready for the part where Santana and Brittany spill flour on each other's shirts, but Santana's not in this class — well, neither is Kevin. And look who just rolled on the fuck in. GET OUT OF OUR LESBIAN STORYLINE, FOUR-EYES!
Kevin has a plan to get Brittany back. Surprise! It's a song. Kevin intros "Isn't she Lovely" with a speech I couldn't listen to because he was speaking in that really unnecessary gravely-baby-talk voice he does all the time.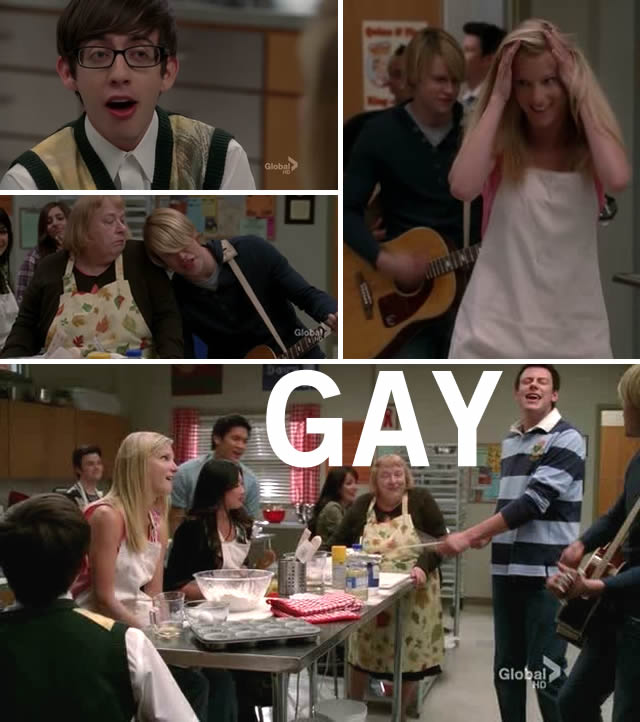 Clearly this whole number is gay and inspired by Finn the Lesbian's love of lesbian folk-rock music. Everyone sings along and makes instruments out of kitchen utensils like it's Sesame Street and Artie makes a lot of "demented bird" facial expressions and Brittany makes a lot of "to the left, to the left" facial expressions.
"I thought this song was about a baby," says Mercedes. Someone get this chick a boyfriend.
Somehow this incredible interruption to what I can only assume was going to be egg drop soup doesn't earn Artie his prom date back. Now that he's got nothing to live for, he's gonna help Puck spike the punch bowl. I know, right? Who cares.

It's time for the new Glee spin-off Two and a Half Men, starring Blaine, Kurt's Dad, and Finn, who is half-man, half-lesbian. It's a good show, much better than the original. No really, this is cool, all the guys hanging out. Not like that. You know. I also appreciate how, much like Brenda and Brandon Walsh's living room, the set-up of this house lends itself to impromptu fashion shows.
… and also to Alexander McQueen. Pretty sharp, clearly, but Mr. Dad and Blaine aren't sure if they love it. However, Finn's a big fan!
Dad's like "Hey buddy, you look great in that skirt and all, but maybe coast on that 'nobody bullying you anymore' thing for a while before breaking out the kilt" and Blaine is like, "Yeah, totes," and Kurt is like, WTF?!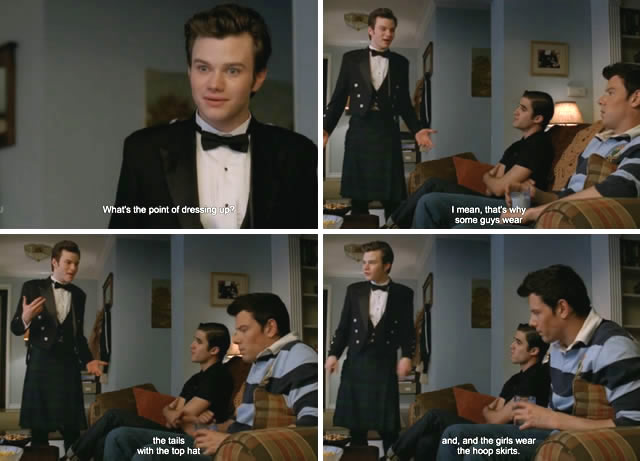 Then Kurt gets teary and the little boy who always dreamed of wearing a kilt to his junior prom emerges:
He also points out that "prom is about joy, not about fear." DUH! GOD WHY CAN'T ANYONE JUST REMEMBER WHAT PROM IS ABOUT? WHAT DOES BLAINE KNOW HE DOESN'T EVEN GO HERE!

Karofsky, with a beret atop his sausage-face, escorts Kurt O'Hummel down the hallways of McKinley high, like two Bros-in-Arms:
I wonder what ever happened to their PFLAG club. Anyhow, Brotofsky drops Little Drummer Boy off at the market/French Class and then has like five feelings all in a row and only two of them he knows by heart.
Kurt: "Have you noticed that nobody has bullied me this week?"
Karofsky: "That's because the Bullywhips are protecting you."
Kurt: "Maybe. But maybe nobody has been harassing me this week because nobody cares."
Karofsky: "You're dreaming."
Kurt: "Okay, look — I'm not saying everyone in this school is ready to embraced the gay, but maybe at least they've evolved to being indifferent."
Karofsky looks a little emo, so Kurt dives right into that open wound like a little gay guppy of joy and kiltish sensitive delight:
Kurt: "I see how miserable you are, Dave. I could just hate you when you were bullying me, but now… now all I see is your pain… and you don't have to torture yourself over this. I'm not saying you should come out tomorrow but maybe, soon, the moment will arise when you can."
[KAROFSKY STARTS CRYING]
[YEAH!]

Kurt: "What's wrong?"
Karofsky: "I'm so, I'm so freaking sorry, Kurt. I'm just… so sorry for what I did to you."
Kurt: "I know."
If Kurt was my friend and he told me about this on g-chat, my response would be "!!!!!!!!!!!"

In the Princess Castle, Quinn is finishing filming the Diamonds are Forever commercial at her dresser and, as the last moments of Twinkle-Eerie-Twinkeltoes-Dreamstar Music fades, Mom calls that Finn has arrived. Quinn emerges and Finn suddenly realizes that his girlfriend is really really really really good-looking. (Tbh I'm not into the Dianna Argon thing but bcw says she's one of the prettiest girls in the whole world, so.)
I wonder if Quinn likes that corsage as much as the Faberry shippers do.
Later, after, I assume, Soup, Salad, and the epinimous breadsticks, Quinn and Finn stop by the most awkward double date in history, wherein Jesse informs Quinn:
Jesse: Quinn, you look stunning. The ghost of Grace Kelly. Let me know if you get tired of your boyfriend stomping on your pretty little feet all night; i'll be more than happy to cut in.
Isn't that weird for Jesse to hit on someone else's date? Why is Rachel just over there like she's chilling in Mr. Roger's Neighborhood while Jesse spreads his seed amongst other wild giraffes of the jungle? Kids these days. Technology. Facebook!

Pages: 1 2See entire article on one page