OMG IT'S PROM TIME FRIDAY FRIDAY GOTTA HAVE MY CEREAL ON GAY GAY WEARTHEPANTS NOPANTS DANCEDANCE SO MANY EXTRAS EXTRA EXTRA WHO WANTS AN EXTRA READ ALL ABOUT IT
I was so unfamiliar with the song "Friday" that I didn't even know there was a rap interlude. This whole thing was a huge surprise for me, much like the information that Saturday comes after Friday. Gotta have cerealtickcinononananaononon Friday FRIDAY Friday Friday Friday.
The good news about Prom is that I have a really nice Intern now. Her name is Grace. Hi Grace! She made all these screencaps for me! Aren't they so good?
So a few other things happen at prom:
1. Santana & Karofsky: Dancing Like the Stars
I know that "we play for the same team" is like, a figure of speech, but watching them be ridiculous and sort of pantomime obnoxious heterosexuality made me think "I'm happy they're on the same team." You know? Like at least there's no straight boy or straight girl thinking they're on a date with one of these two when they're really just on a charade.
+
2. Mercedam
Sam asks Mercedes to dance, if they don't start dating I'm gonna quit. I'm gonna burn the whole place down. Every other time on this show that a guy has talked to a girl, they've ended up doing it later that season.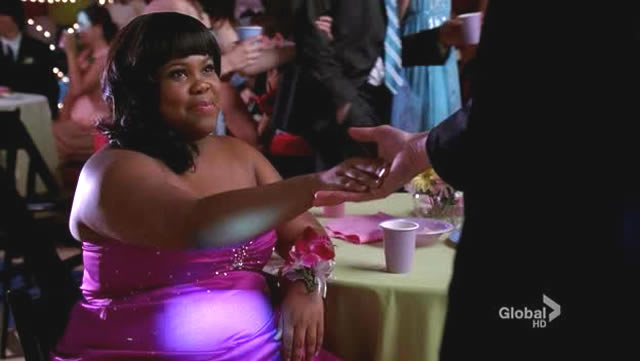 +
3. Jar of Hearts
Rachel sings a ballad and it's super good, but there's heaps of Dyke Drama with Finn gazing creepily at Rachel like he's gonna dump menstrual blood on her $5 Goodwill dress. Or, you know, start a random fight with the guy Rachel brought to prom.
+
4. Brittany Slow-Dances With a Girl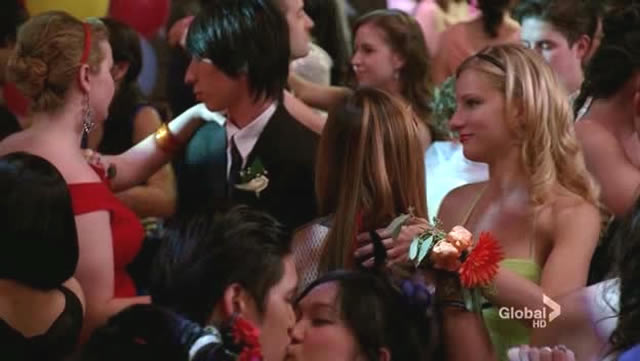 +
5. I'm Not Gonna Teach Your Boyfriend How to Dance With You, But I will Punch Him in the Face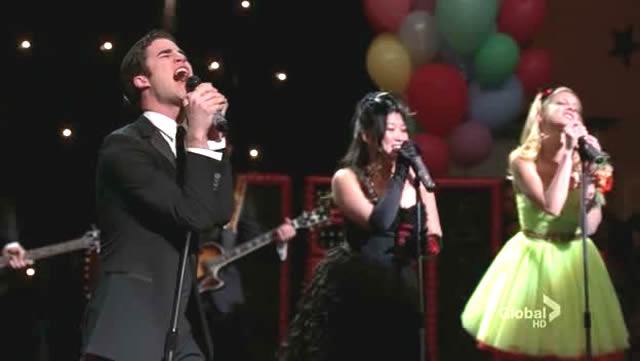 During a riotous dance/song number which offered Heather Morris an opp to do that sexy shoulder-jerk-move she does, Finn decides to start a fight with Jesse. Jesus if we wanted to have lesbian feelings, we'd CLEARLY WATCH A DIFFERENT SHOW or you know, talk to our ex-girlfriends or be possessive of our lady-loves when we've already refused to re-date them again and, consequently, ruined "Last Christmas I Gave You my Heart" for me FOREVER.
Is Sue Sylvester the only chaperone at the prom? This is weird.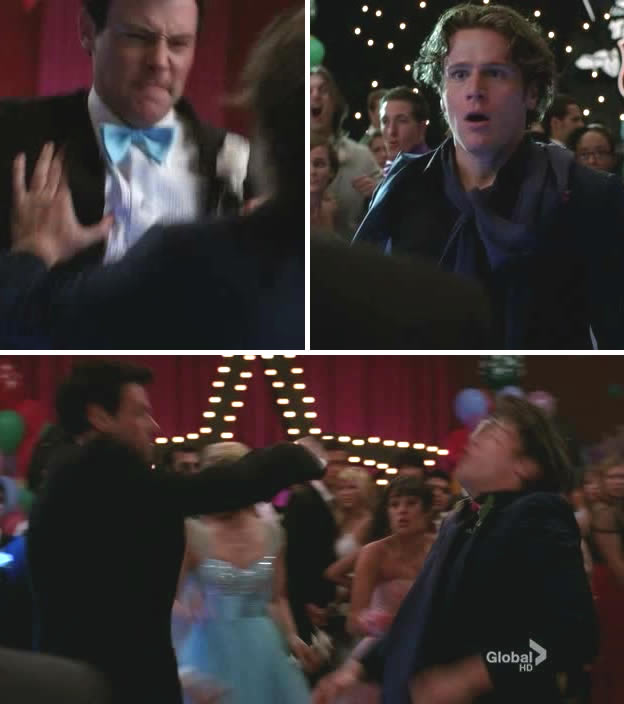 Really I'd be doing the English language a disservice to use its words to describe this neverending love triangle of hell. However, I liked the blue lights of regret shining on Rachel/Quin as they watched their dates get escorted out by Sue Sylvester. The music was very Desperate Housewives, which I've seen 2-3 times and the imagery was very Independent Filmish. Oh, speaking of Sue Sylvester!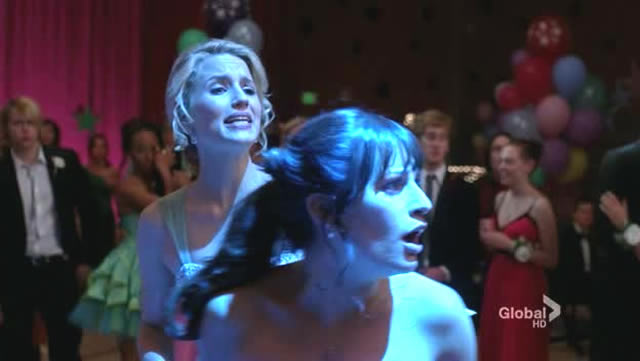 +
6. My Orthodontist's name was Dr. Fear. True Story
There's a subplot in which the school cheerleading coach and all-around rabble rouser locks a disabled kid in her office and threatens to harm him with giant iron dental instruments from the 1770's, which is really altogether just so ridiculous that I need not waste your time with it, right?
+
Okay so, back to the show — so we're on the dancefloor and things are getting real dark. Like kill-a-baby-harp-seal dark. Quinn's boifriend is throwing punches, Sue's in the other room yelling about punch, and it's time to announce Prom King & Queen.
Because everyone loves a walking talking piece of sausage (it's a thing, it's like the next bologna), Karofsky wins King…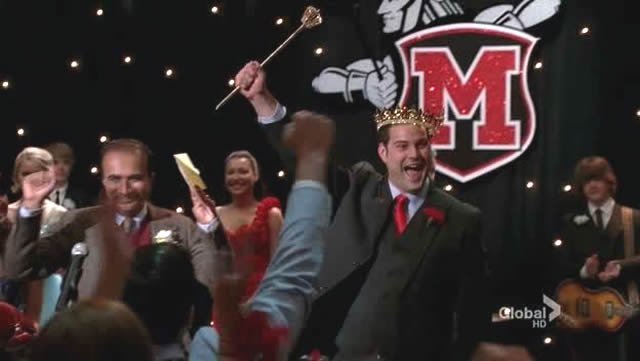 …so Santana is obviously gonna win queen..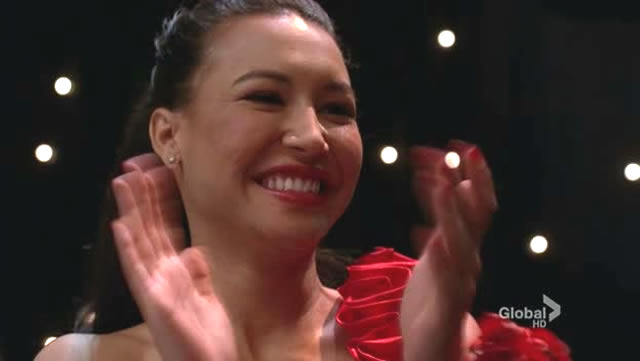 Except instead Kurt Hummel wins queen.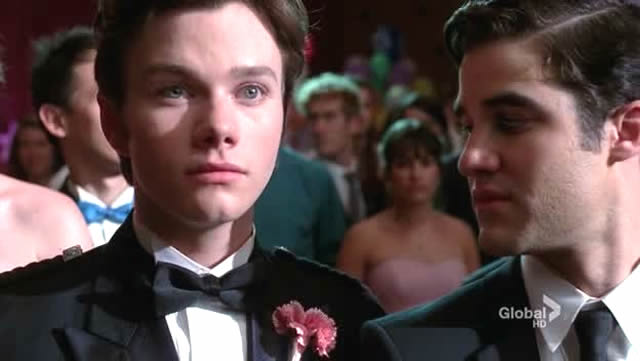 And we enter Zach Morris TimeFreeze 2.0: Glee Edition for the second time. It's fine. You can breathe here. Nobody else exists. Not even Fashion Week.
Kurt: "Don't you get how stupid we were? We thought that because nobody was teasing us or beating us up, that no one cared. Like… like some kind of progress had been made. But it's still the same."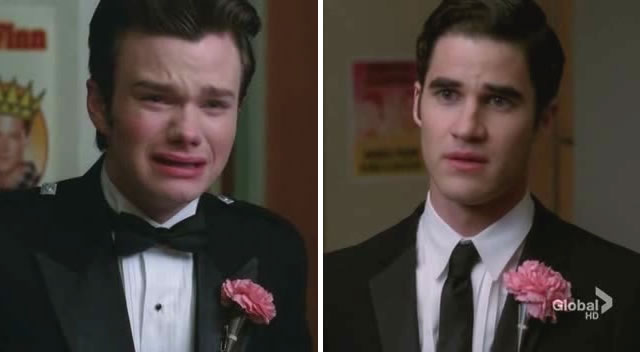 Blaine: "It's just a stupid joke."
Kurt: "No, it's not. All that hate, they were just afraid to say it out loud. So they did it by secret ballot. I'm one big anonymous practical joke."
You guys, they have matching chest-flower-thingies!


In the Powder Room, Quinn informs Rachel that this was her fault, that nobody voted for Finn because they knew he was a lesbian. I mean because they knew he would rather be with Rachel. Nobody knows that, the writers change their mind every week. She should blame Ohio, NOM or Florida.
Then she slaps Rachel in the face.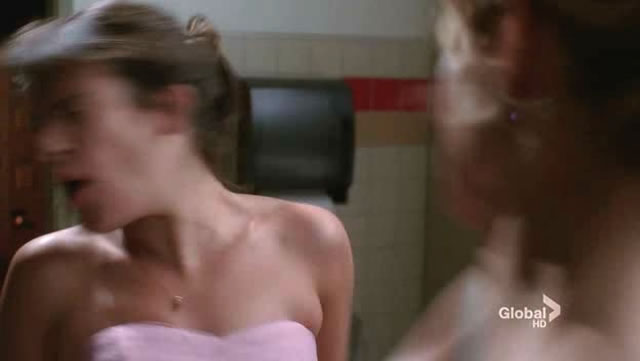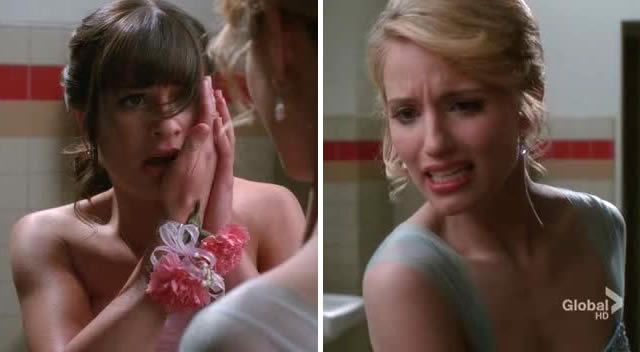 Ahem:

"Just because I hate everybody doesn't mean they have to hate me too," Santana says, storming into one of many unlocked offices of the McKinley High Time Freeze.
Oh! Okay. I mean — I get it. She's less afraid of being ridiculed than she is of simply being unpopular or unliked — a thing she's not used to, and a thing she usually combats with all her offenses on blast. She wanted that last moment where she shone for being crafty and heartless but also for being, at least superficially, popular, and loved. She wanted to be on top because then she'd be far enough from the bottom to forget about it. Because what will happen when she becomes the thing they'd vote for but only as a joke?
I wish there wasn't such a price on honesty, because it really is the bee's knees.

Kurt: "I'm not going back in there."
Quinn: "I'm going to transfer."
Santana: "As soon as we get to New York, I'm bailing to live in a lesbian colony. Or Tribeca."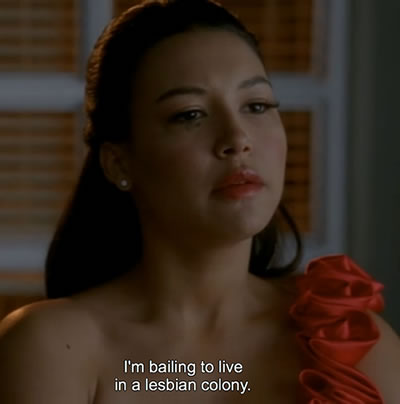 Now that would be a great spin-off!

Blaine says do they wanna ditch prom or not 'cause if they're gonna ditch prom, they could maybe still get home in time for Glee, which would be meta.
Kurt: "Wasn't this prom supposed to be about redemption?"
Kurt's concerned about redemption. You can't have redemption in the hallway, where the time freeze still exists. This isn't the Matrix. This is Glee Club. This is a Glee recap. I am really tired, is the movie in my mind.
Kurt: "I'm going to go back in there and get coronated. I'm going to show them that it doesn't matter if they are yelling at me or whispering behind my back; they can't touch me. They can't touch us. Or what we have."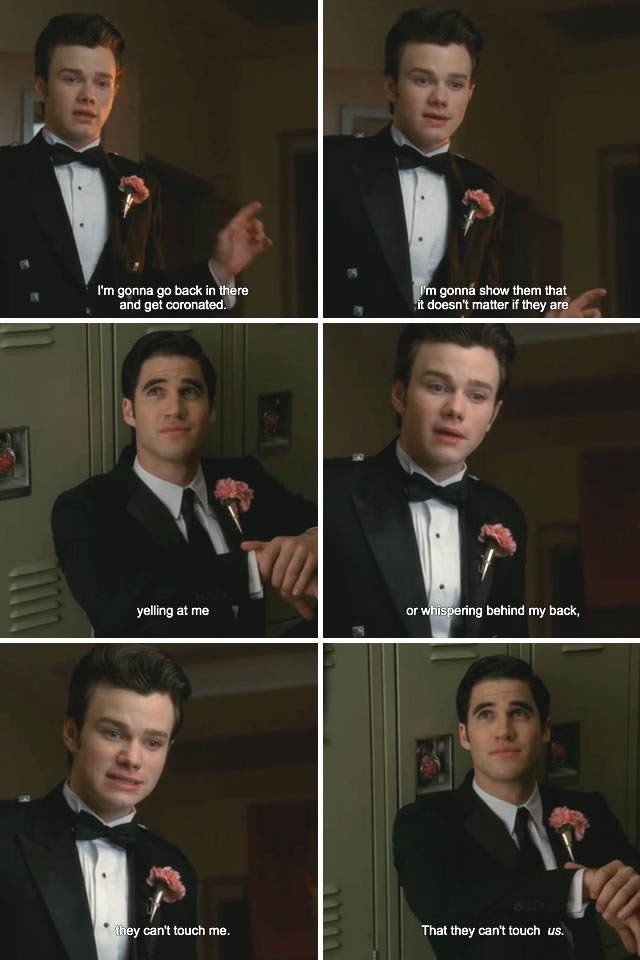 Rachel: "Most girls would be upset about getting slapped in the face, but I can appreciate the drama of it."
Quinn recedes. Let's Rachel handle her, or trusts Rachel to handle her. She lost prom queen, she slapped Rachel in the face, sometimes you gotta just lean on the sink and let show choir girl take care of you.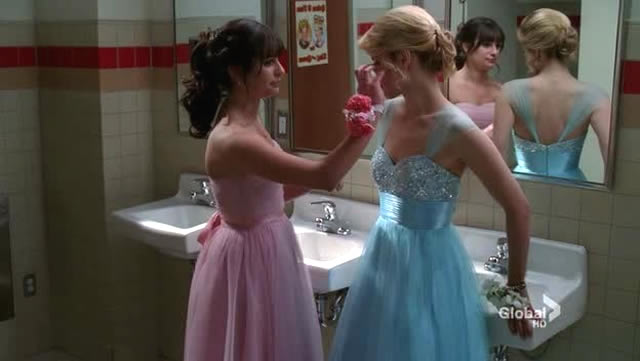 Quinn: "I know you think it's hard to be you Rachel. At least you don't have to be terrified all the time."
Rachel: "What are you so scared of?"
Quinn: "The future. When all this is gone."
Rachel: "You have nothing to be scared of. Look, you're a very pretty girl Quinn, you're the prettiest girl I've ever met but, you're a lot more than that."
What else is she? No seriously, what else is she. No? Well, a ship just turned into a booze cruise, so get back to me on that so we can bring everyone back to shore safely.

Back with Team Lesbifriends, Santana's trying to figure out what gave her away when she hasn't even gotten an alternative lifestyle haircut yet.
Santana: "They must have sensed I'm a lesbian. They must've. Do I smell like a golf course?"
Brittany: "They don't know what you're hiding; they just know you're not being yourself. If you had embraced all the awesomeness that you are, you would have won."
Santana: "How do you know?"
Brittany:"Because I voted for you, and because I believe in you, Santana.
Santana: "This prom sucks. Now what am I supposed to do?"
Brittany:"Go back out there and be there for Kurt. This is gonna be a lot harder for him than it is for you."
G-damn when did Brittany get so wise. Oh! I know when, when she broke up with Artie.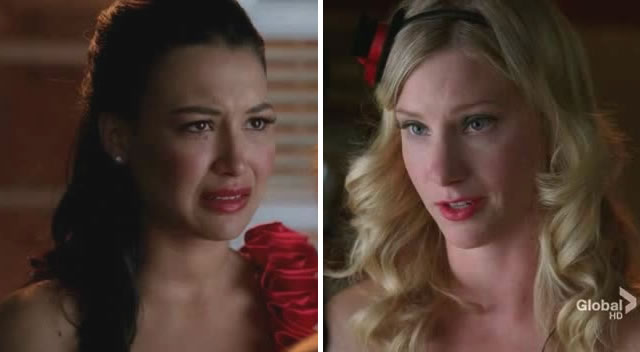 Did they kiss or make out? No, if they had, I would've told you like two days ago. But isn't she lovely?

So these kids who organized a secret ballot to elect him Prom Queen are all just standing there like the cat has tied up all of their tongues when Kurt returns to reclaim his dignity. You can so tell these extras are not the same extras who voted for Kurt.
Kurt says, "Eat your heart out, Kate Middleton" and the crowd goes WILD. I mean it! Kurt is Johnny-on-the-Spot right now! He's just hitting one note after another. KATE MIDDLETON! LOL! LMAO! Seriously best PROM Ever.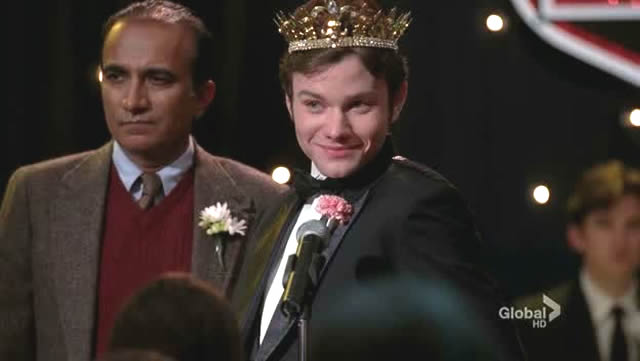 The Principal, clearly in a daze from the lines he was assigned to read this week, announces that it's time for the first dance between the Prom King and Queen.
"Now's your chance," Kurt says to Karofsky.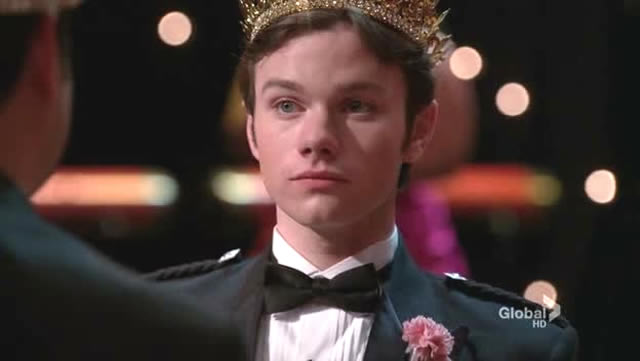 "To do what?" Karofsky asks, confused at how "our first dance after I was crowned Prom King and you were crowned Prom Queen as the subject of a terrible practical joke" could be a good time for anything besides "duck & cover" or "dance."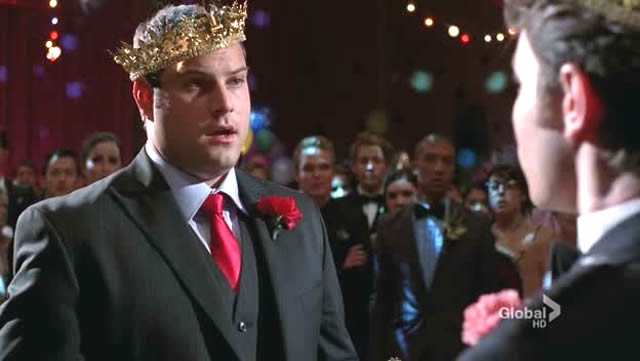 "To come out," Kurt says. "You know, to reveal your life's largest secret, your greatest fear. Why not now? There's at least six kids within earshot, and there's a spotlight on us! A SPOTLIGGHHHTTTT!"
He didn't actually say that, but he said it with his eyes.
Surprisingly, Karofsky skips the golden opportunity!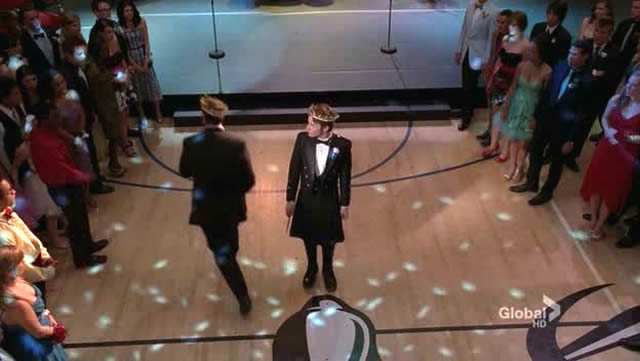 Don't worry, Brian Kinney is here — I MEAN BLAINE!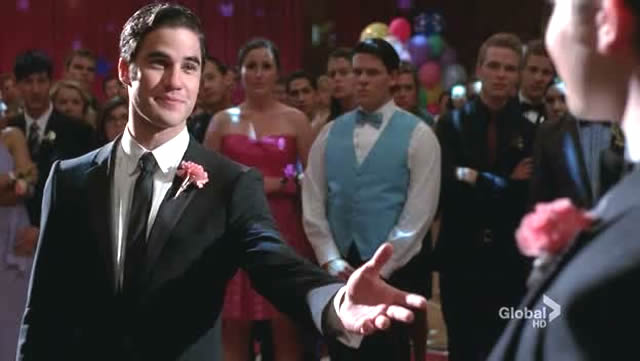 Kurt will have this dance (look at the extras!!)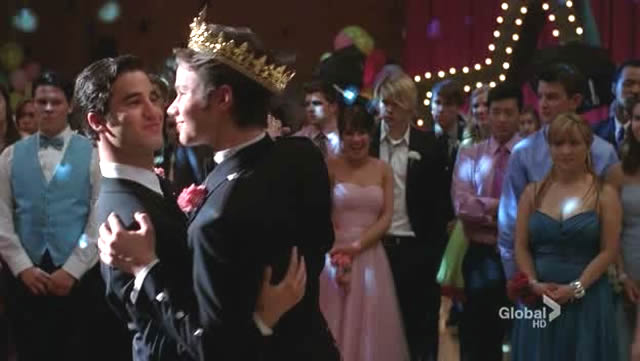 Rachel quickly sees an opportunity to re-orient the focus back on her and bursts giggling into the dance area, setting off a chain reaction wherein all the children begin dancing and nearly convulsing with joy and laughter, falling all over each other (I'm telling myself this is how Brittany ended up dancing with Artie at the end of the night) like a bunch of horny pandas.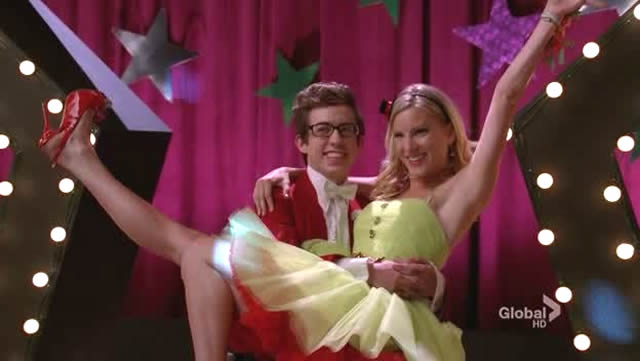 The good news is Santana's doing Dancing Queen and has that 70s Disco Diva walk down PAT. I almost want to dance and have the time of my life. ALMOST! I'd rather watch cartoons with my stuffed pet dog, Tinkerbell.
Also, if you were wondering, over the course of the evening it became very clear that Brittany came to dance:
Um, sidenote — who are those two totally old dudes right next to Brittany and Artie?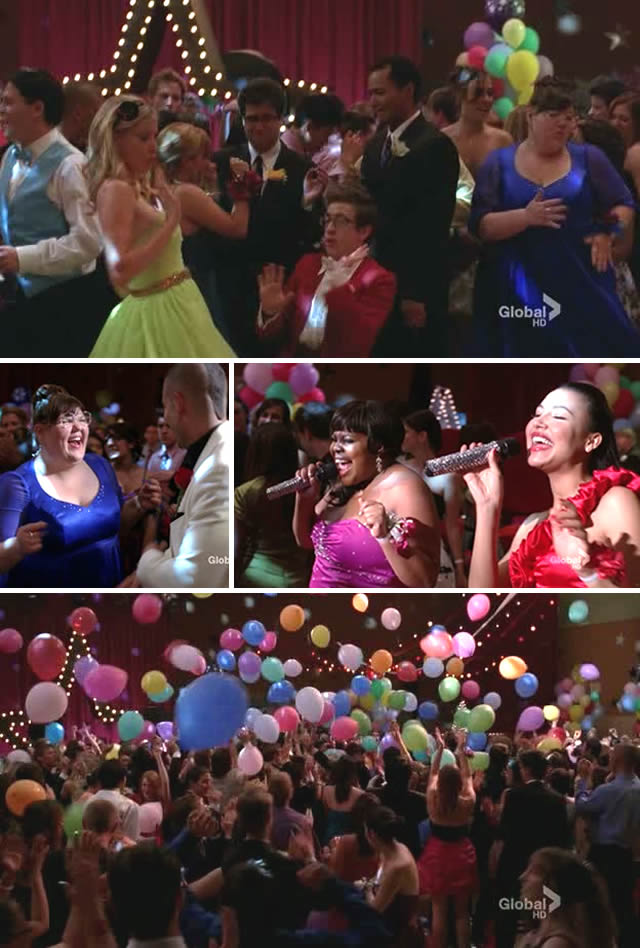 At the end of the prom, we can assume Jesse and Finn are bitchslapping each other across the football field while everyone else laughs so hard that I'm kinda worried they might die. Maybe that's why next week's episode is called 'Funeral.'

I'd like to end with another tweet from gabby: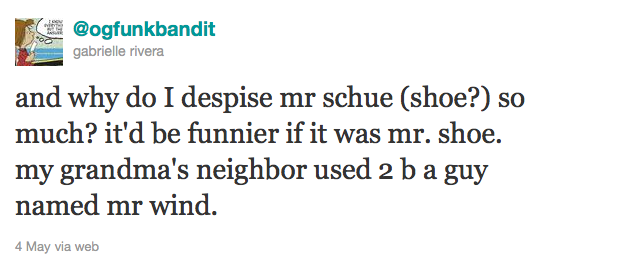 Pages: 1 2See entire article on one page