You know the feeling when you're feeling a lot of feelings, feeling kind of overwhelmed by your feelings? I had that feeling recently. The feeling was compounded by the fact that I misplaced my feelings journal, which meant that I had no official place to write about my feelings, thus making it more difficult for me to really ascertain that I was indeed feeling what I thought I was feeling. I also started feeling weird about even having a feelings journal, feeling like a grotesque, overgrown version of my 13-year-old self. But then I remembered that if I didn't have a feelings journal, I'd have no place to put my sparkly lion stickers. That's not a good feeling. If there's one feeling I'm certain I'm feeling, it's that sparkly lion stickers should always have a home.
Sorry. Where was I? I mean, aside from feeling perversely proud of the fact that 13.5% of that paragraph is comprised of the word "feelings," thus making it among the most lesbian things you will ever see. Except, perhaps, for this tattoo of a winking beaver holding a rainbow flag (complete with unshaven hair poking through the skin).
Whenever I have a lot of feelings, which is often, I think of this sign, courtesy of our ol' friends at the WBC:
The sign that I'm referring to is, of course, "God Hates Your Feelings." I've spent the last half hour trying to articulate why I find it so hilarious.¹ I can't, which I think only reinforces its comedic genius. You can't intellectualize pure comedy, man! "God Hates Your Feelings" is a phrase right up there with "I CAN HAS CHEEZBURGER?"
As a consolation for introducing you to the "God Hates Your Feelings" sign, I'll share a tip. I've discovered that a well-timed "God hates your feelings" can be a wonderful tension breaker in an otherwise overly serious, deep and meaningful conversation with a friend. ("Should I go back to school? I'm so confused. I don't know what to do." "Whatever you do, remember: God hates your feelings.")
So, what did I decide to do with all these feelings I was feeling? Quiz time! I:
a.) sat quietly and listened to what they were telling me
b.) went to therapy
c.) made a 45 minute appointment with someone called "Psychic Sarah"
I think we all know that the rational, healthy decision here is (c). It's obvious that Psychic Sarah is serious and professional about what she does, as evidenced by this picture of her bike.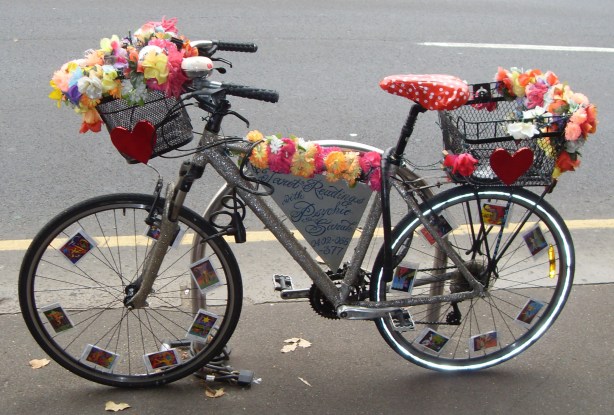 In addition to the bike, two things drew me to Psychic Sarah. One, her advertising postcard contains pleasing graphic design and none of the wrong fonts (i.e., comic sans, handwriting, papyrus). And perhaps more importantly, her name is Sarah. I've had a weakness for the name Sarah since I was seventeen and I got my first girlfriend.² Here's another tip for you: if you can't remember someone's name, and she is between the ages of 25 to 35, guess "Sarah." You will be right more often than not.
What I was hoping for from Psychic Sarah was a mystical encounter that would blow my mind and solve my life.³ What I got from Psychic Sarah was something slightly different.
Before we began, Psychic Sarah asked me to meditate with her. I did. Sitting there in her dimly lit room, my nostrils filled with incense, I realized that I didn't feel at all uncomfortable meditating with her, which in turn immediately made me feel very uncomfortable. What kind of person doesn't feel at least a little uncomfortable meditating face-to-face with a stranger that's about to read her tarot cards? I'll answer that for you: a crazy person. Am I becoming a crazy person? Well, thanks to the fact that I travel a lot and have an inordinate amount of dietary restrictions, I know that I have already become the kind of person who eats on the bus. More specifically, I've become a woman who eats tuna on the bus. To be perfectly honest, I've become a woman in her thirties who eats tuna from a can on the bus. That's me. That is who I am. Now I can add that I am also a woman who meditates with her psychic. If only I knew how to knit sweaters for cats.
God damn it, where is my feelings journal when I need it?
Psychic Sarah said I was entering a very magical time. "Magical, but grounded," she said. "The important thing is that it's grounded. I'm not into that airy-fairy stuff." Maybe that should have been reassuring but it wasn't. Hearing that your psychic, the woman wearing a crystal necklace and reading your tarot cards, isn't "into that airy-fairy stuff" is kind of like hearing that your physician doesn't "get down with that medical mumbo jumbo." It's weird.
I think Psychic Sarah was right, though. Two days after we met– just two days!– where should I find myself? Smack dab in the middle of a human pyramid with eight other lesbians.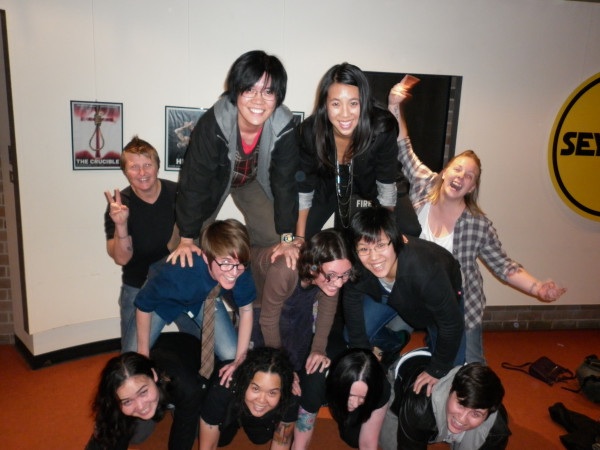 If that's not magical but grounded, I don't know what is. Now, I just need Psychic Sarah to tell me where my feelings journal is, and I'll be all set.
How about you guys? Let's hear tales of your other-worldly experiences.
¹ I think it has something to do with the nebulous nature of all of those terms: god, hate, feelings. Crammed together like that, open to all kinds of interpretation, it's like a Dada-ist poem. It was the same way when I first saw the "God Hates Fags" protest signs. I didn't understand them at first. There were about ten glorious, innocent seconds when I read one of those signs and thought, "Wow…those are some really passionate anti-smokers. I didn't know that Christians cared so much about lung health."
² At the risk of sounding crazy, I won't tell you that the first three girls I ever kissed were all named Sarah. Or that almost a third of my sexual partners have been named Sarah. So what?
³  For the record, "a mystical encounter that will blow my mind and solve my life" is also what I'm looking for in oral sex.