Ed. Note: The title of this piece refers to "Hello Estrogen, Farewell Heteronormative Privilege," an essay recently posted here by Annika, a trans woman.
I'm a feminist and I've always been a feminist and I've been a queer advocate since I understood what "queer advocate" meant. I remember feeling the fire of resistance when I read the Berenstain Bears book No Girls Allowed. Brother Bear and his boy friends built a secret clubhouse and posted a sign out front that said "NO GIRLS ALLOWED.wp_postsThere was even a drawbridge and mote to ensure the clubhouse remained for boys only. I was outraged.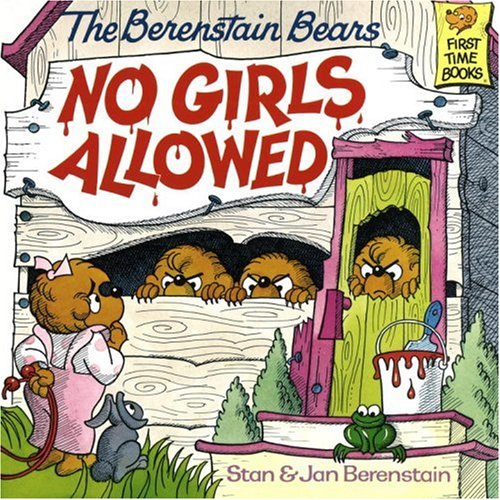 So imagine my discomfort when the secret clubhouse that exists in real life (and has even more exclusionary policies) let down the drawbridge for me and extended an offer of membership. Actually, I wasn't even offered membership – I didn't have the chance to decline. It's like I woke up one day and was a card-carrying member of the straight white men's club.
I'm not going to lie. In addition to the discomfort of unearned privilege, being a straight white upper-middle class higher-educated guy in a world that loves dudes like that has also felt pretty nice. First of all, it's been extremely stress-relieving to be seen as I am, and the male and hetero privilege being thrown at me does indicate the outside world's perception and affirmation of my true gender and sexual identity. Second, being seen as "normalwp_postsis refreshing.
Annika wrote a really great and accurate piece on how interacting with the world is different for her now that she is part of a visibly lesbian couple. I experienced everything she describes in reverse. Since I was 17, I've dated women. As a visible lesbian, I experienced everything from uncomfortable public displays of "supportwp_postsfor my "lifestylewp_poststo strangers' awkward attempts-to-not-stare to obvious pornographic stares from straight men to hurtful homophobic verbal and even physical accosting.
When you're visibly queer you have what women's studies professor Daphne Patai first labeled "surplus visibility." Essentially, when a space has long been dominated by one group of people (heterosexuals in this example), any minority presence (the queers!) appears excessive, gathers a great deal of attention, and is often deemed offensive by members of the majority. For example, while a man and a woman holding hands often go completely unnoticed by passers-by, two women holding hands are always seen.
For the first time since I was in high school, I could blend in. I didn't have to be seen.
Once I started living as a man and transitioned to be seen as one by the rest of the world, I lost all visible queerness in my relationships and dating. And I lost this surplus visibility. For the first time since I was in high school, I could blend in. I didn't have to be seen. Me holding hands with the girl I was dating didn't mean something bigger than an acknowledgement between the two of us that we liked each other; it wasn't a political statement; no one found it offensive.
When we called to book our North Carolina ocean-front hotel room for spring break, my girlfriend at the time said she'd be there with her boyfriend and the stranger on the other line said "aw.wp_postsFor the first time, my relationship with a girl was celebrated by society at large as typical, cute young love. In the heteronormative world we live in, as I'm sure most of you reading this know, the love within visibly queer couples doesn't receive that simple appreciation. That love is most often met with confusion, judgment, or voyeuristic curiosity.
So I'm getting a taste of the privilege awarded to straight couples – the privilege I knew existed in that secret clubhouse but really had no full awareness of until now. And while it's as nice as you might imagine to suddenly not have to deal with all that surplus visibility, seeing and feeling the discrepancy between living as a gay woman and living as a straight man makes me want to work even harder to dismantle this heteronormative world. So my lesbian housemate can bring her girlfriend to Thanksgiving dinner without someone dropping a plate; so my queer friend in Arkansas can buy his date's dinner without the waiter getting confused; so Annika can cuddle with her girlfriend in the backseat and tell her she loves her without fearing the cab driver's reaction. So everyone's love, sexual desires, and relationships are finally treated as normal as anyone else's.
And sometimes I miss my queer visibility. Not only do I routinely feel guilty for my heterosexual privilege, but I also miss being a constant upset to the assumptions and rules of heteronormative society. Being queer was a large part of my identity for a very long time, and it was important to me that I was acknowledged as such. I wanted everyone to know that I was bringing this heteronormative system down! Now I just look like a cog in the machine.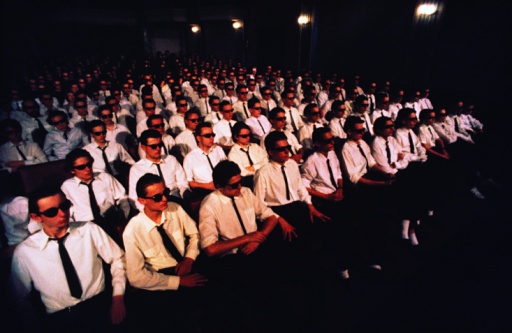 And I miss the camaraderie among all of us visibly engaging in the queer battle. Two years ago, I was one-half of what the world saw as a college-aged lesbian couple. We loved holding hands as we walked through her Manhattan neighborhood. We lived for the approving smiles of other queers who seemed to be saying "yes! good for you! be you! be happy! fight the good fight! we're with you!wp_postsOne year later, I was being read as male and we no longer appeared to be fighting the good fight. When we smiled at queer couples, they usually didn't smile back.
I'm still navigating what this privilege means. I don't want a membership to any clubhouse with a sign that says "NO QUEERS ALLOWED.wp_postsBut as long as they've let the drawbridge down, maybe I can rile things up from the inside?
+
read more sebastian at xxboy