1958. When thumbing through the pages of that year in queer history, it's hard to not feel nostalgic for the sense of urgent activism and forbidden love. Ann Bannon's newly-published lesbian pulp novel, Odd Girl Out, was being read under dinner tables everywhere. America's first pro-gay publication, ONE, Inc., had sued for its right to exist, and actually won. Meanwhile, Phyllis Martin and Del Lyon's lesbian organization, The Daughters of Bilitis, was in the midst of celebrating its third anniversary.
The new off-Broadway play June and Nancy explores a lesbian relationship taking place in Manhattan during that same year. June (Michelle Ramoni), an aspiring visual artist, is struggling to market her work while dealing with a decade-long unfulfilled marriage. The time spent with her husband is seen through a tense June Cleaver veneer. Meanwhile, Nancy (Gabrielle Maisels) is worlds more independent. Confident in her lesbianism and her loner status, she's reminiscent of Joyce, the Life Magazine photo editor on Mad Men who attempted to seduce Peggy. But unlike Joyce, Nancy is successful in winning June over:
Nancy is a lesbian who met June, a woman married for ten years, at an art museum, where she worked as a volunteer guide. June has had two miscarriages and is in a frustrating marriage to a man who only sees her as the woman who provides meals, housecleaning, occasional sex and nothing more. She has no love and no future and has started to hit the bottle. Nancy, for her part, is out of work, has no partner and is thinking about moving to San Francisco.
The two women fall in love and tumble into a lonely, sad and harrowing "life in hiding" as lesbians in a world where women in general are hopelessly repressed by society, much less lesbian women.
Theatrical coming out stories have criticized for being peppered with tropes ("the lesbian who sleeps with a man," "the lesbian who dies," "the intolerant relative," "the inevitable coffee-on-a- park bench moment") and also failing to explore the other challenges of queer relationships. Yet June and Nancy works because it's set in a critical time period for America's gays, one which hasn't really been explored at length on stage or on-screen. The challenges the characters face aren't plot devices; they are historical fact.
Additionally, as an out-of-the-closet cisgender lesbian in 2012, there is something remarkably fascinating — even erotic — about the idea of a closet. Discreet affairs between women behind closed doors are illicit, and rife with tension. This is only heightened by the cultural and aesthetic period in which June and Nancy is set. The stageplay is the lesbian equivalent of a Mad Men affair, but with less misogyny and so much more at stake.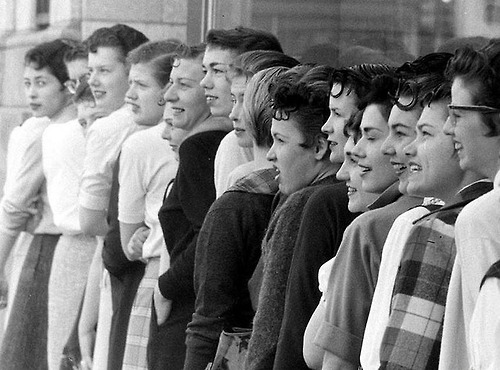 1958 was so much more than high-waisted trousers and KitchenAid mixers, however. On the eve of the Sexual Revolution, the intersection of womanhood and unorthodox sexual desire was still a very slippery slope. Female sexuality was still a largely misunderstood concept. The rigid femininity of the 1950s reassured the rest of the world that you were heterosexual and obedient. Blending in was esteemed. Queer women frequently walked a fine line between bringing too much attention to themselves, or none at all. As a graduate student at UC Berkeley in the late 50s, Mildred Dickemann experienced this nuance firsthand:
Fearing for her professional reputation, Dickemann said she restricted herself to going to bars and reading lesbian pulp novels she bought at the old California Book Co. on Telegraph Avenue.
"The code was in those days that you could be what you wanted to be as long as you kept it a secret," she recalled in her oral history. "And the violations of the code were what did you in."
This is also thoroughly explored in June and Nancy:
Nancy, a lithographer, fully understands discrimination against lesbians and women. At the start of the play, she delivers a talk at a lithographers' convention but nobody pays any attention because she is a woman.
There were grave consequences for sticking out too much. The year prior, Arthur Mathews, a New Jersey doctor, claimed to have cured a lesbian by "getting her hair professionally styled, teaching her to apply cosmetics, and hiring a fashion expert." Others took more drastic measures. While the Red Scare-spawned connection between homosexuality and communism had waned, the homophobia still existed. Queer people were still regularly institutionalized for "mental illness."
Secrecy is a doubled-edged sword. The relationship depicted in June and Nancy is salacious one moment, solemn the next. The crippling side effects of living two lives, including marriage, childbearing and loneliness, are explored throughout the play. We've seen glimpses of this before in theater and films — in The Hours, Mona Lisa Smile and Common Ground–but never to this degree.
It's nice to witness June and Nancy's main characters living and breathing on-stage as opposed to within the pages of a pulp fiction novel; not only for entertainment's sake, but because they draw the spotlight onto the oft-unrecognized generation of gay women who elbowed their way through society before us. They are a testament to progress, not to mention a visual affirmation that things can, and do, get better.