By Archie Bongiovanni & Carolyn Yates
---
The right sex toy can make you feel sexy. It can make you feel seen. And hopefully, it can make you or a partner come a ton if that's something you're into. But even though the sex industry has come a long way in the past decade, it can still be hard to find sex toy recommendations by queers, for queers, without the alienating language or imagery that often characterizes sex toy shopping. That's why we've created the following list of what are, in our opinions, the 50 best queer sex toys out there.
The 50 Best Queer Sex Toys
---
The Best Queer Vibrators
Magic Wand Rechargeable
What can be said about the Magic Wand that hasn't been said before? A tried and true toy for all genders and bodies, the rumbly vibrations that make this wand a near-universal favorite have yet to be duplicated. Save yourself a headache (and money) and buy from a trusted retailer and not Amazon, which has some very good but very faulty knock-offs. The rechargeable version offers a silicone head, four speeds, and four patterns — and if the battery dies mid-use, you can plug it in and keep going while it charges. Try it on a vulva; try it along the perineum to stimulate the p-spot from the outside, as well as stimulate lots of sensitive nerves in the area; try it on nipples; get wild and try it on the knots in your back. If you only buy one vibrator, ever, make it this one. Read Autostraddle's full review here.
We-Vibe Tango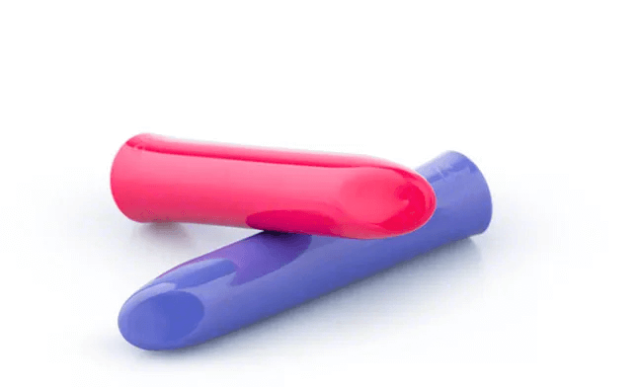 The We-Vibe Tango is one of the rumbliest lipstick/bullet vibrators on the market. As a lipstick vibrator, it's just a bit longer than a regular bullet, which makes it easier to grip. It's powerful enough to use alone, small enough to take up very little space if you slide it between your and a partner's body during sex, or slip it into the vibrator pocket on a harness. Plus it's waterproof and rechargeable. Read Autostraddle's full review here.
Joie Bullet

The Joie Bullet feels like it might fly out of your hands the first time you hold it — it's that intense. The Joie is an ideal addition for dildos, rings, anal toys, or strap-on harnesss that have a slot to add a bullet vibrator. The Joie is strong enough to translate through thick silicone, plus its waterproof and rechargeable.
Dame Products Pom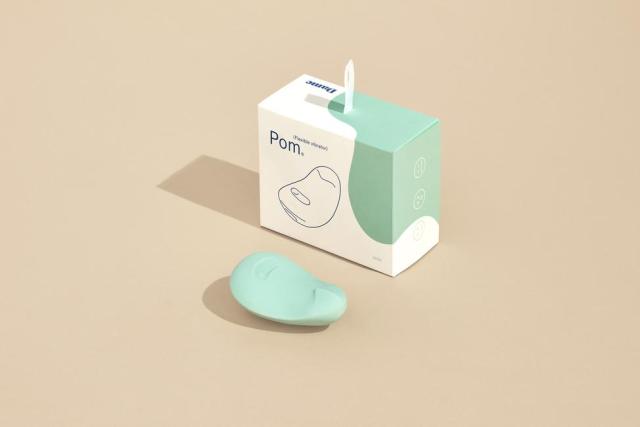 Dame Products' Pom is one of the quietest vibrators on the market and small enough to hide in a drawer, ideal for those who want to keep their toys discreet. Ergonomic, soft and flexible, the design allows for users to lay it flat against their body or use the tip for more pinpointed sensation. Lay it between two bodies for a next-level scissoring experience.
Fun Factory Volta
The Volta's genius design is one of a kind: the silicone base splits into two tips that flap together to create a strong fluttering sensation. The rumbly powerful Fun Factory vibrations can be reduced to a slow low flicker or a higher intense sensation. The tips of this toy can be placed all over the body, or the whole toy can be pressed against a vulva. The beauty of the Volta is how universal it can be, put it on a clit, put it on a penis between the flaps, put it on a nipple, a scrotum, a butt, an insole. Rechargeable and fully submersible, the only limit the Volta has is your imagination. Read Autostraddle's full review here.
Pulse III Duo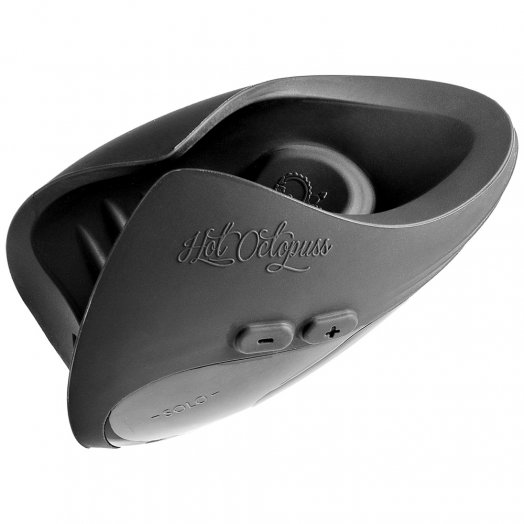 The Pulse III Duo curves around a penis with a strong vibrating disc that stimulates the frenulum but can be shifted to stimulate elsewhere on the shaft as well. This smart toy can be used on a flaccid penis and/or a penis that can't reach erection. For some, it can be a hands free toy for masturbation. When in use, a partner can climb on top and grind on the toy. There's a slight vibration, however it's very soft so the grinding partner might want to incorporate other vibrators or toys as well.
We-Vibe Rave
The We-Vibe Rave is a g-spot or external vibrator that stands out because of its rumbly vibrations, asymmetrical shape with more options for angles, and easy-to-grip-even-covered-in-lube curve. Plus, it's compatible with We-Connect, We-Vibe's app that lets users share control of compatible sex toys with a long-distance partner. (Though, as Isabelle Kohn reports at Mel, in 2016 We-Vibe was sued for its data collection practices not long after Defcon hackers showed it would be possible to take control of a sex toy through We-Connect, We-Vibe has since improved security and changed its data practices so users opt in to aggregate-only collection, and We-Connect is now one of the most secure sex-toy apps out there, making it a strong option for long-distance connection.) The Rave is also splash proof, rechargeable, and has 10 vibration modes if you're into that.
Doxy Die-Cast Wand

The Doxy Die-Cast is a wand vibrator similar to the Magic Wand, with one important difference: it's cast aluminum/titanium alloy. The weighty, luxurious body is beautiful to look at and sensual to hold, especially if you aren't into the plastic feel of many other wands (though note that the Doxy does have some ABS components). Plus it's rumbly as hell and so powerful you won't mind having to plug it into a wall. It also has a silicone head that you can disinfect and LED buttons.
The Best Queer Anal Toys
Fun Factory Bootie
If you could sculpt the platonic ideal of a butt plug, it'd probably look a lot like Fun Factory's Bootie. It's firm yet flexible matte silicone with a long, thin base that fits perfectly between the butt cheeks, and enough of curve to kiss the prostate or the g-spot (through the back wall of the vagina) but not enough to intimidate. And it comes in three sizes. Perfect for beginners and still a go-to after all these years, pair it with a thick water-based lube and dive in.
Vixen Creations Gemstones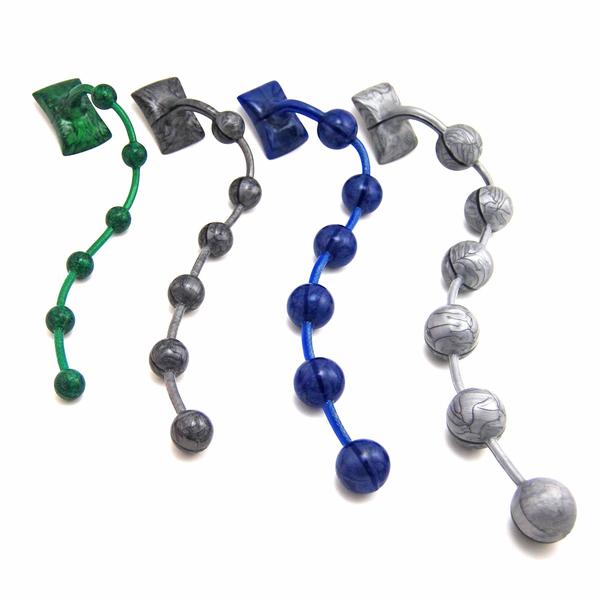 The Gemstones anal beads are flexible silicone beads that fold and bunch in the body, stimulating many of the sensitvie parts of the body from the inside and providing a satisfying feeling of fullness. What makes these beautiful anal beads unique is that there's no stretch in the silicone, meaning you have total control placing the beads in (and, importantly, taking them out — no snapback!). The Gemstones come in small, medium, large, and extra-large and are a fantastic way to feel a small burst of anal sensation, since your butt will close around the thin silicone string.
B-Vibe Rimming Plug Petite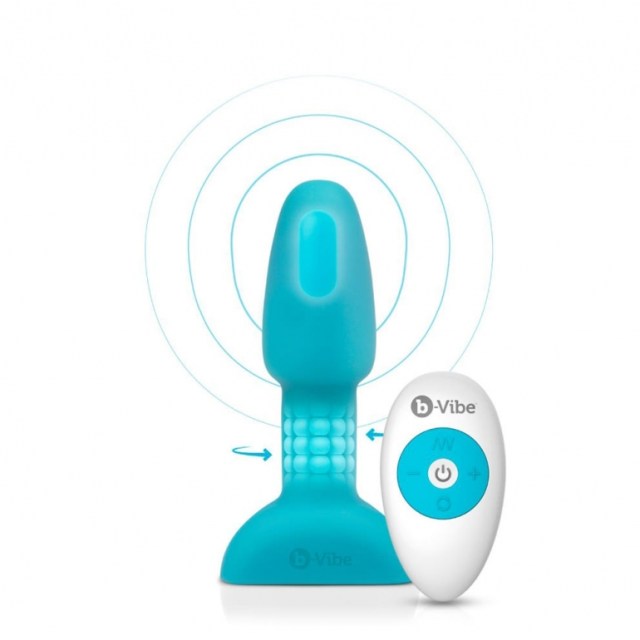 B-Vibe is winning in the anal game. From genius-designed weighted plugs, to strong anal vibrators, to a kit that does it all, it's apparent this company takes butts seriously. The B-Vibe Rimming Plug Petite has rotating beads at its base, giving all those nerves at the anal opening a super pleasurable sensation. The plug has strong vibration settings as well and you can control the silicone plug either by a button on its base or a remote control. For those that want more (and a rotating sensation) check out the Rimming Plug 2 and the new Rimming Plug XL.
We-Vibe Vector
The We-Vibe Vector is the rumbling, vibrating butt plug of which dreams are made. It's shaped to stimulate the prostate and perineum simultaneously. and covered in silky slate silicone. It's also rechargeable; waterproof; and controllable via buttons on the toy, by remote, or by the We-Connect app, so you can give a partner long-distance control (or don't have to worry as much about knowing where you put the remote).
NJoy Pure Plugs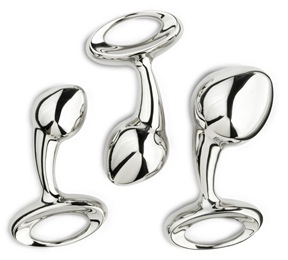 "Nothing, and I mean nothing, feels as smooth as stainless steel on your asshole. If you're someone who is turned on by sensation of soft, heavy smooth surfaces across any part of your body you're going to be turned on by the Njoy Pure Plug. It's just impossible not to be," writes one anonymous reviewer in Autostraddle's full review of the nJoy and love letter to anal. The stainless steel nJoy Pure Plug line — which includes Pure Plugs in three sizes, the epic Pure Plug 2.0, and the prostate-targeting Pfun Plug — are perfect for an intense anal experience. Disinfect them after by washing them and then boiling them for ten minutes.
Hole Punch Toys Plugs and Not Being Too Serious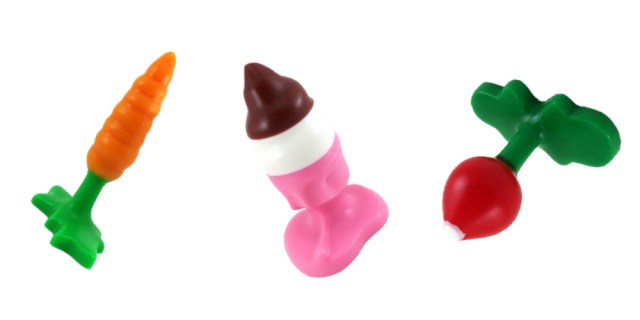 Anal can be intimidating — and admittedly, the line of significantly sized, hand-poured plugs from Hole Punch at first glance doesn't seem to help. There's a carrot, a radish, and the crown jewel: an enormous plug that looks like a Neapolitan ice cream cone that can mercifully come in a softer-density silicone, though not a smaller size. For many people, toys like this are aspirational rather than practical; they're something to keep on display to flag that you're into butt stuff, rather than something to stuff into your butt. There's the size, for one thing. The fact they look like foods and have pun-y names for another. Which is exactly why they're on this list: many people will look at them and laugh. Anal isn't supposed to be serious. Scratch that: sex isn't supposed to be serious. (The only possible exception is a serious sense of accomplishment should you get the Ass Cram Cone into any of your holes.) And not taking things too seriously is one of the greatest sex toys of all.
The Best Queer Dildos
Tantus Silk
Interested in buying your first strap on and don't know where to start? Say hello to the Tantus Silk line. These inexpensive single-density silicone dildos are strap on compatible and a cool lilac color. Smooth enough for anal or vaginal, Tantus Silk comes in small, medium, and large so you can customize the size to whatever you desire — or lay out all three sizes and let your play partner decide like Goldilocks.
Soul Source Dilators
We know not everyone is a size queer. For moments when you only want a little penetration — including when recovering from surgery, vaginismus, or dyspareunia, or just because that's what you want — Soul Source's line of smooth silicone dilators can be a perfect fit. They come in eight sizes from 1/2″ in diameter and 2 1/2″ long all the way up to 1 5/8″ in diameter and 6″ long, are sold in various sets or individually, and with the right o-ring can even be strap-on compatible.
Vixskin Mustang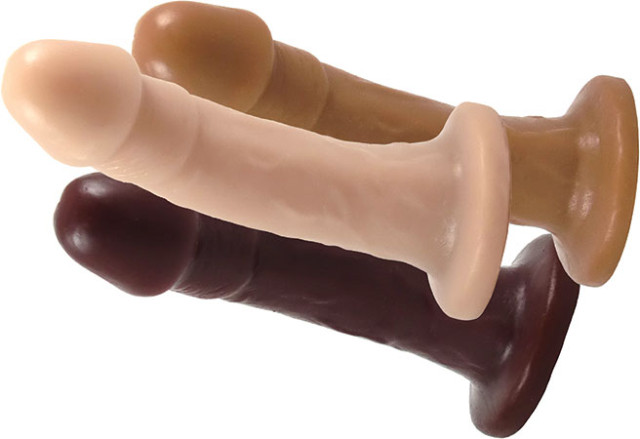 The VixSkin line from Vixen Creations consists of dual-density, mostly representational silicone dildos that are squishy on the outside with a core flexible enough for packing and solid enough for enthusiastic fucking. The VixSkin Mustang is the line's crowd-pleaser — it's a medium length, a medium thickness, and comes with or without a squishy base. If you get lucky, it sometimes comes in limited colors like tie-dye or rainbow. And it is simply incredible. Read Autostraddle's review of the Mustang Royale (which has a squishy base), here. If you're looking for something more intense, check out Autostraddle's review of the Outlaw, the biggest dildo in the line.
BS Atelier Paris G-Spot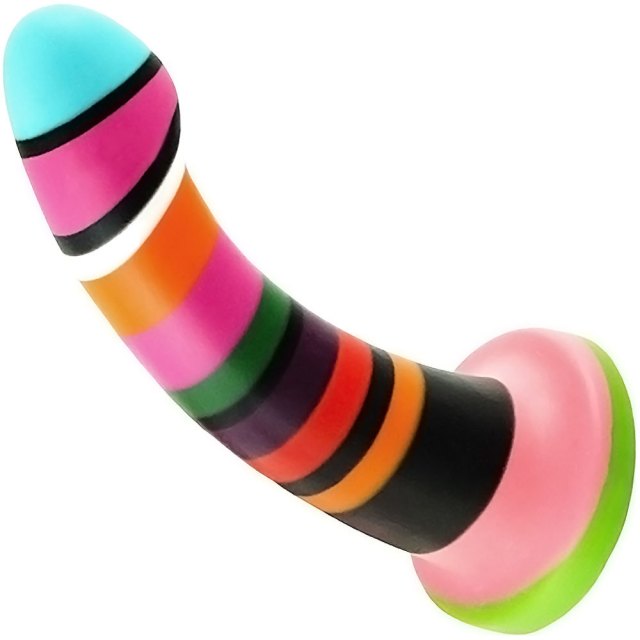 BS Atelier makes single-density, strap-on-compatible silicone dildos that stand out for their incredible visual design and colors. In a world where color scheme seems to still often be a sex-toy afterthought, BS Atelier's toys really stand out. Paint splattered? Yes. Queer flags but make them dildos? Yes. Lime ombré? Absolutely. Matte olive, muted gold, all-over stripes, burnt orange? Yes, yes, yes, yessssss. If you order through the BS Atelier website, you can even design your own custom color scheme. Pictured here: the g-spot-targeting, gently curved, medium-sized Paris dildo.
S Curve Glass Dildo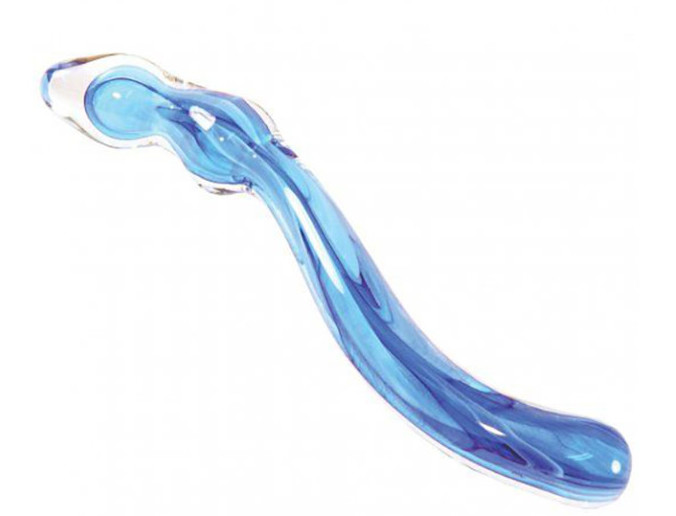 The S Curve Glass Dildo is a sturdy, double-ended, colorful, handcrafted delight. Each side is insertable and can give a different sensation but is great for g-spot stimulation (and ideal for stimulating the deeper a-spot). The smooth glass can glide in and out, and glass allows for some temperature play as well. If you like firm pressure during insertion, this toy is for you. Read Autostraddle's full review here.
Fun Factory Bouncer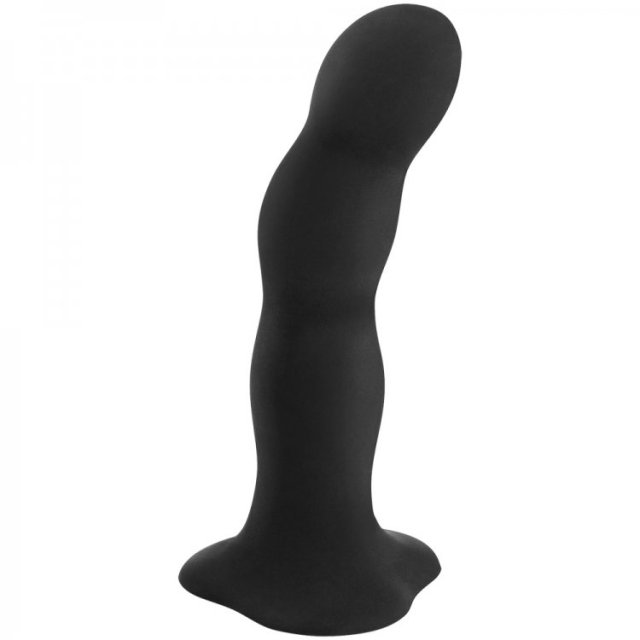 Ever use kegel balls and think, "Okay, these are fun, but what if they were bigger and also I could fuck with them?" The Bouncer silicone dildo is exactly that. The shaft bubbles out in three places to allow room for the balls that rumble around inside of it, and has a flexible and gentle curve. The shape of the base means you can suction-cup the Bouncer to smooth surfaces or use it with a strap-on harness with equal enthusiasm, though it truly excels in partnered sex. Plus it's waterproof and you can disinfect by cleaning and then boiling it.
Njoy Pure Wand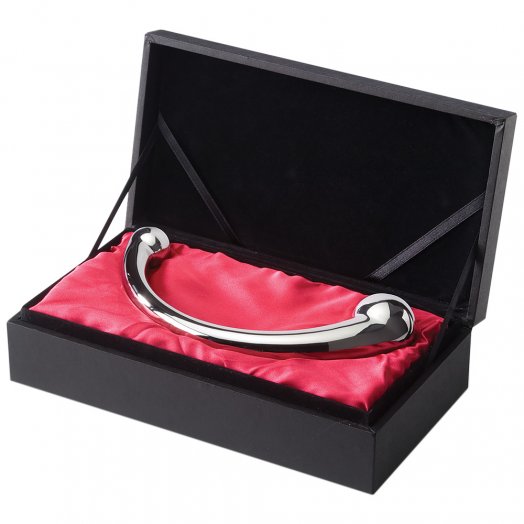 The Njoy Pure Wand is a long-time favorite among queers. Its bulbous ends and curved shape makes it easy for solo use and capable of hitting a g-spot or p-spot like nothing else. The stainless steel feels awesome inserted — it's cold at first and then warms up inside the body, and the weight of the toy means that small movements or rocking motion can have a big impact. The Njoy Pure Wand is a must for squirters, or for those who want to learn. For folks who want to size up, try the Njoy Eleven.
Hole Punch Toys Fluke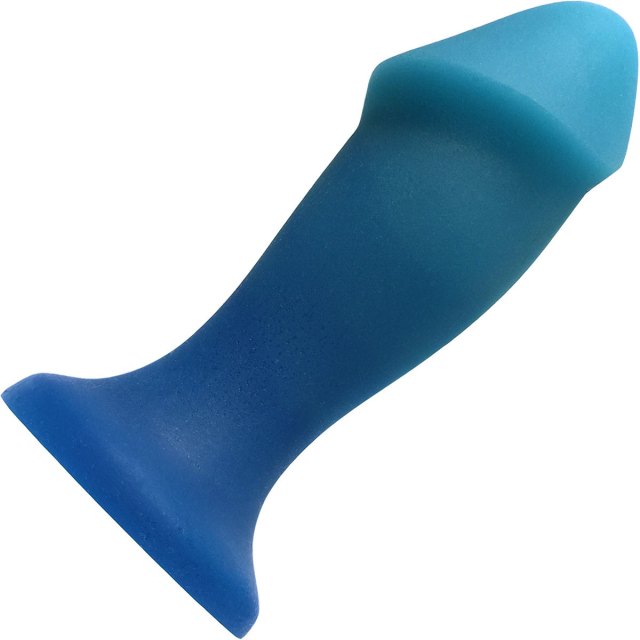 The Fluke from Hole Punch Toys has a unique stubby yet girthy design and is great as a vaginal or anal plug. For those seeking a full feeling without depth, this beautiful ombré toy is for you. The girth is at the tip of the toy, opening up a hole before sliding in and staying in place.
Fun Factory Stronic Drei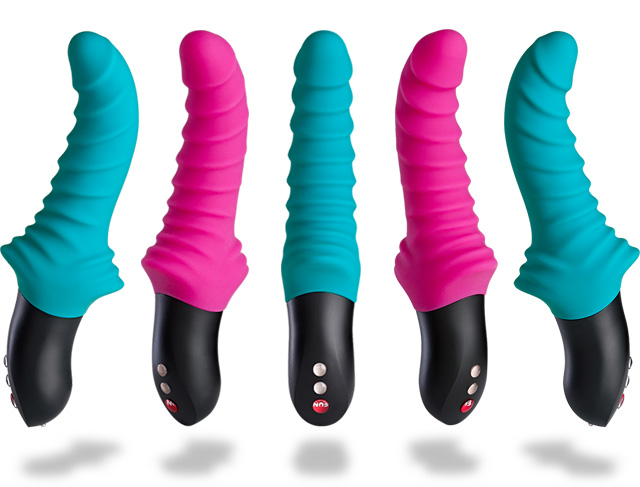 Ever wish you could just lay back and let your favorite dildo or vibrator have its way with you? The Fun Factory Stronic line of pulsators — toys that pulse, or rather thrust, back and forth rather than vibrating — knows what's up. The Drei, which is curved and ridged, stands out because the ridges hold it in place more securely than the original Eins. The flare towards the base also makes it safe for ass-play enthusiasts. Read Autostraddle's full review of the Drei here.
The Best Queer Strap-On Harnesses
Spareparts Tomboi Harness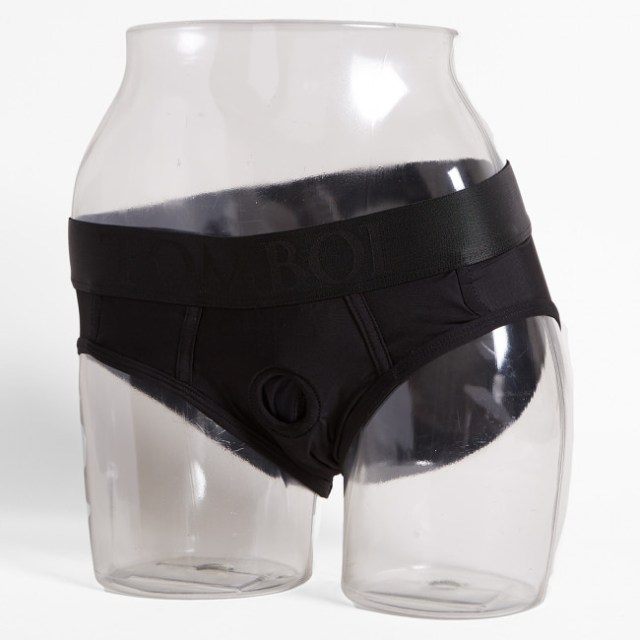 It's hard to believe that underwear-style strap-on harnesses have only been around for a few years — but these strap-free, machine-washable, wear-it-under-your-regular-clothes harnesses have only reached mass production in the past decade. Made of sleek quick-dry material with a brief cut, the Spareparts Tomboi strap-on harness is one of the sturdiest underwear-style harnesses out there. It's easy to use, easy to maintain, easy to launder, and comfortable enough to wear on laundry day when you haven't worn it for sex but are out of all your other underthings. The Tomboi, along with the Sasha and the Joque below, also appears in Autostraddle's guide to harnesses for trans women.
Spareparts Sasha Harness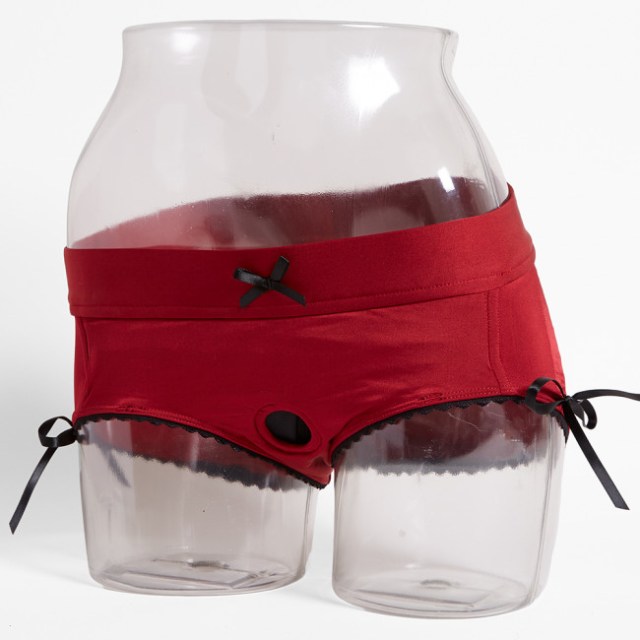 The Spareparts Sasha strap-on harness is the femme-ier iteration of the Tomboi. It's made of the same great material with a booty-short cut — until you pull the ribbons at the sides to give it a higher profile, or turn around and see the ruching over the ass, or attach the removable garter straps and use it to hold up your thigh-highs. Read Autostraddle's full review here.
Spareparts Joque Harness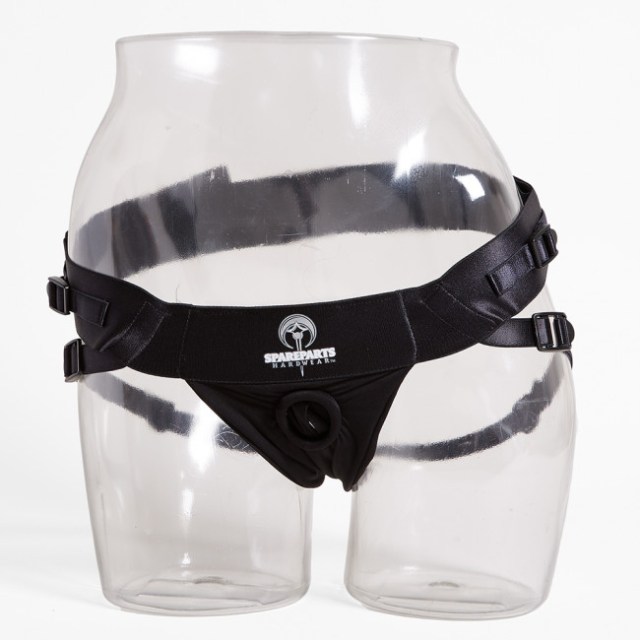 The Spareparts Joque strap-on harness is a little more classically straps-and-buckles based, but with a machine-washable construction. If you still want the flexibility and comfort of a non-leather harness, but easy to fit to your body and with much greater control than an underwear-style harness — especially where bigger and heavier dildos are involved — the Joque is a perfect solution.
Project TransAction Ruffian Harness

Leather harnesses come in all shapes and sizes and Project TransAction makes sturdy leather gear for all bodies and genders. This sexy, well-crafted harness comes in black, brown, or distressed brown with two o-ring options. The best park of this sleek harness is the handle on the back, which allows your partner(s) to have something to hold onto during the ride. Three sizes that can fit hips 29″ to 70″.
Sportsheets Thigh Harness
A thigh harness is not only a great accessibility tool, but also really hot. People who are experiencing pain or fatigue during strap on sex — along with anyone who wants to have a good view — should try a thigh harness. The Sportsheets Thigh Harness is easy to put on and allows space between partners for wandering hands and adding more toys. The SpareParts Hand Harness also deserves a shout out for those who want to play with penetrating beyond the traditional strap-on.
BumpHer Silicone Base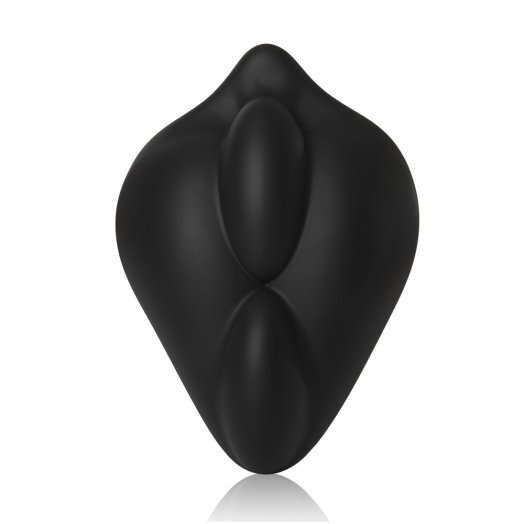 The BumpHer goes on the end of a dildo to add a little cushion between the wearer and the base of the toy. Those that have experienced bruising or soreness on their pubic mound after strap-on sex will enjoy this soft silicone barrier. Plus, you can remove and disinfect it after. Check out Autostraddle's full anonymous review for more info.
The Best Queer Genital-Specific Toys
Atom Plus by Hot Octopuss
The Atom Plus is great for those who want more than a standard vibrating cock ring. With two dual motors, this toy gives intense vibration to the perineum as well as the top of a penis. The strong vibrations make this a nice partner toy, but it's ideal to use solo as well, especially when combined with the Magic Wand or the Pulse 3.
Tenga Eggs

Tenga Eggs are elastomer masturbation sleeves packaged like eggs in a range of textures for people with penises — but they're also so much more. Wear one to change the sensations of a handjob with a partner. Or roll one on top of the head of a Magic Wand to make it softer and squishier. They're (unfortunately still) disposable, so clean up is a breeze.
Fleshlight Quickshot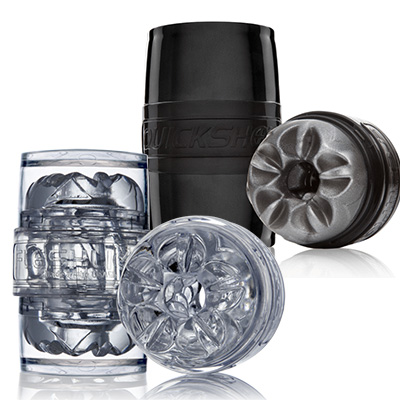 The Fleshlight Quickshot is a penis stroker that is open at both ends. It has a non-representational design with lots of texture, and its open-ended design makes it a solid couples toy. Add the Quickshot for an enhanced handjob or put it on the base of a penis during oral to achieve more of a deep-throat feeling.
NYTC Jack 2-in-1 Stroker

The Jack 2-in-1 Stroker doubles as a stroker and a packer! It's softer, smaller and way more stretchy than other NYTC packers. The stroker cavity is ribbed on the inside to provide some texture and can create a suction for anatomy at least 1/2″ in diameter. It can also stretch to accommodate larger anatomy and comes in four color shades.
Eroscillator 2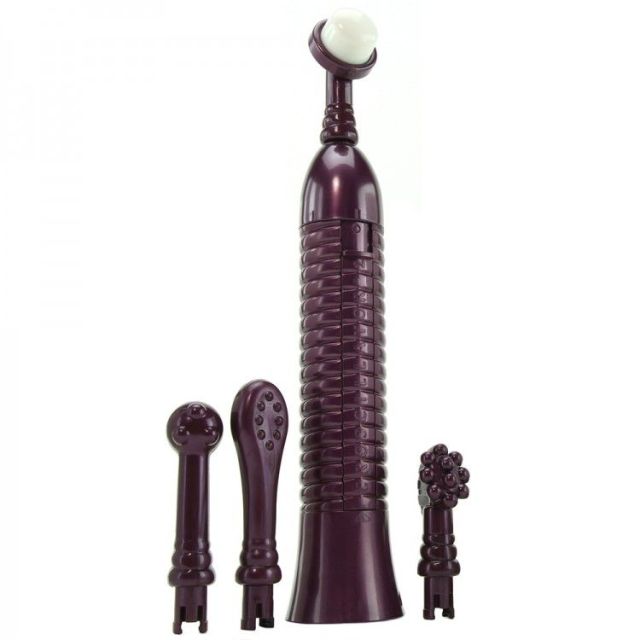 The Eroscillator 2 is a powerful vibrator that doesn't vibrate — it oscillates in tight circles, hence the name. It's one of the only sex toys backed by Dr. Ruth and is great for those that need a lot of direct stimulation or want to try something that doesn't just vibrate against genitals. Since it's a corded toy, it'll always be at 100% power and its lightweight design is ideal for those who have wrist pain when it comes to heavier toys. For folks having a tough time achieving orgasm due to menopause, hormones, or medication, this could be a great toy with which to experiment. Try it with the Soft Finger Attachment for added pressure or to grind against.
Womanizer Premium
The unfortunately named Womanizer line was the first in the now-popular category of contemporary sex toys that, essentially, suck or pulse air directly at a clit, in a way that doesn't lead to over-stimulation the way that being very enthusiastic with other sex toys can. The Womanizer Premium has a sleek aesthetic, a few autopilot modes, and is utterly perfect for solo sex if you have a clitoris. Read Autostraddle's full review of the Womanizer Premium here.
Automatic Vibrating Pussy Pump
Pumps increase blood flow and sensation and can be pleasurable and fun for folks with any anatomy. This badly named vulva pump is designed to cover a whole vulva — however there are also pumps made for penises (of all sizes), clits, nipples and more.
The Best Queer BDSM Lite Gear
Black Satin Blindfold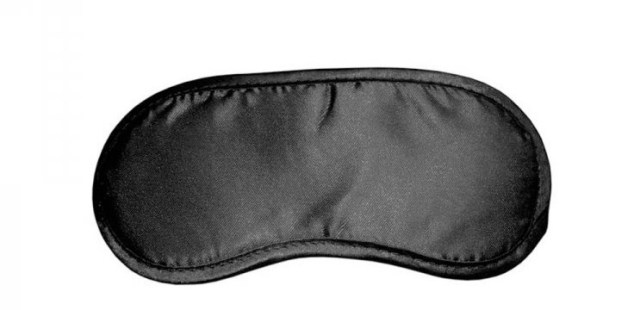 A blindfold is an easy, affordable item that can enhance any sensation. This black satin elastic blindfold can be great for anyone just starting to explore kink or power play.
Adjustable Nipple Clamps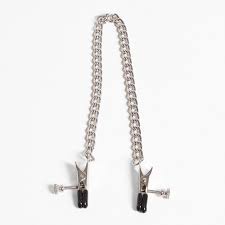 Whether you're new to or more experienced with nipple clamps, an adjustable set — like this one from the Pleasure Chest — can give you the flexibility for a range of pleasure to pain. They're also great if you want to use them with lots of people with nipples of different sizes.
Sportsheets Saffron Breathable Ball Gag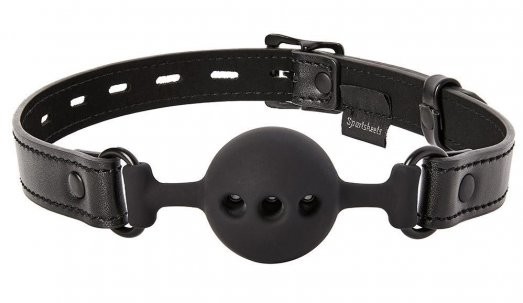 The Saffron Breathable Ball Gag gives the wearer the sensation of being gagged but with three small holes for breathability. The silicone ball is slightly smaller than many other gags out there and is made with vegan leather to boot.
Bondage Tape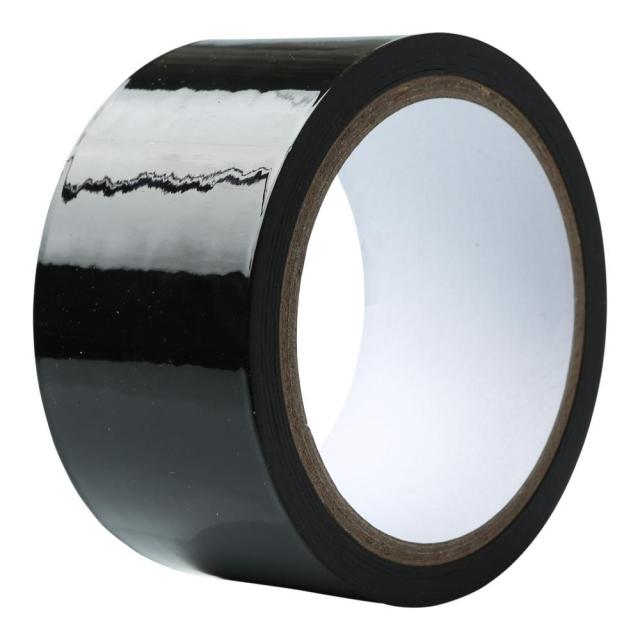 Want to tie someone up but don't want to mess around with rope (which has a learning curve) or restraints (which can get pricey)? Bondage tape is a great way to do it. It's easy to keep on hand, sticks only to itself and not to body parts or hair, and is a quick and easy way to restrain someone.
Sportsheets Under-the-Bed Restraints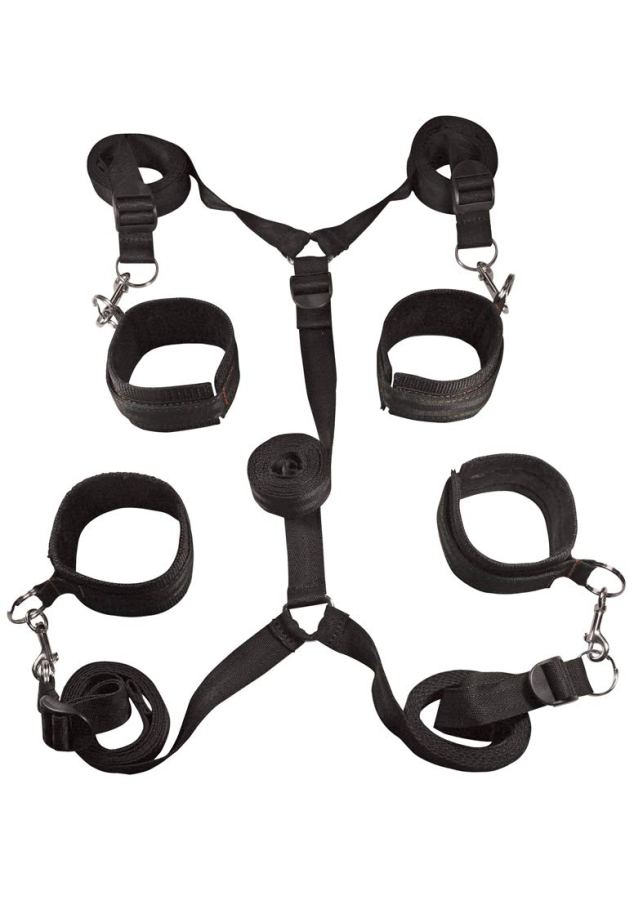 Want to tie someone to all four posters of your bed, but don't have a bed with four posters? Sportsheets Under the Bed Restraints fit under your mattress for an easy spread-eagle restraint set-up without the class anxiety or eyebolts. They're quick to install, velcro to fit a range of wrist and ankle sizes, and machine washable (we recommend using a delicates bag to avoid tangles).
BARE Leatherworks Handy Floggers
The Handy Floggers by BARE Leatherworks come in a variety of sensations. The short handle and short length of the falls allows for ease of control — those that are new to using floggers are less likely to have any leather falls wraparound and hit places they aren't intending. The Deerhide Flogger is like getting hit with a cloud while the Vegan Rubber Flogger gives a strong stingy sensation.
Vegan Bat Crop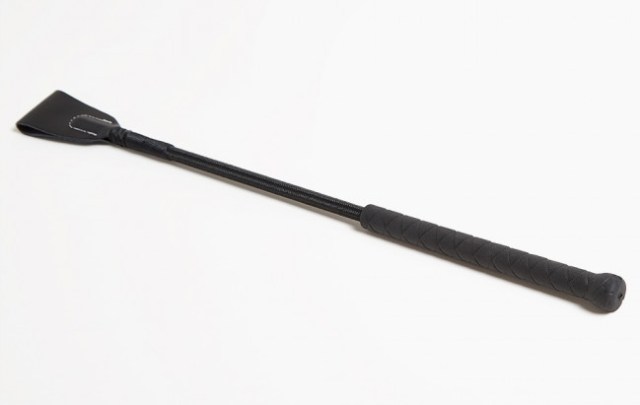 Small toys can make a big impact. The Vegan Bat Crop has a rubber handle for control, a leather look for the aesthetic, and fake leather construction for when the only cruelty you want in your sex life comes from a dom/me with a glint in their eyes.
The Best Queer Sex Supplies & Accessories
Sutil Luxe and Sliquid Lube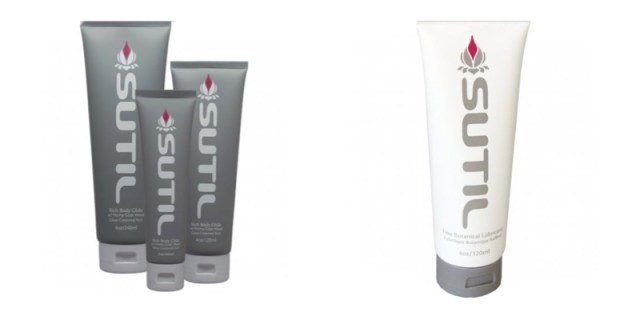 Sutil Luxe lube has botanically sourced hyaluronic acid which helps make it long-lasting, hydrating and silky smooth. For those that want this hydrating element but in a thick water-based lube texture, ideal for anal, try Sutil Rich. The one Sutil drawback is that it's sometimes hard to find and a little bit more expensive; if it's not a good fit for you, the more prevalent and cheaper Sliquid lubes come in a variety of types, including anal lube Sliquid Sassy and silicone lube Sliquid Silver.
Nitrile Gloves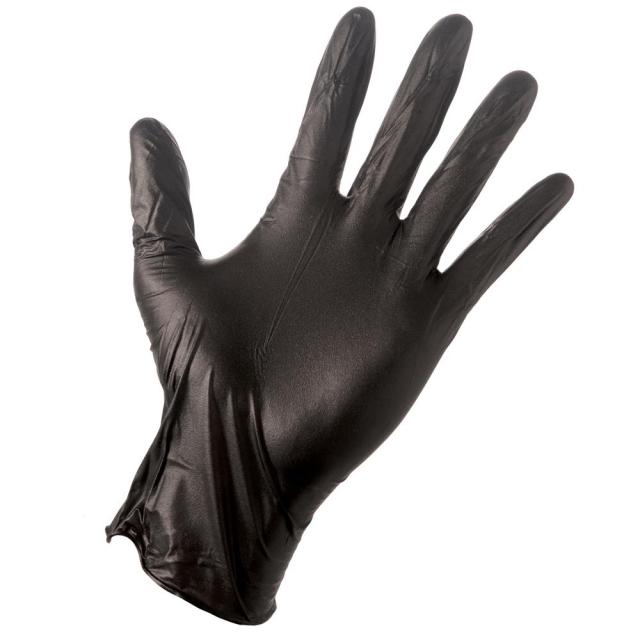 Hands are one of the greatest sex toys. Keep yours — and your partners' mucus membranes — protected with black nitrile gloves. Use them for finger fucking, use them for fisting, cut them open and use them as dental dams, or put them over vibrators you want to share in a pinch when you don't have condoms. Safer sex is everyone's repsonsibility. Plus, it's much easier to take off a pair of gloves than it is to scrub silicone lube off your hands. Make sure your pick is powder-free, nitrile and not latex, and the right size for you.
Seagrape Massage Oil
Seagrape Massage Oils are great for a sensual warm-up or for a soothing aftercare experience (or for date nights in general). The oils are infused to maintain their creative and unique scents over time. With jojoba, avocado, and vitamin E, these oils are soothing as well as hydrating.
Ohnut Bumper
The Ohnut Bumper is a customizable penetration aid. Four squishy soft and stackable rings go along the base of a penis or dildo to limit the depth of penetration. The Ohnut was specifically designed for those who experience pain or discomfort during penetration and is compatible with condoms.
Liberator Fascinator Throw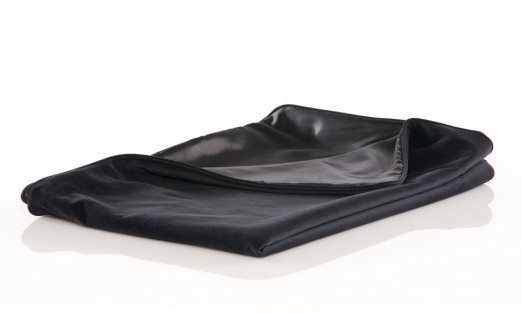 The Liberator Fascinator Throw is a plush waterproof blanket specifically made for sex. One side is smooth and satiny while the other is fluffy and velvety that feels like a normal blanket with one major difference: an inner moisture barrier. This will ensure your bed, your floor, your couch remain dry no matter how wet and messy your sex gets. Use this blanket for easy clean up and put the towels back in the bathroom.
Liberator Wedge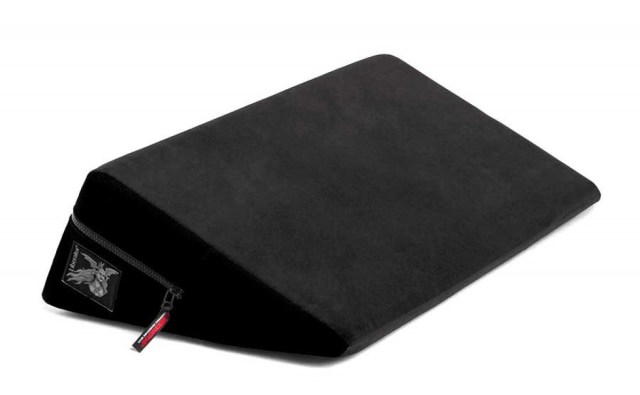 Make getting into and staying in position during sex easier with the Liberator Wedge. During oral, it can lift the receiver's hips up to protect the giver's neck; in positions where one person is straddling the other, it can support the knees of the person lying down; in positions where one person is behind and on top of the other, it can make it easier for the bottom to keep their ass up — and so much more. Plus it has a machine-washable cover, waterproof liner, and ships compressed.
Liberator Wanda Mount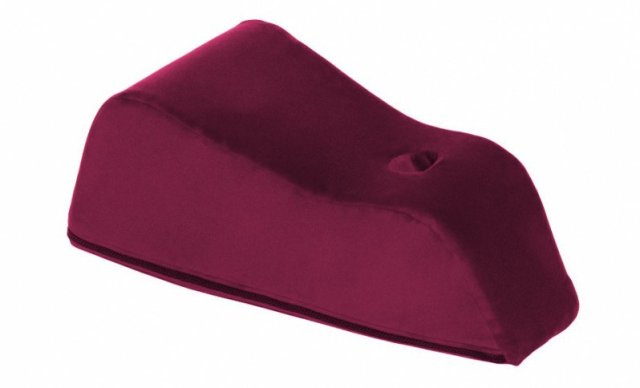 The Liberator Wanda Mount (and Liberator's other toy mounts, too) is made of the same sturdy foam wrapped in velvety microfiber and a waterproof liner as Liberator's other sex furniture, with a strategic cutout so you can use a Magic Wand (or other similarly shaped sex toy) without having to use your hands. Try straddling it or using it doggy style alone or with a partner.