AUTOSTRADDLE ANONYMOUS SEX TOY REVIEW #47:
It's our 47th Autostraddle Anonymous Sex Toy Review! Over the last few years, sex toy companies and stores have propositioned us to review their toys in exchange for, you know, their toys.
This week, one of our anonymous reviewers tried out the Bootie from Fun Factory, available at Babeland.
Material: 100% silicone
Color: black or purple
Size: 3 inches long, 1 inch diameter or narrower
Price: $34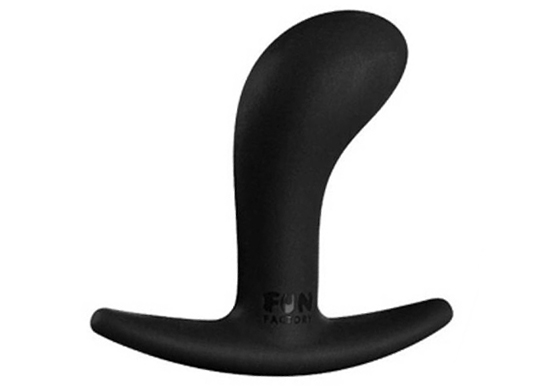 The Bootie is hailed (sometimes by Autostraddle) as the ultimate beginner butt plug, namely because it is cute and inexpensive and flexible and easy to sterilize. It would be hard to make something that goes in your butt less threatening.
If you've never played with anal toys before, make sure you wash the Bootie before you use it for the first time, and inspect it for any surface imperfections or rough spots, just in case. Like any new toy, it's a good idea to try a new plug out on your own before playing with a partner. When you're ready, settle in with a bottle of lube — in the case of silicone toys like this one, water-based lube — and be aware of keeping any fingers that go in your ass or on the plug away from other parts of your body (wearing gloves makes clean up easier, but not everyone wants to masturbate with gloves on, so you do you). Insert it slowly — it should be easy to do, and at a certain point your butt will kind of suck it in. This should not hurt. The flange (base) on the Bootie will nestle intuitively between your butt cheeks. It may or may not stay in place on its own.
The Bootie's flange is long and flat, making it comfortable to wear if you feel like moving around or sitting down with it but still big enough to be safe (public service announcement: your asshole is a swirling vortex that will devour anything it can, so the base of your toys needs to be at least three inches long). I found it felt almost too big, brushing my vulva depending on how I moved, but there was still more than enough room for double penetration or clit stimulation.
The Bootie is entirely silicone, which means you can boil it to sterilize it without worrying about damage (you can also wash it with antibacterial soap and water, or run it through the dishwasher). Unlike other Fun Factory toys, the silicone is smooth enough that it doesn't seem to collect dust simply by being exposed to the air, while still being velvety. It feels nice to the touch, and retains temperature well enough that you can change the feel of it by running it under hot or cold water just before you use it.
But the element that makes this toy the most accessible — its size and flexibility — also makes it less than ideal for anyone who wants to experience having something more serious up their butt without actually having something more serious up their butt. The Bootie's cuteness comes with a trade-off: sensation. After I got used to it, I couldn't feel it nearly as much as I wanted to. I haven't played with many anal toys, but I like feeling full, and I think something like the Njoy Pure Plug might be where my heart leads me with plugs.
If you've never used a butt plug before, the Bootie is a fantastic place to start. If you have used a butt plug before, the Bootie is a light, fun time that does exactly what it's supposed to do, and does it very well.