A few months ago, there was an interesting conversation on the staff email thread. We were discussing a cheesecake recipe Rachel had called "super gross" when Mey mentioned that she doesn't like cheesecake. Specifically, she doesn't like cream cheese, so any recipe that contains that (frankly delicious) creamy spread is not one she's interested in consuming. Others chimed in with their ambivalence toward cheese. As someone who has literally kept half a Junior's cheesecake impaled on a knife in her freezer for a month so she could eat a little bit every night like a cream cheese-and-chocolate popsicle, I was immediately taken aback. Of course, I knew there were people who didn't eat cheesecake, but I assumed they were vegan or otherwise ethically/religiously abstaining. I mean, there's an entire restaurant chain devoted to the dessert. It never occurred to me that one could just not like the substance that makes cheesecake (in my humble opinion) vastly superior to all other forms of cake.
Then Mey offered a runaround: "Show me 29 cream cheese free recipes and then I'll change my mind." My mind-wheels immediately began turning, and while I didn't come up with 29 recipes, I did make one totally delicious one, complete with three different toppings. I'm here to show it to you in the hopes that you will share it with all the cream cheese-haters in your life and show them that they, too, can partake in the glory that is cheesecake.
Now unfortunately, in the absence of dairy cheese, this recipe relies heavily on nuts. That's how you get the creamy texture that complements the tangy citrus to provide a cheese-reminiscent flavor. If you're allergic to nuts, try a silk tofu-based recipe. I've had those once or twice, and they're pretty tasty!
Dairy-Free Mini Cheesecakes
based on this 7-Ingredient Vegan Cheesecake recipe from Minimalist Baker, who took much prettier pictures than I did
Ingredients
For the crust:
1 cup pitted dates, soaked in warm water for 10 minutes and then drained
1 cup raw walnuts or almonds
For the filling:
1 1/2 cups raw cashews, soaked in water for 4-6 hours then drained
1 large lemon, juiced
1/3 cup melted coconut oil
1/2 cup + 2 T full fat coconut milk
1/2 cup agave nectar, maple syrup or honey
Optional mix-ins:
2 T peanut butter
1/4 cup blueberries, fresh or frozen
1/2 cup chocolate chips, whole or melted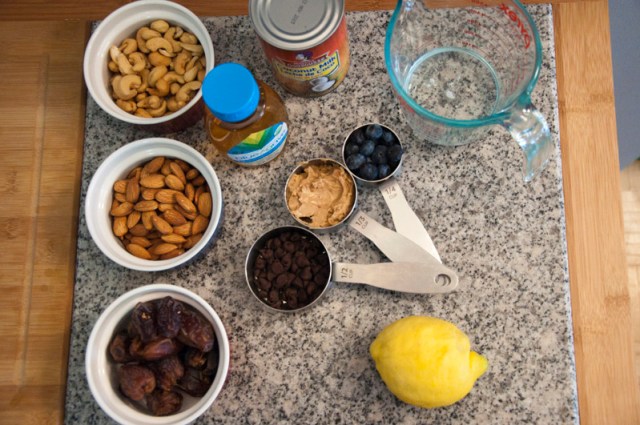 This is where I have to give you a disclaimer. I know, not a great way to start a recipe, but it's important. Most recipes you see for vegan cheesecakes call for a food processor, because they involve breaking big tough things like nuts and dates down into tiny, bite-sized pieces. I don't have a food processor, so I soaked everything for a million hours to soften it and then attacked with my immersion blender. It wasn't a total disaster, but it took a long time and kept me from really getting that smooth, creamy consistency I wanted. You'll see decent-sized chunks of almonds in my crust for that reason. So if you at all can, please locate a food processor and use it to your advantage to get the most out of this recipe.
1. Blend your dates in the food processor until they form a ball. I sort of eyeballed it with my immersion blender, but you want it to start sticking together so you know it'll compose a nice solid crust.
2. Process your nuts into a meal. Slowly add the dates back in and mix until a loose dough forms. Add more dates or nut meal to get the consistency rights — you want it to stay together when you press it between your fingers but not be too sticky. Add a pinch of salt if you'd like.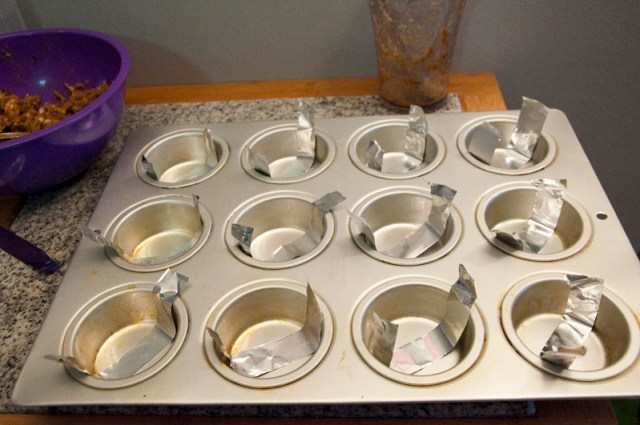 3. Grease a muffin tin. Cut strips of parchment paper and lay them in each slot to make it easier to pop each cake out. I used aluminum foil because I didn't have parchment paper, and it was a bit tricky to pull without the foil ripping, but not impossible.
4. Scoop about a tablespoon of crust into each cup and pack down with fingers or a small glass. Set in the freezer to firm while you mix the filling.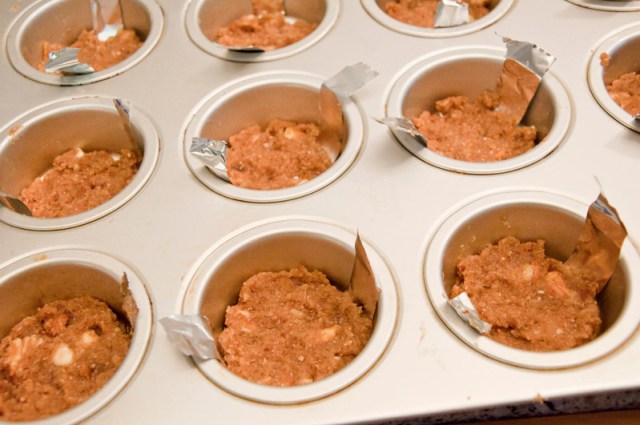 5. Add all the filling ingredients to your mixer and blend until very smooth. Add a splash more liquid if it's not quite coming together.
6. Taste a spoonful! Adjust your seasonings as needed, but keep in mind the cashew + lemon formula I mentioned above. Once you realize that's supposed to emulate cheese, it gets a lot easier to tell if it's tasting right. If you're adding flavors, you can blend those ingredients in now. Otherwise you can wait and swirl them in at the end. I blended peanut butter into a third of my batter and left the rest plain for swirling purposes!
7. Take the pan out of the freezer and divide batter evenly between the cups. Add any last flavor ingredients. Tap a few times to settle and release bubbles, then cover in plastic wrap and freeze for 4-6 hours.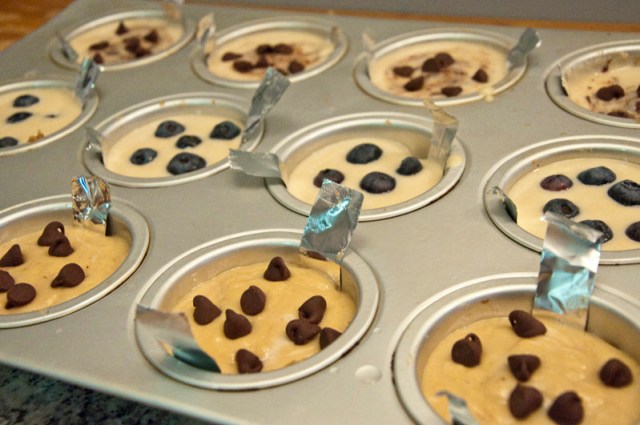 8. Once set, use the pull tabs to remove your cheesecakes from the tin. I like them totally frozen (see: cheesecake popsicle story) but they're also good left out at room temperature for half an hour to soften. You can keep these in the freezer for a month or two, and they're a great surprise when you're rummaging to fulfill a late-night sweetness craving and discover that you've forgotten three at the back of the freezer! You're so welcome.