The Best Queer Dildos
Tantus Silk
Interested in buying your first strap on and don't know where to start? Say hello to the Tantus Silk line. These inexpensive single-density silicone dildos are strap on compatible and a cool lilac color. Smooth enough for anal or vaginal, Tantus Silk comes in small, medium, and large so you can customize the size to whatever you desire — or lay out all three sizes and let your play partner decide like Goldilocks.
Soul Source Dilators
We know not everyone is a size queer. For moments when you only want a little penetration — including when recovering from surgery, vaginismus, or dyspareunia, or just because that's what you want — Soul Source's line of smooth silicone dilators can be a perfect fit. They come in eight sizes from 1/2″ in diameter and 2 1/2″ long all the way up to 1 5/8″ in diameter and 6″ long, are sold in various sets or individually, and with the right o-ring can even be strap-on compatible.
Vixskin Mustang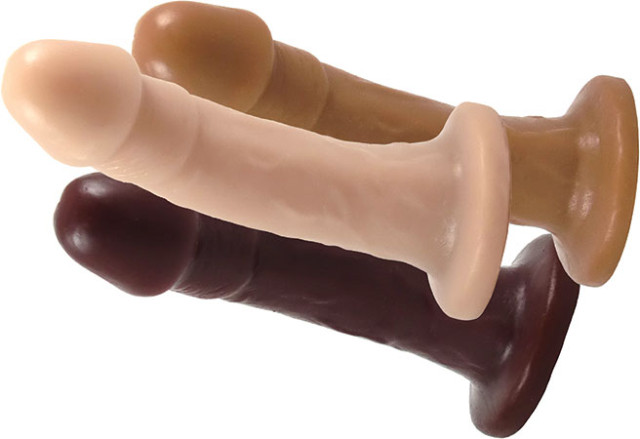 The VixSkin line from Vixen Creations consists of dual-density, mostly representational silicone dildos that are squishy on the outside with a core flexible enough for packing and solid enough for enthusiastic fucking. The VixSkin Mustang is the line's crowd-pleaser — it's a medium length, a medium thickness, and comes with or without a squishy base. If you get lucky, it sometimes comes in limited colors like tie-dye or rainbow. And it is simply incredible. Read Autostraddle's review of the Mustang Royale (which has a squishy base), here. If you're looking for something more intense, check out Autostraddle's review of the Outlaw, the biggest dildo in the line.
BS Atelier Paris G-Spot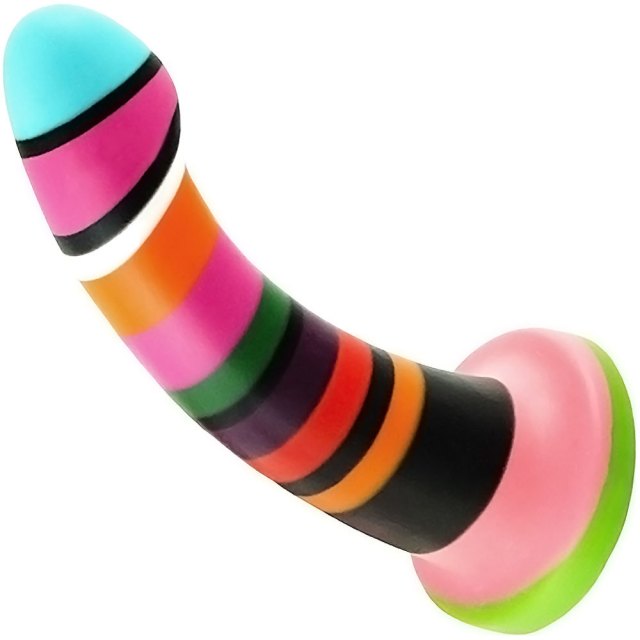 BS Atelier makes single-density, strap-on-compatible silicone dildos that stand out for their incredible visual design and colors. In a world where color scheme seems to still often be a sex-toy afterthought, BS Atelier's toys really stand out. Paint splattered? Yes. Queer flags but make them dildos? Yes. Lime ombré? Absolutely. Matte olive, muted gold, all-over stripes, burnt orange? Yes, yes, yes, yessssss. If you order through the BS Atelier website, you can even design your own custom color scheme. Pictured here: the g-spot-targeting, gently curved, medium-sized Paris dildo.
S Curve Glass Dildo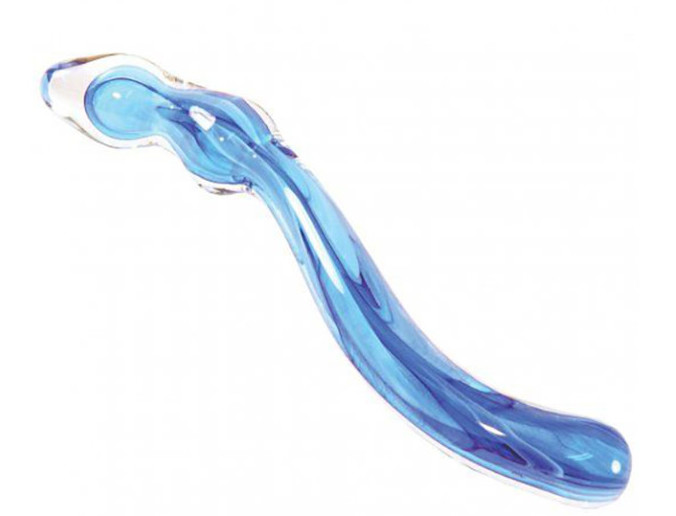 The S Curve Glass Dildo is a sturdy, double-ended, colorful, handcrafted delight. Each side is insertable and can give a different sensation but is great for g-spot stimulation (and ideal for stimulating the deeper a-spot). The smooth glass can glide in and out, and glass allows for some temperature play as well. If you like firm pressure during insertion, this toy is for you. Read Autostraddle's full review here.
Fun Factory Bouncer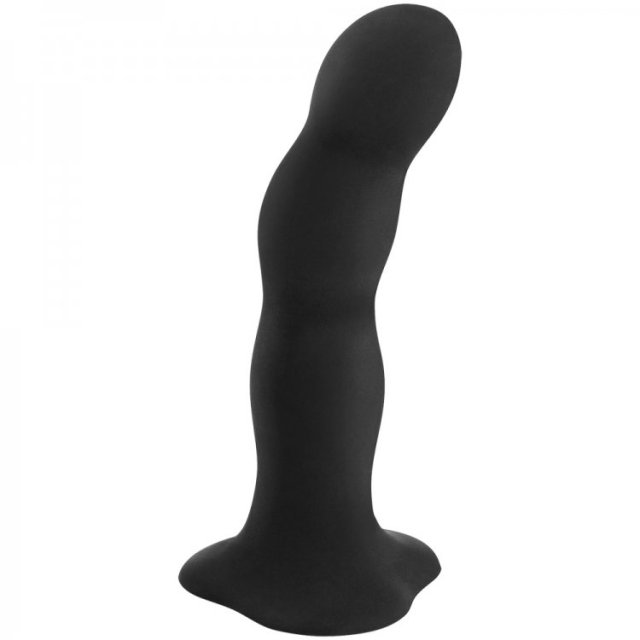 Ever use kegel balls and think, "Okay, these are fun, but what if they were bigger and also I could fuck with them?" The Bouncer silicone dildo is exactly that. The shaft bubbles out in three places to allow room for the balls that rumble around inside of it, and has a flexible and gentle curve. The shape of the base means you can suction-cup the Bouncer to smooth surfaces or use it with a strap-on harness with equal enthusiasm, though it truly excels in partnered sex. Plus it's waterproof and you can disinfect by cleaning and then boiling it.
Njoy Pure Wand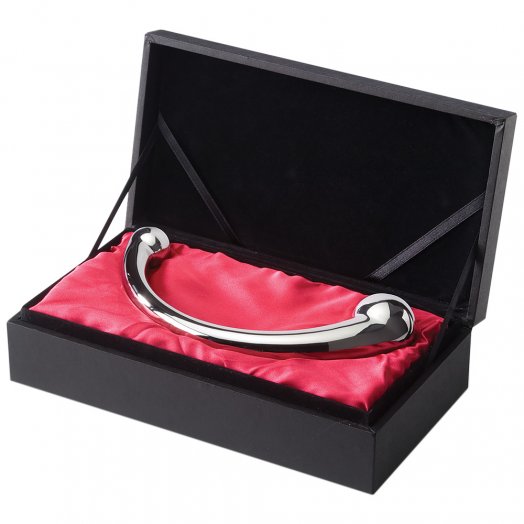 The Njoy Pure Wand is a long-time favorite among queers. Its bulbous ends and curved shape makes it easy for solo use and capable of hitting a g-spot or p-spot like nothing else. The stainless steel feels awesome inserted — it's cold at first and then warms up inside the body, and the weight of the toy means that small movements or rocking motion can have a big impact. The Njoy Pure Wand is a must for squirters, or for those who want to learn. For folks who want to size up, try the Njoy Eleven.
Hole Punch Toys Fluke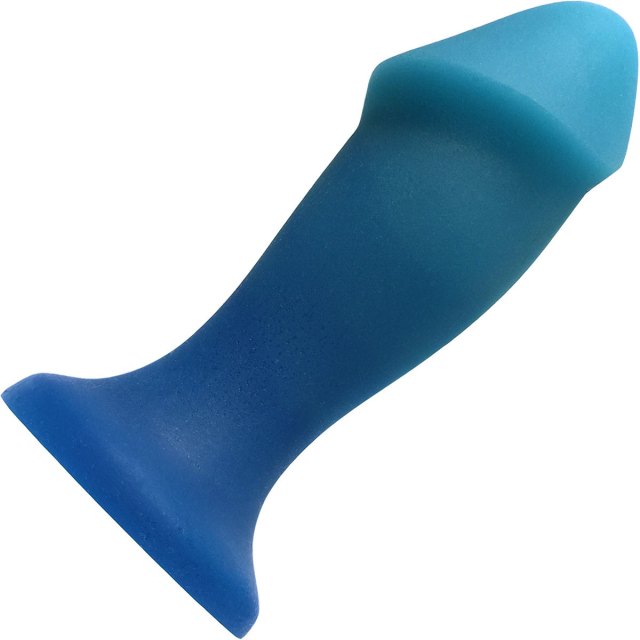 The Fluke from Hole Punch Toys has a unique stubby yet girthy design and is great as a vaginal or anal plug. For those seeking a full feeling without depth, this beautiful ombré toy is for you. The girth is at the tip of the toy, opening up a hole before sliding in and staying in place.
Fun Factory Stronic Drei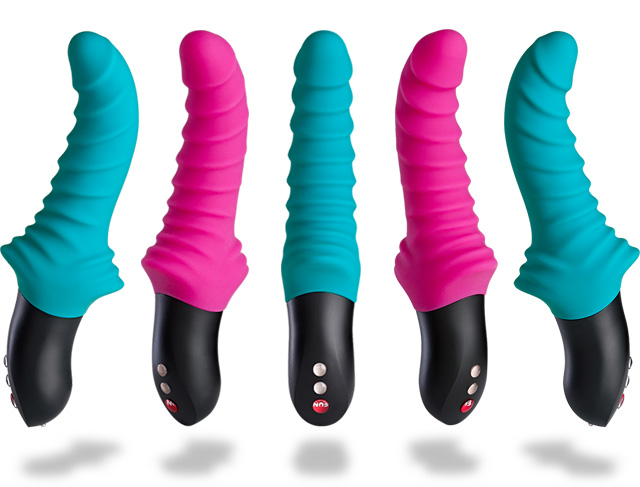 Ever wish you could just lay back and let your favorite dildo or vibrator have its way with you? The Fun Factory Stronic line of pulsators — toys that pulse, or rather thrust, back and forth rather than vibrating — knows what's up. The Drei, which is curved and ridged, stands out because the ridges hold it in place more securely than the original Eins. The flare towards the base also makes it safe for ass-play enthusiasts. Read Autostraddle's full review of the Drei here.
Pages: 1 2 3 4 5 6 7See entire article on one page