Feature image via Shutterstock
AUTOSTRADDLE ANONYMOUS SEX TOY REVIEW #31
It's our 31st Autostraddle Anonymous Sex Toy Review! Over the last few years, we've been propositioned frequently by sex toy companies wondering if we'd like to review their toy in exchange for, you know, their toys. In 2011, in addition to "saying yes to the dress" we started saying YES to the sex toys!
This week, two of our anonymous reviewers looked at the Njoy Pure Wand.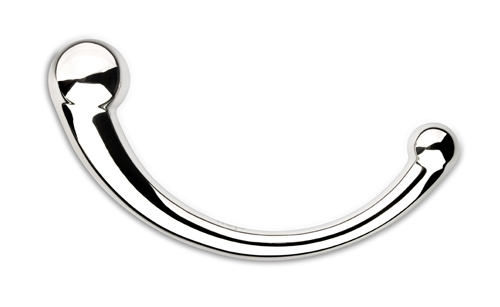 + Material: Medical Grade Stainless Steel
+ Size: 11″ x 1.5″
+ Weight: 1.5 lb
+ Price: $108
Anonymous Reviewer #1
I'd heard rumors about the Njoy Pure Wand, one of the Babeland's Best 20th Anniversary Toys, before I even opened it. I'd heard it was initially designed for prostate stimulation, but that it quickly gained press as the must-have G-Spot toy. I'd also heard it would make you female ejaculate buckets. The story even goes that sex educator Nina Hartley used to loan the Njoy Pure Wand to women so they could ejaculate well enough to be in Nina Hartley's Guide to Female Ejaculation. Babeland confirms:
The Njoy Pure Wand was originally designed as a metal prostate toy, but quickly caught on as a must-have G-spot dildo, thanks to its lustrous curve and substantial weight. At 7.5 inches in length, it provides plenty of reach, allowing you to hit your sweet spot with the graduated balls at either end.

Each Njoy Pure Wand is made of 24 ounces of medical grade steel. While stainless steel is cold to the touch, it warms rapidly to body temperature. If you're partial to temperature/sensation play, however, a few minutes in the fridge will provide a rather chilling experience. Likewise, a short dip in a bowl of warm water will yield a luxuriously warm and sensual experience.

Customers can't stop talking about the Njoy Pure Wand's ability to get even non-squirters to ejaculate. All you have to do is slide it inside yourself, so that it's pointing toward your navel, and then rock the wand back and forth. This motion helps massage the surface of the G-spot, leading many to ejaculate, even when they'd been unable to before. In fact, porn star-turned-sex educator Nina Hartley once gave the Njoy Pure Wand to a fellow porn star and, a few days later, this woman was able to come back and star in Nina Hartley's Guide to Female Ejaculation.
I was a little skeptical.
When I opened the Pure Wand I was instantly impressed. Solid black storage box with pink satin lining. This was my kind of toy. I took the stainless steel rod out of the box and immediate noticed how heavy it was. I knew it was going to be heavy, but not that heavy. It's like the lightest weights at the gym heavy. "This is super hot," I thought to myself, "but how the hell do I use this thing?!" I was used to vibrators and silicone cocks. What the hell was I supposed to do with this curved metal rod?
I found a couple of YouTube videos, which were all basically like this one from Babeland below:
I didn't really get it even though I watched like 10 videos, so I gave up and just went for it.
I got into bed, threw some silicone lube on the larger end and went to shimmy it inside my vag. I gotta tell you, it was fucking cold. I had no idea it was going to be that cold! The first time I used the wand I just sort of stuck it out. Subsequent times I've run it under warm water for  15 seconds. (Actually the second time I used it I ran it under hot water and burned the shit out of my crotch. Don't do that.)
I was immediately pleased with the way the wand was shaped. The curve made it very easy to fuck yourself. The bigger side or littler side can go inside you, but I found the heavier side pretty hard to use as a handle so I mostly stuck with the bigger end in.
Still, at first I didn't quite know what I was doing. After a few minutes of jackhammering this thing inside of me (a la the way you use a dildo) I wasn't much getting anywhere. I was actually getting kind of frustrated. I honestly don't know what I was expecting, but the reviews on Babeland I had read said this thing could find your G-Spot, provide dozens of orgasms in a row, make you squirt and solve world hungers all by just sticking it in there and doing nothing.
Then I remember that a lot of the videos said to rock it back and forth more than in and out. I tried pointing toward my navel, and then rocking the wand back and forth. So I did that for a while. Then I stopped "pushing down" and started "pulling in" a la kegels. My thought process sort of went like this:
I'm bored
I'm bored
I'm bored
I'm bored
I'm– oh!
Oh!
Oh wow!
You get the picture.
I really wanted to have that "G-Spot orgasm" that people are always talking about, even though I know that lots of people are built different ways and no special type of orgasm is better than any other. But, like, I was really curious. I've always thought my G-Spot was just the button you press to immediately make me have to pee. I ended up trying really hard to not touch my clit while I was using the wand in hope of achieving said G-Spot orgasm. But then I got too turned on not to and went for the clit anyways. Once I did, I had the longest most mind blowing orgasm I can remember. I am not making this up. The thing was that every time I tried to pull it out, it was shaped so that it unavoidably pushed on my G-Spot and I sort of restarted my orgasm again. I orgasmed for literally so long that I thought to myself mid-orgasm, "I should put how long I orgasmed in the review," and then thought to myself, "I should just tell them I orgasmed long enough to have that thought." It was really meta.
I think the key with the Njoy Pure Wand is to give yourself a lot of time with it. This is not a wang bang private time quicky. You need to seduce yourself and give yourself a long deep vaginal massage. It's also okay to go to town on your clit while you use it! I didn't ejaculate – and maybe I never will – but it rocked my world anyway.
I also tried out the wand for anal play. I don't have a ton of experience with back door action, but the wand was designed to go in butts too and I figured I had better try it. You know, for science. I threw some silicone lube on the smaller end and just sort of went for some anus rubbing. It was pretty hot. I feel quite certain that nothing feels as smooth on your asshole as stainless steel. I have to be honest, it made me want to buy a stainless steel butt plug. As previously mentioned, I had a hard time using the larger end as a handle. So I disinfected the whole thing, switched back to the larger side and threw it back in my vagina.
The Njoy Pure Wand has basically become my go to penetrative toy. I use it all the time. I love that it's medical grade stainless steel so I know I can wash it with soap and water between myself and a partner and feel totally safe. I've been told that you can even use it to do your kegels exercises, but I've never gotten it all the way out of its case and into my vagina without directly proceeding to masturbation. Oh well.
At $108 the Njoy Pure Wand is definitely a splurge. Still, I would probably pay double. Or triple. Actually, it's hard to say just how much I would pay to keep having my world rocked.
Anonymous Reviewer #2
So reviewer #1 told us how to use this toy for masturbation. But my girlfriend and I used this fuckable piece of art as a couples toy. We were really excited when we opened our Pure Wand – it's just so classy! We got it for me to fuck her with. But rather than drop to floor and use it right then and there, we decided that she should use it by herself first because from what we read it seemed like a toy with a learning curve (as well as the actual, physical curve). This turned out to be imperative. Because this toy takes a little finesse and you can't feel a partner's hoo-ha as well as you can with your fingers or a strap-on, it is REALLY REALLY IMPORTANT that your partner be able to tell you what they like with this toy. That will be infinitely easier if they know the kind of pressure and motions (reviewer #1 mentioned the rocking) they enjoy.
I also want to tell you that we found this toy was REALLY REALLY DIFFICULT to use on a partner, so this might not be your pick if you're still getting to know your partner's body or if you're still uncomfortable giving or receiving a lot of direct feedback in the moment. The toy is long, so you and your partner probably need to have a discussion on how deep you want to get. It's also more like fisting than fucking with a dildo – small movements go a long way because the toy is just so weighty.
I feel like I know my girlfriend's body really well, and if pressed I would say I know my way around in the sack. But I actually did feel really awkward using this on her – the curve is really truly made for self-loving, methinks. And it's way more seamless when one is inserting it themselves because they know exactly how much pressure they want and where to put it. It took us a long while to figure out exactly how I was supposed to rock it, move it, what angles were good – but because she had used it herself she could really walk me through what she wanted. We did finally manage to hit a nice rhythm with it and we definitely enjoyed (njoyed?) ourselves.
All in all, you can definitely try it as a couples toy. But my girlfriend is keeping it squarely on her side of the bed for her own pleasure. We'll probably use it together again, but it really really is for her and it really really is for masturbation. And it really really is one of her new favorite toys, so we highly recommend it.
---
Get your Njoy Pure Wand at Babeland, either in the store or online! And if you'd like it, why not check out more of Babeland's 20th Anniversary collection of game-changing sex toys. Happy Anniversary Babeland!