AUTOSTRADDLE ANONYMOUS SEX TOY REVIEW #37:
It's our 37th Autostraddle Anonymous Sex Toy Review! Over the last few years, sex toy companies and stores have propositioned us, wondering if we'd like to review their toys in exchange for, you know, their toys.
This week, I looked at the We-Vibe Tango, available at Good Vibes and Babeland (no one sent it to me so follow your heart).
Material: hard silicone
Size: 3 inches long
Power: rechargeable
Price: $79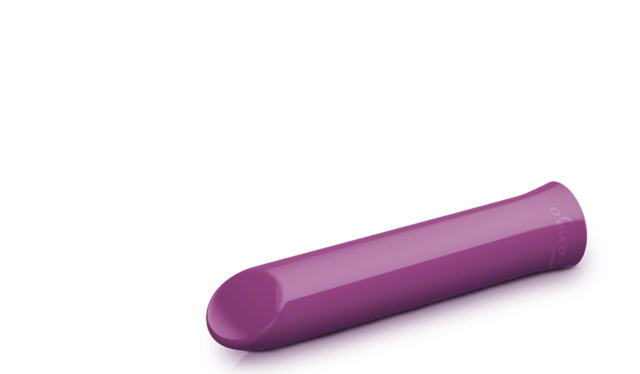 Even before I got it, I was pretty sure the We-Vibe Tango was going to be my Vibrator to End All Other Vibrators. It's tiny. It's still pink, but it's not offensively pink. It's rechargeable. It's waterproof. I'd heard it was pretty powerful.
It's really, really powerful.
Fun fact: I didn't mean to buy the Tango. I'd coveted it for ages, but I was at a sex shop to look at some VixSkin. And then I thought I'd turn on the Tango tester just for fun. I was sold two seconds later.
Considering its size to power ratio, the Tango is the most powerful vibrator I've ever used by a landslide. (Though I've never used a Hitachi on my clit, the Tango felt equal to the low setting on the in-store Hitachi test model.) The very first time I turned it on I thought it was, like some other recent vibrators I've tried, starting off on its highest setting. The thing seemed to jump against me. It was on the lowest intensity of four (it also has four patterns). It's surprisingly thuddy and very quiet.
It has the advantage of being big enough to hold comfortably and small enough to allow for enthusiastic penetration of various kinds. It's long enough and powerful enough that, should it hit the strap-on during strap-on sex, the wearer will be able to feel it pretty explicitly. It'll fit into the bases of some dildos or buttplugs that have space for bullets (though don't put it directly in your asshole) and comfortably into pockets on a lot of harnesses.
It needs a bit of wiggle room, though — if you press it hard against your clit, the vibrations end up feeling weaker. The same goes if you slip it under your harness or into your underwear.
Though earlier versions of the Tango were ABS plastic, the latest iteration is hard silicone, which makes the vibrations stronger than if it were a softer material. The lipstick shape, with a tip that's a slanted flat surface that comes to a point, is good for more- or less-direct clit stimulation.
I found the magnetic charging base a little weak — it doesn't stand upright, and if you set it down any way other than carefully, the toy pops off. The charging base also, inexplicably, plugs into the cord instead of being attached to it, which makes it feel like something I might misplace.
The user interface is also a little lacking. The light to indicate that it's charging or vibrating is weak at best — the charge time is about 90 minutes, and the best way to see when it's done is to set a timer. There's also no travel lock, and though I don't think the chances of something pressing the fairly tiny button accidentally are that high, it seems like an obvious oversight on a toy that is so perfect for hanging out in your bag.
My biggest complaint about the Tango is its battery life. According to the manufacturer a charge should last about two hours, but it seems to be closer to one, less if you play with the settings a lot. More than enough time to orgasm on my own, maybe, but less than half as long as I'd like, even if I remember to charge it right before play, which is not always the case. (The strongest argument for disposable-battery-powered toys is that if they die you can just replace the batteries right then and keep going, and though I appreciate the eco-friendliness of rechargeable toys it's hard to give two shits about the environment when your vibrator dies in the middle of sex and every toy in the house needs to be charged.) Unlike other toys, the Tango gives very little indication it's about to die — it's full power until, suddenly, it isn't.
But even with a few mid-sex battery deaths, the Tango is an absolute favorite. I am willing to entertain the idea that something else will feel as good against my clit — a talented human mouth, for instance — but nothing as portable even comes close.
There's probably a pun about "coming" in there but my brain is too fried from orgasms to make it. To conclude, here are some links to buy the Tango at Good Vibes and at Babeland, and here is CrashPad, which is where you'll want to spend all your time once it arrives.
Feature image via Shutterstock