feature image modified via shutterstock
This week in my ongoing effort to transform into a healthy human, I started the 30 Day Yoga Challenge from the beginning. Are you sick of me talking about this challenge? I feel like I've been talking about it for a damn age. I think it's because I've only been talking, not doing. This week I finally started doing.
I feel like a giant klutz. That's my #1 feeling re: yoga. It's making me super mindful of precisely how uncoordinated and inflexible I am. Is anyone else finding it difficult to do any poses that require straight legs? I cannot extend my legs straight in any position that's not 'standing.' Even then, my posture is shithouse. I'm assuming the coordination and flexibility will improve over time. I'm not too worried. I just feel like a giant wearing concrete shoes.
Yoga is testing my patience in what I assume is a positive way? I don't know. I'm impatient. Sometimes it's frustrating to take several minutes to do something that could be done in five seconds. So I'm trying to slow myself down and right now it feels like forced relaxation but I'm hoping that will feel less forced in the future.
Here are some things that have been working for me:
Aqua Aerobics
I DID IT. I went to a group fitness class all by myself. Specifically, the Saturday morning Aqua Aerobics class at my local gym. I really wanted to conquer my fear of group fitness classes and the general consensus from y'all was to ease into with something low impact like yoga or aqua aerobics first.
I chose the aqua aerobics purely based on convenience, schedule-wise, and because I was unsure whether I had to bring my own yoga mat. I slightly regret not choosing yoga but that's mostly because 12 hours and two showers later, I still reek of chlorine so bad.
Overall, it was a good time! I spent 45 minutes running around a pool with some elderly ladies, all of whom gave me encouraging smiles and helpful information on which floating apparatuses I needed to have lined up poolside for class.
The instructor was fine, although she probably could have been more descriptive. She'd yell things like, "NOW TRANSITION INTO A ROCK & ROLL, YEAHH! CAN YOU FEEL THE BURN IN YOUR DELTS? PUNCH IT OUT! WOOOOO" but never stopping to demonstrate what a 'rock and roll' is, or to remind me where my deltoids are so that I can feel for the burn. I had to make up quite a few moves.
I didn't feel like the class pushed me very hard aerobically, although my feeling is it's probably not supposed to. That's fine because being challenged still terrifies me. I'm happy that it was a super non-intimidating experience and am already hoping to make it back next week.
Batting cages
I mentioned a few weeks ago that I've started saying 'yes' to all the sporty activities that my friends sometimes invite me to. First up was indoor rock-climbing (which I loved and have done three times since!) and then there was the batting cages.
I leapt at the chance to do this one because I played softball for a few years in high school. I was the team captain, even. So I assumed that I wouldn't be completely terrible. I was wrong! Batting cages don't come with the slow pitches of fifteen year olds, or at least ours didn't. I only managed to hit roughly 1 out of 6 balls, and only half of those would've gotten me to a base. Still, it was such a rad time. I started getting better and hitting every second ball, right up until my arms died or I got bored. I don't remember which came first. 
What I got the most from this activity was the realisation that it's actually really nice to socialise in the fresh air and sunshine? Which makes me sounds like a cave-person, probably, and maybe I am. Usually socialising means going out for drinks and dinner after dark. I walked away from this day feeling so much healthier, even though I'm sure I hardly burned any calories or lifted my heart rate at all.
Also, I liked it because it made me look cool.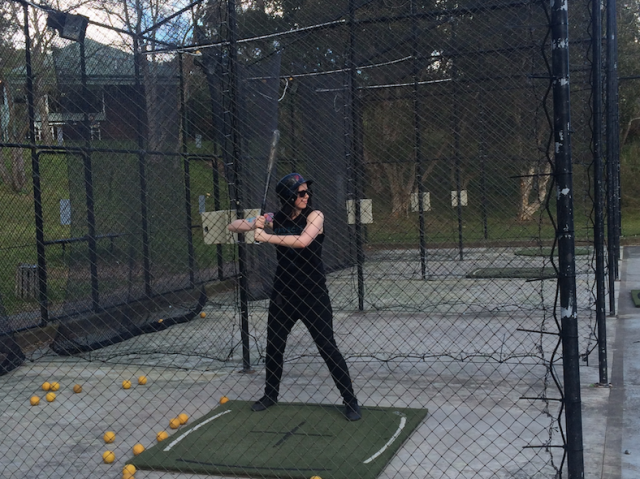 What have you been up to this week? Is there something that has or hasn't been working for you? Have you said 'yes' to any more things? Did you listen to the playlist? Tell me everything.