Over the last few years, sex toy companies and stores have asked us to review their toys in exchange for, you know, their toys.
Today we're reviewing Fun Factory's VOLTA vibe.
Material: Silicone
Vibration Settings: 6 speeds & 6 patterns
Features: Rechargeable, Waterproof, Lockable
Color: Pink, Orange, Blue, and Black
Length: 7.4 inches
Diameter: 1.9 inches
Let's talk about this versatile, pretty and easy-to-love vibrator. This is one to just keep in your toy chest for yourself, for your partners, for your casual sex friends, just for all occasions. It's a lot like your dearest light sweater — an effortless fav to reach for when you just need a little extra something. I wasn't expecting the toy, based on the picture alone, to be so damn multi-use!
I'm a fan of clit vibes, the simpler the better, which is what I thought this was going to be: a straightforward clit vibe. It's a great clit vibe. It has six varied speed settings that range from light taps to strong-ass buzzy power tool strength. It's intense! If you like a strong buzz, like me, this is for you! The six patterns are also super fun to play with and have a lot of different choices from undulating waves to rapid staccato to those mash-up random patterns that don't make any sense to me but maybe someone out there likes them.
The fluttering tips feel amazing for clit stimulation, as I thought they would. That said, if you like light stimulation, the tips may be too strong for you for direct clitoral stimulation. There are options for you if you like indirect stimulation more, which I'll get to in just a minute. If you like a lot of strong buzzy stimulation, the tips might be too light a touch for you, but you can lightly press the vibe directly to your clit and get that stronger sensation.
If you like less direct stimulation, you can easily flip this toy sideways and sort of lay it against the vulva so the knobby part near the handle is on the clit. It gives a muffled vibe sensation and also massages the labia, so win-win! You could also put the lips more on the clitoral hood or on the labia to get gentler vibes.
If you or your partner(s) like cock stimulation, the flexible silicone tips are perfect for this! Add some water-based lube and slide the lips, which flex a bit, around a cock either for extra stimulation while giving a BJ. Because of the strong buzz setting, it's also a fun, extra buzzy addition to anal or vaginal intercourse for both people. The only downside to this is that you really have to hold it in place to keep the tips around the shaft. If that isn't working for you, it's buzzy enough that you can just press it to the base of the cock like you would with any other vibrator.
I love that there are so many ways to get off with this toy, which makes it a great one to keep in your bedside drawer for visiting friends. You can also use the fluttering tips for nipple play, massage, teasing erogenous zones, really anything that would be more fun with some flickering stimulation.
What this toy isn't particularly good for? Insertion. It's safe for vaginal (not anal) insertion, but it just isn't all that interesting any more than any other vibrator would be when inserted vaginally. It's fine. It vibrates. It's safe. The sensation from the tips is nullified when inserted. That said, it's a decent girth (just shy of 2″ at the widest point) if you do like to insert a vibe and the handle with a large finger hole makes it good for fucking a partner without straining your hand.
What I enjoy most about this vibe are the little extra features.
First and foremost, it's rechargeable and you can plug it into any charging device with a USB port! No more battery-less TV remotes! The only complaint I have is about the little dots that connect the cord to the charger. It's fairly easy to knock the VOLTA off the charger if you bump it a little. Also, because it connects with the little magnets, it's impossible to use it while it's plugged in, which can be frustrating if you run out of juice in the middle of a good time. That said, it charges quickly and it is great for travel because you can plug it into any USB port including your computer in the middle of an airport to make your overnight flight a little more fun.
Speaking of travel, I love love love that this has a simple locking mechanism. This means that you won't accidentally turn it on in your luggage when going through the security line. Brilliant and as simple to turn on and off.
All of the features are operated with just three buttons, a red power button and plus and minus buttons. You can reach all of them while holding the VOLTA with one hand using the finger hole at the base. I found the handle design very comfortable from various positions! That said, the controls aren't 100% intuitive. You have to read the instructions the first time, but from there on it's easy to remember and use.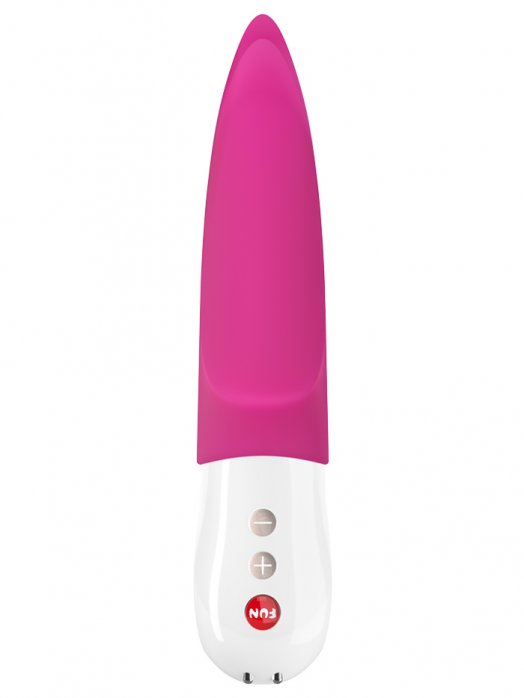 Finally, and this is the very last way I tested it because I don't really take baths and I don't like to stand while masturbating — but for you, I took this waterproof vibe into my shower. I can report that it worked exactly the same as on dry land and seems to still work great after being fully submerged.
I was surprised at how much more I got out of the VOLTA than I expected. I went into this review thinking it'd be a "fancy pocket rocket" and ended up discovering a toy that exceeds my standard for motor power, works well on different bodies (despite the "power to the clit" tagline), is fun for partner play or solo play, and that is definitely my new go-to for travel! It's an expensive vibrator and it feels and performs like one.
It's the little black dress/suit of the vibrator world. Simple, well-designed, and versatile. You're going to want one in your collection!