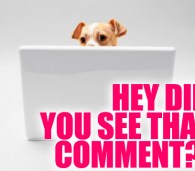 HEY HOMOS. Want your comment awards? Yeah? 'Cause I have 'em. This week on The Autostraddle Show, we saw Julie and Brandy go behind the scenes at the VH1 Awards with JANE LYNCH who can do no wrong, and Jess interviewed Stamie (who can also do no wrong) from That Fucking Show. Crystal wanted to know what do you think about Amanda Palmer's Radiohead covers? and you told her, and Sarah went to Lollapalooza and saw Lady Gagaomgaga.
Then YOU GUYS OMG GUESS WHAT YOU CAN GET MARRIED IN CALIFORNIA ON AUGUST 18 AND EVERY DAY AFTER THAT
In other news, Riese recapped episode 108 of That Fucking Show and consequently part of her soul was sucked away, Sarah H helps you get a date, and Laura and Emily stared at each other for two whole minutes. JK they gave you 9 definitive elements of a Tegan and Sara music video. It turns out there exists a lesbian storyline on teevee that doesn't suck, and Sarah finished up her Lollapalooza recaps with day two and three.
---
On Valedictorian Calls Out U.S. School System, Brainwashed Students, Herself:
My Short Story Award to .elide.: 1. erica is my jam, immediately.
2. i was a ROYAL pain in the ass in school b/c i kept shouting at everyone (on my tip toes) WHY THE EFF IS THIS AND WHY THE EFF IS THAT?! i learn really quickly so i would ace literally all of my tests but i skipped the homework b/c it bored me to tears and i preferred spending my free time making music and movies and plays and that did not go over very well at all.
everyone got pissed. my teachers would call my mom about what i giant disappointment i was b/c of all of my wasted potential. so my mom heard me out and was like, "don't sweat it. just pass your gd classes and get the eff out of there. that place is a joke anyway. ps, i really like that new song you've been banging out on the piano. keep it up."
the moral of the story is that my mom is awesome and the public education system in this country is a really big giant mess that is underfunded and therefore cannot always cater to different learning styles appropriately.
the end.
On I Don't Care About The Future:
The Universe Is Aligning Award to kd15, Cait, e: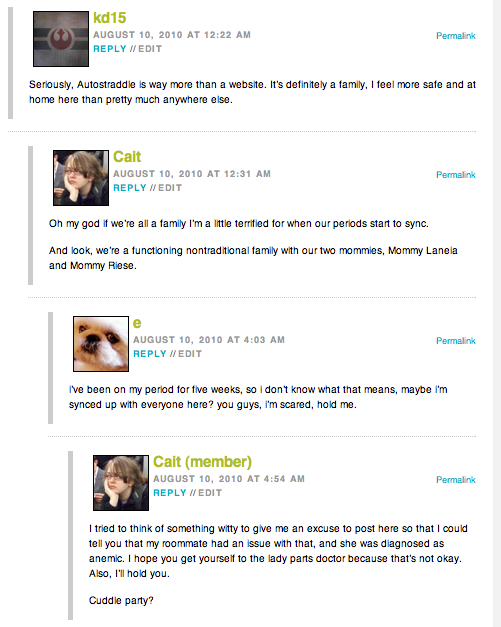 The Declaration of Love Award to nosidam: Dear Autostraddle,
I've loved you since the minute I met you when you still had that cute little pencil graphic and I used to wait for your daily fixes in my RSS feed. You've changed overtime, but never to my disappointment, and I trust you to continue providing for me what I need. If I could marry a website, which is inevitably where this country is going once we move on from gays and ducks, I would deeply consider you. And if you do break my heart, which probs won't happen, it's ok because the internet is made of kittens.
The Automatic Universe Award to wasteunit, TSwizzle:

On Sofia Black D'Elia Will Play Lesbian "Tea" In MTV's Skins US, is a Shoo-In for After Ellen's 2011 Hot 100:
The Those Pants Make You Look PHAT Award to TSwizzle, Cassandra: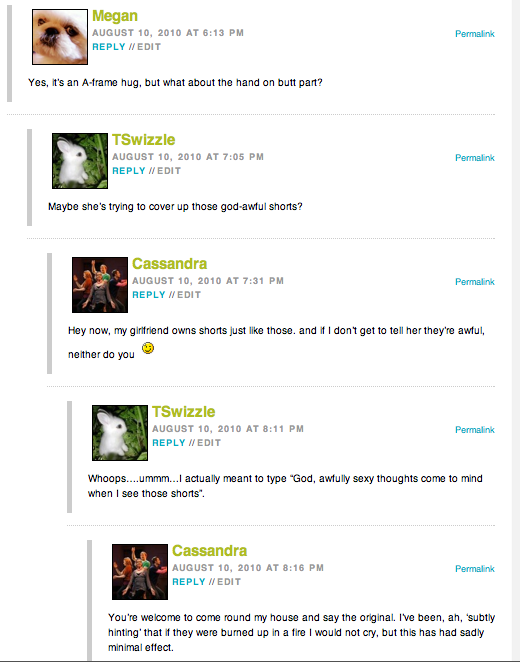 On Rubicon: AMC's New Original Series Hat Trick:
The Circle of Life Award to southpaw: wow, that makes me think about the song, "Crossing the Rubicon."
that is some seriously pretentious progressive emo-core.
remember the times (last month) when I listened to pretentious progressive emo-core?
i wonder how that song got to be #1 on my top 25 most played.
life is puzzling.
wait this TV show is about puzzles — OH SHIT IT ALL COMES FULL CIRCLE
On Parents & Heteros Join Queers Demanding Gender-Neutral Clothing:
The Littlefoot's Grandparents Would Have Accepted Him Award to Moria: I definitely remember being about five years old and wanting a dinosaur-themed room and dinosaur-themed clothes (because dinosaurs are friggin' sweet) and my mom and I couldn't find stuff that wasn't super-boyish. It would have been nice to find some dinosaur shirts or sheets or whatever that weren't clearly marketed towards boys, because I wasn't that much of a tomboy and would have appreciated some lady dinosaur items. The whole idea of making certain things "boyish" and "girly" is just weird… especially dinosaurs. I mean, if there were no girl dinosaurs, then wouldn't The Land Before Time lose like half its characters? Cera and Ducky demand representation!
On Rosie O'Donnell on 'Real L Word': "I've Never Met Gay Women Like This.":
The bcw Award for bcw to to Christine and bcw: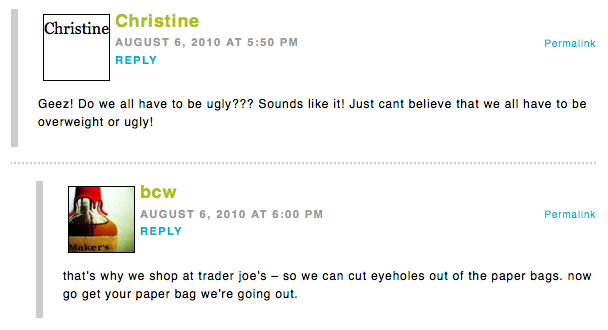 On NSFW Lesbosexy Sunday: FLESH's Half Naked Girls & Infinite Confusion:
The Award for Excellence in Symbolism to Shaqueera: "These women aren't sheep. They're strong, sexual ladies who aren't afraid to fuck. Read the meat as the phallus and the cupcakes as semen. The fact that the meat is coming out of the woman signifies her ability to embody a powerful, masculine sense of sexuality, while the symbolism simultaneously undermines the culturally enforced need for a phallus/male sexuality because in the end, the meat/cupcakes are just food products – not actual dicks. Message: same-gender sex that lacks a penis isn't actually lacking anything at all."
On Listicle Without Commentary: Headlines Prepared for Losing Prop 8 Trial, or "The Art of Losing Inequality is Not Hard to Master":
The Ernest Hemmingway Award to Special K: "For Whom the Bells Won't Toll"
The Jane Austen Award to KZ: ""The Pride of the Prejudiced"?"
On Real L Word Episode 108 Recap: Runway Bridezilla Attacks Zombies, Eats Crybabies, is a Lesbian:
The Don't Worry, She's No Leo Award to Bizzle: "I don't know why the other cast members are excited, but on Rosie's radio show, Rose said she has known Mikey for 10 years. I think Whitney said she already knew Rose and Mikey too? My mind may be filling in the gaps.
Omg, what if IFC incepted me?!"
On How to Date Girls: 10 Simple Rules for Properly Courting a Lesbian:
The Amortentia Award to heather hogan: "Ideally something that doesn't pertain to being a lesbian, girl parties, the people you know in common or your ex girlfriend. This means, as part of your preparation for the date, you may want to read a book, the newspaper, or cultivate a hobby.
It seems like such a simple concept, so why does no one know it? Thank you for saying it! I have written the word "lesbian" so many times by Friday afternoon that I just don't even want to hear it out loud ALL WEEKEND. Yes, we're lesbians. That's why we're on this date together. Let's talk about Harry Potter."
On Costa Rica Says Yes To The (Lesbian Wedding) Dress:
The I Might Actually Watch This Show Award to repeal8: "Humbly suggest additional headline to accommodate the gender non-conformers among us:
"Costa Rica Says Woot! Woot! to the (Lesbian) Wedding Suit"
Now sell idea to TLC…"
On Rosie O'Donnell Interviews Real L Word's Rose Garcia and Rose Charms The Hell Out of Her:
The Douche-Repelling Dress Award to Mindy: "Good thing I'm wearing a dress otherwise my pants would have been charmed off.
Fortunately though, I know better. I've seen the Real L Word, I know all her tricks. Really, Papi."