Day Three of my Lollapalooza Adventure was supposed to begin early with the Miniature Tigers at 11:30 a.m. Needless to say, that plan fell through pretty quickly. I'll just have to watch them on Youtube or something. Anyway, when we finally rolled up to Lolla that afternoon, we saw this dude: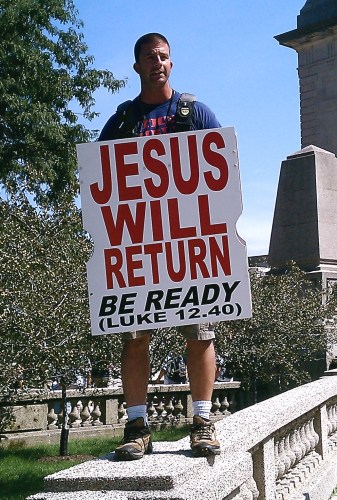 The day before, there were guys with signs reading "women shouldn't be allowed to vote." Personally, I feel that protesters are a barometer for how fun something will be.
Is there a dude with a signboard outside? Could be a good time.
Is there are giant group of really angry people yelling about how your souls will burn in hell? It's probably gonna be a really awesome time!
Sunday was a rapid-fire day. I saw the most bands that day, so this recap is heavy on the photos, light on the detail.
The first band we saw that day was Hockey.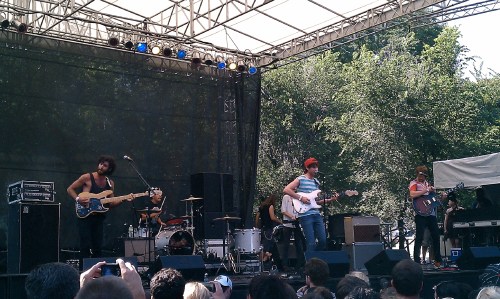 I found them on iTunes randomly a few months ago, and really liked their album. A lot of shirtless bros liked it, too, judging by the crowd. The lead singer seemed a bit full of himself, but their set was nice, so I'll let it slide.
Then I ate this.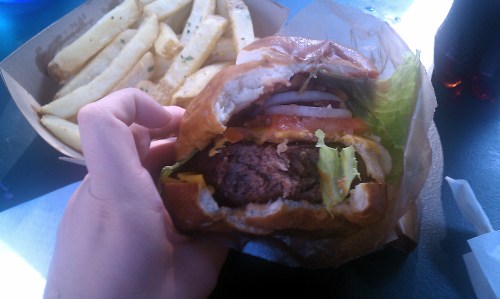 That is called a Kuma Burger. It cost me $10 and fifteen minutes of my life while I stood in line to get it. It was worth all of it. Those fries in the back? Those are truffle fries. As you can tell by this paragraph, I would've been perfectly happy if Lolla were a food festival.
MGMT was up next. I knew that they were supposed to be terrible live — a few friends had mentioned it, and reviews of their concerts have never been stellar. But the draw of hearing "Time to Pretend" live was enough to make me set aside my doubts. Two songs in, though, I knew everyone was right. They suck in concert. They have no spark, and the music is sloppy. They even butchered "Electric Feel." I decided it wasn't worth sitting through the whole concert to see "Time to Pretend."
My friend and I bailed & headed over to The Temper Trap, who were playing a smaller stage. Trust me, it was a good choice. They were just as good as they were at Bonnaroo. I got to see them later on that night at an after-party, too, which I will discuss in about six inches.
We laid in the grass and listened to The National as the sun went down, which was maybe the most relaxing thing ever. I didn't feel like braving the crowds to get a closer shot, but they looked like this from afar:
Arcade Fire was one of the two headliners that night. At this point in time I was, as they say, exhausted. And I still had a few more hours of after-party to attend. Thus, we again laid in the grass and listened to the band play. If you had a photo pass, they would've looked like this: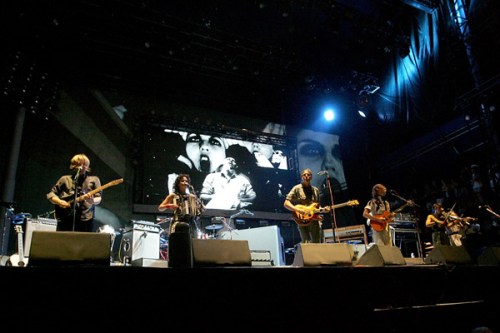 We left after they played Neighborhood #1 (Tunnels) – Funeral because why would you need to hear anything else in your life?
And then it was time for the after-party, which promised to let me see The Temper Trap , Mumford & Sons, and Phoenix for free and up close. After a quick change session in my car and the consumption of several energizing beverages, I was ready.
Mumford & Sons started off the lineup. I had refrained from seeing them at the festival, so this was my first exposure to them. And they were super up my alley. Marcus Mumford is adorable, with his British accent and his love of Southern music. I do enjoy that in a band.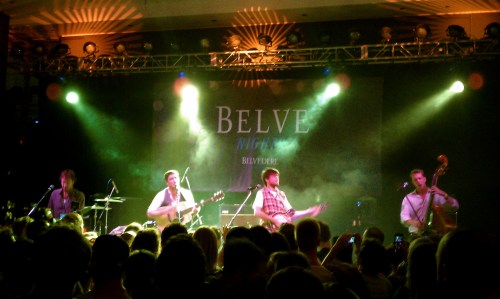 Then The Temper Trap took the stage. They opened with a bang with Fader and then invited Mumford & Sons back up on stage to do "Down River" together. Apparently the two bands are good friends, and got to know each other because they're on the same label. Adorable, let me tell you.

There were way, way too many drunk and privileged people around for me to stay at this party, even if Phoenix was playing. People can be real jerks if free vodka is in any way involved, I guess.
Also, my editor Riese wants to add that her aunt's musician boyfriend (her aunt is her age, long story), Brad, told Riese that Nneka is the future and she also played at Lollapalooza and although I did not see her myself, all of you need to listen to as much Nneka as possible if you want to be prepared for the future. Here she is, looking fierce: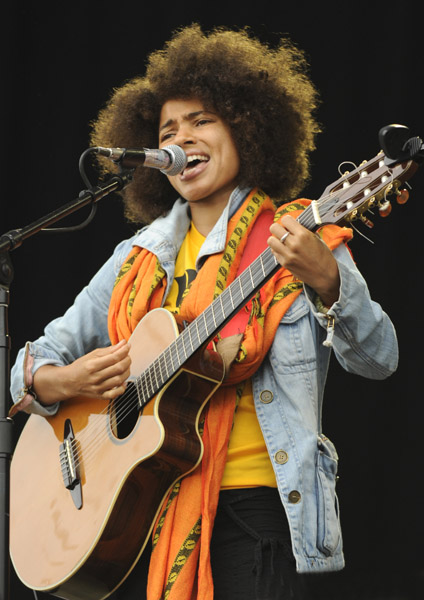 So that was Lollapalooza! I can't sum it up any better than Lady Gaga, so I will just quote what she screamed at the crowd on Friday night: "Festivals were created to give young people a place to get drunk and fight for what they believe in. And I think we're doing a pretty f*cking good job of it!"