SKINS:
This week at MTV's TCA panel, the cast of SKINS US was unveiled:
MTV has confirmed the mostly newcomer cast of its "Skinswp_postsimport, due in 2011: James Newman as Tony, Rachel Thevenard as Michelle, Daniel Flaherty as Stanley, Ron Mustafaa as Abbud, Sofia Black D'Elia as Tea, Camille Cresencia-Mills as Daisy, Jesse Carere as Chris, Britne Oldford as Cadie and Eleanor Zich as Eura.
I hope she's ready for her Curve cover close-up! Sofia Black D'Elia will be playing the role of Tea on the US version of Skins. As Autostraddle reported before anyone else in the entire universe because we are awesome and work really hard, the UK original's gay character, Maxxie, is being swapped out in favor of a lesbian. Initially they'd been casting for a Latino gayboy, "Teo," but then decided to take another route and thus, TEA was born. Sofia's prior acting credits include All My Children.
Eura, BTW, is Effy, and seems to be a relatively unknown actress. You can see more photos of the cast on OhNoTheyDidnt.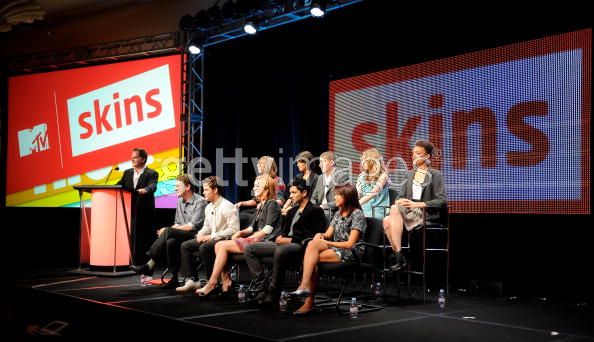 The people in charge also had stuff to say about how the MTV version will differ from the UK original, and why MTV is optimistic about the direction of its programming:
"Millennials are all about authenticity,wp_postssaid David Janollari, head of the network's scripted development. "We're pursuing a more authentic vérité style with our reality shows and with our scripted programs."
The risqué teen soap gives an unvarnished look at teen lives in a way that "Gossip Girlwp_postsand "90210wp_postscan't even dare to mimic. It helps that much of the writing on "Skins,wp_poststhe British version of which airs stateside on BBC America, is done by young people, said the series' co-creator Bryan Elsley. And, he added, casting young actors to bring life to those teen stories is also central to its success; five of the central cast members in the MTV series are under 18 — the targeted demographic of the original series.
So have they watched?
"I had seen a couple of episode prior to being cast on the show,wp_postssaid James Newman, who will play Tony Snyder. "Once I was cast, I stopped watching it … to bring something new to the show and the character that I'm playing."
The cast at the TCA Panel (the blonde in the back is Effy, the red-headed girl in the front is Michelle):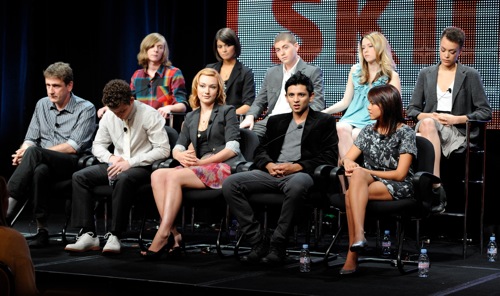 For a thorough mindfuck, here's the cast of USA Skins with cast members of Jersey Shore: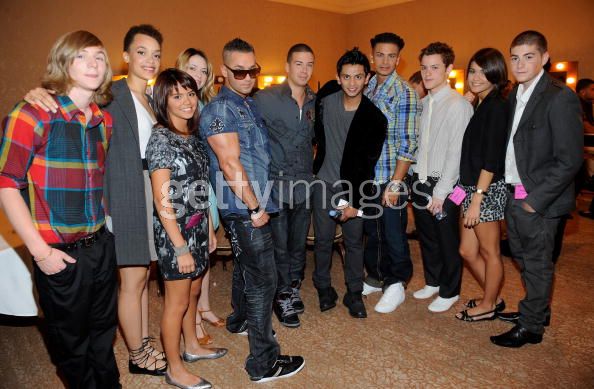 JANE LYNCH:
Jane Lynch will host an episode of Saturday Night Live in October. (@movieline)
JUDGE WALKER:
The word is out on how Judge Walker celebrated post-ruling: he went to the the Rrazz Room, which is apparently a place, and saw concert singer Monica Mancini! How classy! Would it be too much to say he's got a little bit of an Irish flush going on in that picture? LIVE IT UP WALKER, LIVE IT UP. (@queerty)

QUEEN LATIFAH:
So these photos of Queen Latifah with her girlfriendImeanpersonaltrainer on a boat are being touted as "proof" of their HOT SEXY LESBIAN relationship, which I guess that would be cool if that were true, but mostly these photos remind me of the way your third grade teacher had to hug you to avoid getting fired for child sexual abuse: am I wrong, or is this the most awkward A-frame hug in history? Other scandalous and revealing photos include "smiling while standing on the same part of the boat" and "one watching the other spray sunscreen on herself." Hot! (@peacefmonline)
THE REAL L WORD:
Have you been watching The Real L Word? Me neither, but that didn't make our interview with Stamie any less awesome. She talks about Tracy Ryerson's vagina, so.
FAKE LESBIAN ADVICE:
I can't decide which is funnier, this letter sent in by someone who claims that she and her husband are in a fight over the sexy woman next door that they're both having an affair with, or the fact that the Daily Star advice columnist appears to believe it's real. "You and your husband have to sit down and talk this through. Ask yourselves what's happening to you. Is this really the kind of life you wish to lead?" (@dailystar)
LADY GAGA:
Hey have you read about Lady Gaga's performance at Lollapalooza yet? Because just saying, Managing Editor Sarah and Intern Elizabeth both saw it, and apparently it was pretty f*cking amazing. When you're done reading about it, check out this video of her sweet stage dive! (@ontd)
SUCK IT, NOM
I don't know if you've been aware that NOM has been leading a "Summer of Marriage" tour of speaking events and protests all over the US. I wouldn't be surprised if you haven't, because at nearly every event the NOM attendees have been way outnumbered by counterprotestors. Sorry Maggie! That must be rough for you! "Organizers of the Atlanta counter-protest specifically instructed participants to remain quiet during the NOM rally so they could not be accused of being disruptive. They mostly followed the recommendation, except when a NOM entertainer sang an ode to "unity" — during which they held hands, cheered and sang along". (@thegavoice)