Rubicon's got every ingredient a solid government conspiracy-driven story ought to: ominous pacing, an eerily omnipresent little weasel-man and you know, government conspiracy.
The show tops it off with a bonus geek-out vibe that'll keep you coming back for more. Each episode is packed to the gills with top-secret codes hidden in plain sight, puzzles compiled out of seemingly random number strings and the plot actually hinges on the completion of a NYT crossword puzzle.
Rubicon is a deliberately-paced cautionary tale about what goes down when you're too smart for your own good, which is a lesson I'd like to think I could learn the hard way. But I'll stick to the way where I watch the show about the lesson, which I guess is the easy way. So here are three things Rubicon has going for it, beyond it's etymologically kick-ass name.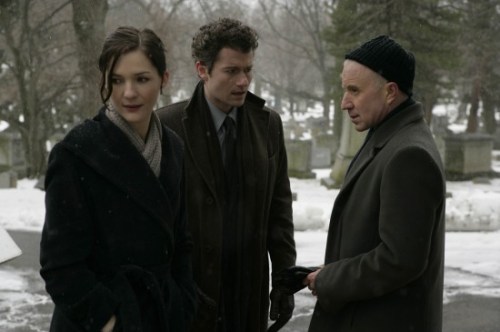 The Network
Rubicon airs on AMC – you know, that random channel that used to host assorted throwaway television flotsam but now boasts Mad Men and Breaking Bad. Since AMC first ventured into the realm of original series in 2007 every episode packs a high-quality-tv-in-unexpected-places wallop. The channel only has two original shows to date, but they've won a total of 13 Emmys in only three years and if you've seen five minutes worth of Don Draper doling out ice cubes into an Old Fashioned, you know why. I'd say that Rubicon is in good hands. AMC's, not Don Draper's.
The Cast
As with Mad Men and Breaking Bad, Rubicon's cast is a mix of familiar and new faces. James Badge Dale (HBO's The Pacific) stars as the floofy-haired Will-from-Glee-lookalike Will Travers, an intelligence analyst and puzzle-prodigy on a quest for answers, as characters so often are. On her own conspiracy spirit journey is Katherine Rhumor, portrayed by the ever flawless Miranda Richardson. The cast is rounded out by Arliss Howard (Natural Born Killers) as Will's decidedly unsettling boss, Dallas Roberts (The L Word's Angus, the Nanny-f*cking Motherf*cker), Lauren Hodges and Michael Cristofer (who also directed Angelina Jolie in Gia and Original Sin).
The Plot

We're only two episodes into the premiere season, but here's what we know so far: Will discovered a super-subtle pattern in the New York Times crossword puzzle which seems to symbolize the three branches of government (whatever those are) and a mysterious fourth branch (!!!). He brings this little piece of genius-bait to his boss who immediately shrugs it off as an trivial coincidence. A little… too immediately. Uhoh!
The more Will brings up his puzzle finding around the office, the more everyone starts acting like they've got something to hide. And the more he begins to feel like he's being followed, because he is of course. We also know that Katherine Rhumor's husband shot himself in the head after finding a four leaf clover in his newspaper. Rough.
Rubicon is a show of quiet subtlety that demands (and deserves) your full attention. So don't get sloshed like Roger Sterling and hop in expecting to get it, but do hop in.
Rubicon airs on AMC, Sunday nights at 9 pm. So tune in and let us know what you think!