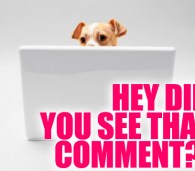 Oh hey, it's Saturday! That usually means the Autostraddle editors take a break to eat breakfast foods, sleep, and gather their sanity. Howevs, this time it means comment awards! We kind of forgot yesterday was Friday because it's been one of those weeks, you know? But it's also been a week of great articles and even better comments!
We brought you a new hot human gallery filled with transmen, genderqueers, and studs. In audio/visual aids, Taylor and Kelsey were their cute, indistinguishable selves at Pax East 2010, and Kelsey and Riese talked about Autostraddle's top 5 weird Dinah moments. Corey brought you an interview with Bitch, and you told us the movies you loved in the Top Ten '90s movies most beloved by girls who turned out to be gay.
Jess G gave you your weekly Audiostraddle fix, and Taylor had the hot hot tech fix. In Sadcity, Melissa Etheridge and Tammy Lynn Michaels broke up, but the girls of the Big Gay Sketch Show were here to help you laugh through it. We also helped you celebrate spring, with Becky's spring style post, and International Record Store Day, with tales of our first and last record store purchases.
---
On Transmen, Genderqueers, and Studs: The Hot Human Gallery:
The We Know The Feeling Award to Dina: This makes me happy in my pants. Well, other places too. But the pants come to mind first.
On We Love Tina Fey's Sarah Palin Impression More Than Anyone Loves Sarah Palin:
Sally's Award For Weird Cannibalsm to Jacka : "And as absolutely drop dead gorgeous this woman is on the outside, I'm here to testify that she is 20 times more beautiful on the inside." — oo really,and exactly how would u know what her inside bits look like ?????!!! Lol nom nom nom lol"
The Lady GayGay Award For Achievement in Athletics to Meg : "Dude, if the letterman jackets at my school were as rad as Gaga's, I totally would've done sports."
On Top Ten '90s Movies Beloved by Girls Who Turned Out Gay:
I F*CKING LOVE MERMAIDS Award to Kate: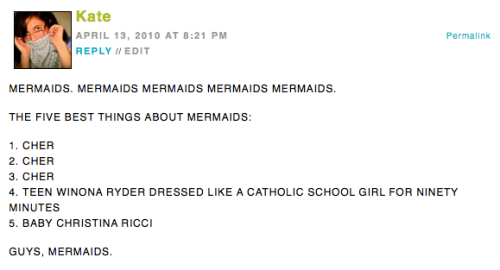 On NSFW Sexy Sunday: WTF Porn Awards, Lesbian Office Affairs, etc.:
This Is Not An Award Because Taylor Is a Writer, But I Just Wanted To Highlight Her Endearing Wit to taylor : "lesbians employ various and complex point valuation systems for sex.
i find assigning value to sex acts and exchanging said points in a barter-like exchange very satisfying. like 'i went down on you tuesday and wednesday (2 pts+ 2 pts= 4 pts) so now you owe me like a good solid hour of fingerblasting (4 pts/hr).'
this system works very well for me though i suspect others have entirely different ideas about how to spend and accrue points."
On Potential Justice Elena Kagan Supports Gay Rights, Has Short Hair. Ruh Roh:
The SPOTTED Award to Bren : "Short hair, trimmed fingernails, collared shirt, drinking a diet Pepsi. She might as well be licking Hillary Clinton's inner thigh. Everybody knows straight girls never drink diet drinks."
The bcw Award For bcw to bcw : "did i hear someone request a comedy-protest-chant coodinator? say no more!
–
WHERE WAS THE POPE WHEN KIDS WERE GROPED
–
DIVINATION NOT MOLESTATION
–
SUNDAY MASS NOT PRE-TEEN ASS
–
THE POPE SLEPT WHILE JESUS WEPT
–
WHEN BISHOPS SIN THE DEVIL WINS
–
CAST THE PEDOS FROM THE TEMPLES
–
WE'RE VERKLEMPT CHURCH TAX-EXEMPT"
On Autostraddle's Top 5 Weird Dinah Shore Moments:
The Grief Counseling Award to Shanz : "I love that you kept it real Riese because people forget about the amount of sheer insanity 80% of the lesbians at Dinah display. Its all hot chicks in bikinis! no. One time my friend Dana hooked up with this crazy hospitality lady and then brought her home and she killed her cat. True~ story."
On Audiostraddle Weekly: Rihanna Does Lilith Fair, Tegan & Sara Eat the Museum:
The Obviously This Is The First Comment On This Post Award to kelkensi : "That's Sara in the video, not Tegan."
On Glee, Glambert, Maddow, Big Gay Sketch Show: Verdict on TV's Gayest Night Ever?:
The Karma Award to kristina's parents : "holy fuckin' shit jennifer knapp is gay?
y'all don't even know. my parents only let me listen to christian music when i was little and jennifer knapp was my favorite. coincidence? i think not."
On Adam Lambert's Idol Laser Light Lesbian Spectacular:
The Award For Fantastic Comparisons to Tina : "Adam was fabulous. You know you're talented when you can manage to look vaguely like an ultrasound on national television and still have it be kickass."
On Obama's Letting Lesbians Bring Feelings Into Other Lesbians' Hospital Rooms:
The We Love Default Gravatars Award to Peace/Miley Cyrus:
On Drinking While Female, Educated, Among Friends or Hosting American Idol:
Laura's Award For Thinking About Food When Faced With Anything to Drina : "I totally read that BQBQ as BBQ and now I'm starving. Sorry for the shallow and immature comment but I can't think past burgers and macaroni salad now. :-{"
On Michelle Rodriguez DJ'ing GO's Lesbian Nightlife Awards:
The Typical Top Feeling Award to RachelwasHere : "I can't decide whether I am insanely jealous because I am not in NY and can't go or whether I should be relieved because if I lived in NY I would probably go "AAH! People!" and freak out and not go anyway."
On Hands on With the iPad: Love at First Flick:
The Big Dreams Award to PatsBard: One day I, too, will be a cat and get an iPad. *sigh*