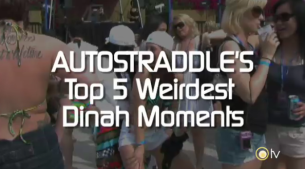 Hey remember that time that we went to Dinah Shore and Editor-in-Chief Riese and Video Assistant Masterbrain Kelsey Lisette did an interview with OurScene TV and midway through the interview, there was an earthquake? That was cool! The earthquake footage itself is not on this tape, probs because it is being sent to NASA for serious study of some sort.
But a lot of other things are on this little video. What things? Well, you'll have to wait and see! ENJOY:
Also get excitant because there is more video footage coming from Dinah sometime between now and the next Dinah Shore, including some sweet stuff from our wicked talented friends at Wingspan Pictures.
After the interview, Kelsey and Riese got lost in the desert, despite the fact that they later discovered the interview spot was only four blocks away from home base, which we also have on video, working title Fear & Loathing in Palm Springs.