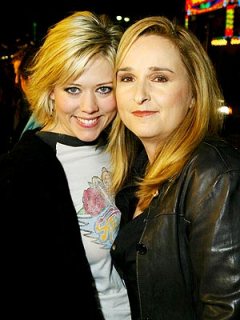 MELISSA ETHERIDGE & TAMMY LYNN MICHAELS:
Oh, no. "Melissa and Tammy Etheridge are saddened to announce that they are now separated," according to People. Melissa and Tammy were married in 2003, Melissa was diagnosed with breast cancer in 2004 and Tammy gave birth to their twins – son Miller and daughter Johnnie Rose – in 2006. Previously Melissa had been in a high-profile relationship with Julie Cypher.
Tammy writes regularly in her blog, Hollywood Farm Girl, and has apparently been making veiled references to the break up since January. Our intrepid reader, Eve, actually saved these blog posts and sent them to us:
From January 20th:
"when i think of how you know me"
that's what i thought she wailed
isn't that what the speakers rang
but the winds blow
and she whispered low
oh honey sometimes things change
February 2nd:
a few things i figured on out
people treat you the way you treat yourself
so if you are the type to put the oxygen mask on someone else, before yourself
they won't put the mask on you, they'll take care of themselves first, taking their cue
from you and your prior actions
if you give and give and give and take care of someone
until plenty spill-eth over-th
then why should your partner give any more?
you've given enough for both?"
They appeared together as recently as last summer in an episode of Kathy Griffin: My Life on the D-List, where they invited the cameras into their home to make cookies and prep Kathy for her big gay rights speech.
They had been together nearly 9 years. First Rosie & Kelli, now this! Ellen & Portia, the pressure is on!
Melissa Etheridge's new album, Fearless Love, will be released on April 27 so it's likely that they chose this time to make the announcement before she starts the promotional tour.
Tammy Lynn Michaels appeared as Shane's stalker, Lacy, in the first two episodes of The L Word but is most known for her role in Popular, Glee creator Ryan Murphy's first show, which featured Tammy doing an eerily similar Sue Sylvester "Vogue" video remake:
Also, Tammy Lynn is slated to star in the greatest Executive Lesbian Realness movie not yet purchased by a studio, produced, or filmed, Nicest Thing (starring Julie Goldman & Brandy Howard).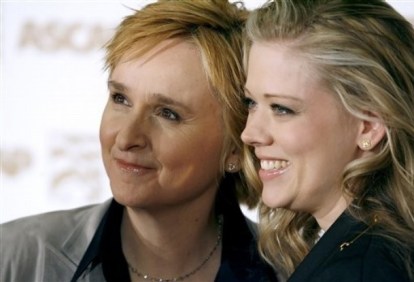 If you've gotten this far, you might be asking yourself — [why] do I care? Does it matter? Is it any of our business? Well — maybe. Maybe not.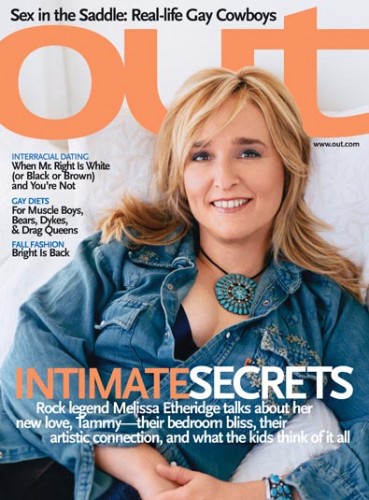 Musicians, like poets, are special — we know more about Melissa Etheridge's feelings than we do our own girlfriends' sometimes. Singer-songwriters sort of open a window, SO TO SPEAK, and let us right on in, for better or for worse. Lesbian folk-rock, in particular, is incredibly personal.
And for many women, Melissa Etheridge's feelings have always felt particularly near & dear. The Eth is almost pure emotion; gravely & raw and tethered to her guitar like a treehouse, earthy and unabashedly female and gawd just so fucking hungry, you know?
In 1996, Elizabeth Wurtzel wrote of Melissa Etheridge's 'Like the Way I Do': "… to yell this loud — and, no less, to do it inside the macho confines of a rock 'n' roll echo chamber — about a love that dare not speak its name is by definition to set your spirit free. Perhaps the joyfulness that I feel seething, overbrimming, from so much lesbian music, even when its at its most heartbreaking, has to do with the simple fact that just to have the courage to find a voice to sing within the context of societally censored desires means that anything you say, no matter how depressing the thought, will never ever come across completely dispirited."
So that's one reason why you might care — you might feel like you know her. But also; there's this thing people do with celebrity breakups that often mystifies us. These questions & answers were raised quite eloquently last month by Irin of Jezebel in "Why Does The Winslet-Mendes Split Make Me So Sad?. Indeed — why? I still am not sure who Sam Mendes is, or really anything about that relationship including that it ever existed. But maybe Eth-Tammy is to you what Winslet-Mendes is to Irin.
Human beings look to other human beings for hints on how their own lives might turn out; that's why we read books and watch TV and keep tabs with old friends on facebook and cry during romantic comedies.
"We can never know what to want," Milan Kundera writes in The Unbearable Lightness of Being. "because, living only one life, we can neither compare it with our previous lives nor perfect it in our lives to come… we live everything as it comes, without warning, like an actor going on cold." It's that terror, perhaps, that endears us to observe and compare our lives to the lives of others (rather than to our untouchable past lives) in search of a cue, or a line, or at long last; a curtain call.