ROSIE & KELLI: In HEART-F*CKING-BREAKING news, Rosie O'Donnell has confirmed in an interview with USA Today that she and Kelli O'Donnell, her partner of 11 years, may be breaking up, though Rosie does not want to comment extensively on the issue, which she's been asked about probs every day now for at least a year. The two have four children; Parker, 14, Chelsea, 12 and Blake, 9, as well as Vivienne ("Vivi"), 6, whom Carpenter carried. Also Vivi is one of the cutest human beings of all time. Just FYI. Kelli & Ro co-founded R Family Vacations, Kelli runs R-Family with her business partner Gregg.
Rosie says:
"We're a family. We will remain a family forever. And we are working on our issues. We're a family, we remain a family and we're working on the issues. Kelli and I love each other very much and we are working on our issues. Those are the only words I am ever going to say. Ever. And that is something that has been agreed upon by all parties. But everything's fine and everybody's good and we're still both raising them together. We will both continue to parent them and we're friendly and everything's all right."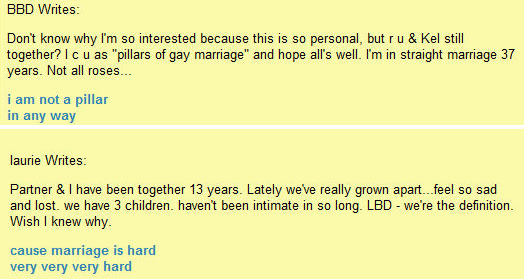 Rosie begins her daily Sirius XM radio show on November 2nd.  (@usatoday)
Riese's Special Comment: For real I only kinda know Ro & Kelli and have only hung out with them a few times, but I've always admired their synergy and their delicate but remarkably functional partnership.  Kelli was there through the worst of times and they made their differences work. They have a really beautiful family. Rosie & Kelli were always ready to stand out there for our rights when all the other lesbian couples in Hollywood were afraid to, they came out of hiding to get married in San Francisco that day in 2004, standing up for non-traditional families when no one else would. I feel slightly strange about this being a headline of our Daily Fix, because they are real human beings to me … but I guess that's the point. They are humans. It's still really awesome that they are putting family first and being mature about all of it. I hope they work through everything and become as happy as they can be.
TEGAN & SARA: Autostraddle has become a one-stop-shop for all your Tegan & Sara needs. Read our interview with Tegan and our track-by-track review of Sainthood.
KATHY GRIFFIN: Kathy Griffin's latest stand up special, Balls of Steel, will premiere on Bravo on November 3, the same day her latest comedy CD, Suckin' It For the Holidays, is released.
THE L WORD BOOK COMING IN DECEMBER: Jennifer Beals' photographic journal of her time on The L Word has an official site and will be released in December.
CARMEN DE LA PICA MORALES: Sarah Shahi has landed the lead in USA Network's pilot "Facing Kate," lifting the contingency off the project.
LAW & ORDER SVU CHARACTER COMES OUT: Unfortch, no, it's not Mariska Hargitay, but Special Agent George Huang, played by out actor B.D. Wong, officially came out of the closet in this week's episode focusing on pedophiles who claim their interest in children is an orientation like heterosexuality or homosexuality. (@afterelton)
UK CASTS NEW LESBIAN DRAMA: Lip Service, the UK's answer to The L Word, will focus on the sex lives of a group of 20-something lesbian friends in Glasgow.  It will be broadcast on BBC3 in the spring and filming has already begun.  Best of all: Ilene Chaiken's name is nowhere to be found. (@afterellen)
MADONNA FILLED WITH GLEE: Madonna has given GLEE her blessing for a Madge-themed episode set to air in the Spring. (@ew)