Just when I was caught in the throes of my yearly wailing and teeth-gnashing that queer women never get to be in made-for-TV Christmas movies, Autostraddle Business and Design Director Sarah Sarwar appeared to me as if an angel from heaven, saying, "Unto you is born this day on the channel of Freeform, on the streaming platform of Hulu, a bisexual savior, which is Life-Size 2." I could scarcely believe my ears! Gay? The sequel to the cinematic masterpiece in which Lindsay Lohan plays a grumpy middle school quarterback and Tyra Banks plays a human-sized knock-off Barbie who comes to life through dark magic and helps Lindsay mourn the loss of her mother while also using her other career skills — such as: Police, Secretary, Rock Star, Chef, Fashion Designer — to save the day? GAY? Lo, Sarah spoketh unto me the truth!
Life-Size 2 is all about Grace, a twenty-something former socialite who was forced to take over her mother's company when her mother was sent to jail. That company? Marathon Toys, the manufacturer of Eve dolls. Grace has got mommy issues to spare and spends most of her time drunk or hungover, but when seventh grade neighbor she has a soft spot for gives her Lindsay Lohan's old dark magic book and advises a seance for some guidance about how Grace can save Marathon Toys from going bankrupt, Tyra Banks is resurrected as a whole new Eve! Grace's childhood Eve, who was with her when she broke her bones falling out of a treehouse and when she got her first period!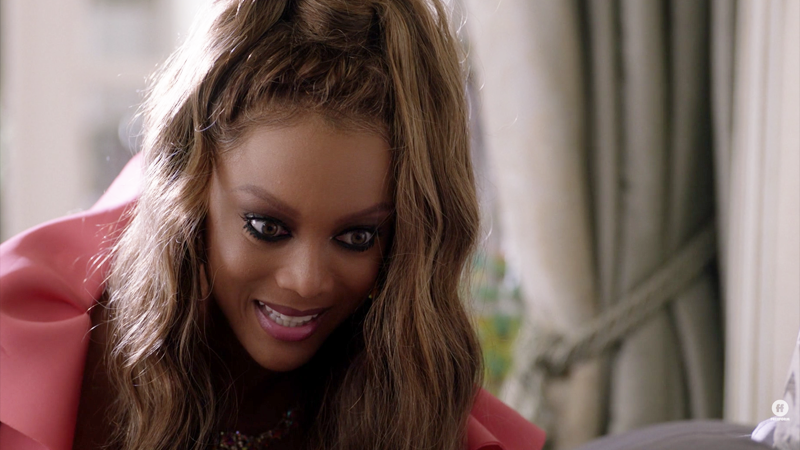 When Grace first wakes up and life-size Eve is in the bed with her she thinks they had sex. "Did we sleep together?" Grace asks. "We sure did," Eve eagerly replies, "and it was magical!" Grace says she's sorry but she doesn't remember this girl's name and can she call her a car and various other things you say when you want a hook-up to leave. When Eve won't budge, and gleefully insists they spend every minute together forever talking incessantly about their deepest fears and hopes and dreams and secrets, Grace sighs and says, "Am I your first girl?" (Eve, again: "YES!") After a few half-hearted attempts to get rid of Eve — Grace has clearly been more than one girl's first girl — she begrudgingly lets her tag along to brunch, where her friends aren't surprised to see that she slept with another woman last night, even though she was all about some cute boy just the night before; their major surprise is that Grace's gal pal is wearing evening wear at 11am and orders one of everything on the menu with extra butter.
Grace soon realizes that, duh, this isn't some random girl she slept with; it's the human incarnation of her mother's signature toy come to life to help her heal and grow up and also experience the fullness of the Christmas spirit!! Oh, sorry, I forgot to tell you the whole name of this movie. Life-Size 2: A Christmas Eve. A CHRISTMAS EVE.
I'm not going to tell you anything else about Life-Size 2 because you deserve to experience the absolute ecstasy of watching Tyra Banks commit to the bananapants wide-eyed wonder of this role again, without being spoiled on all the Easter Eggs. But what I will tell you is this is as gooey as any Christmas movie on TV and it actually isn't the only TV Christmas movie to make the yuletide literally gay this year. Lifetime's Christmas Around The Corner features a supporting character who's a gay pastor and he and his husband have a baby girl! (Thanks, PeripateticBlues, for the tip!) And, of course, Bex Taylor-Claus plays the lesbian character in Netflix's Dumplin', which isn't really a Christmas movie but Netflix knew what genre they were tapping into when they dropped it at Christmas.
Your move, Hallmark!