Find Your Fit is a style advice column helping real queer people find the masculine, butch, and tomboy styles that make them look and feel hot.
Hola Mika,

This email has been sitting in my drafts for nearly a month now and today I decided I just gotta do it.

I'm a 30 year old nb latinx person from Australia trying to figure out a style. I had a kid two years ago and have really struggled working out my gender after that. My body changed a lot in ways I did not like and I've been trying to come to terms with my identity as a person, rather than just my kid's mum.

We're coming into summer in Australia and want to expand my wardrobe past tshirts and shorts. I tend to stick to black shirts but am trying to include more colour without feeling too feminine, but at the same time I am trying to be ok with things that are traditionally viewed as feminine, so basically I have no idea what I'm doing or what I want.

My style icons include Ashlyn Harris, Keiynan Lonsdale and Hector Bellarin (all three of these people are way more out there than I am). Other icons that you've covered a few times include Ellen Page and Harry Styles, also I love your style too .

Part of me wants to feel more grown up with how I dress but another part of me is happy looking like a 12 year old soccer kid.

Thanks!
Ella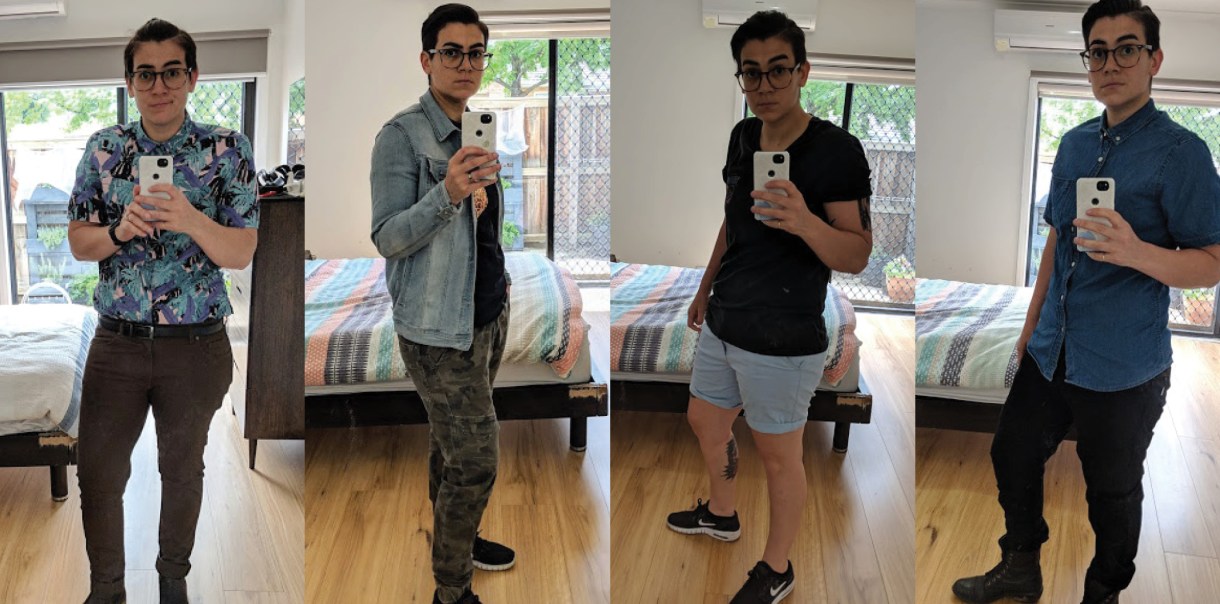 I'm so happy you finally decided to hit send. This is one of my favorite submissions of all time!!! I used to check out all three of your style icons for a period of time, specifically for summer clothing, so this is perfect. I think I have a good idea of what you're going for because we actually overlap a lot in terms of the masculine/feminine balance; hopefully these looks can get you closer to where you want to be.
Coffee Run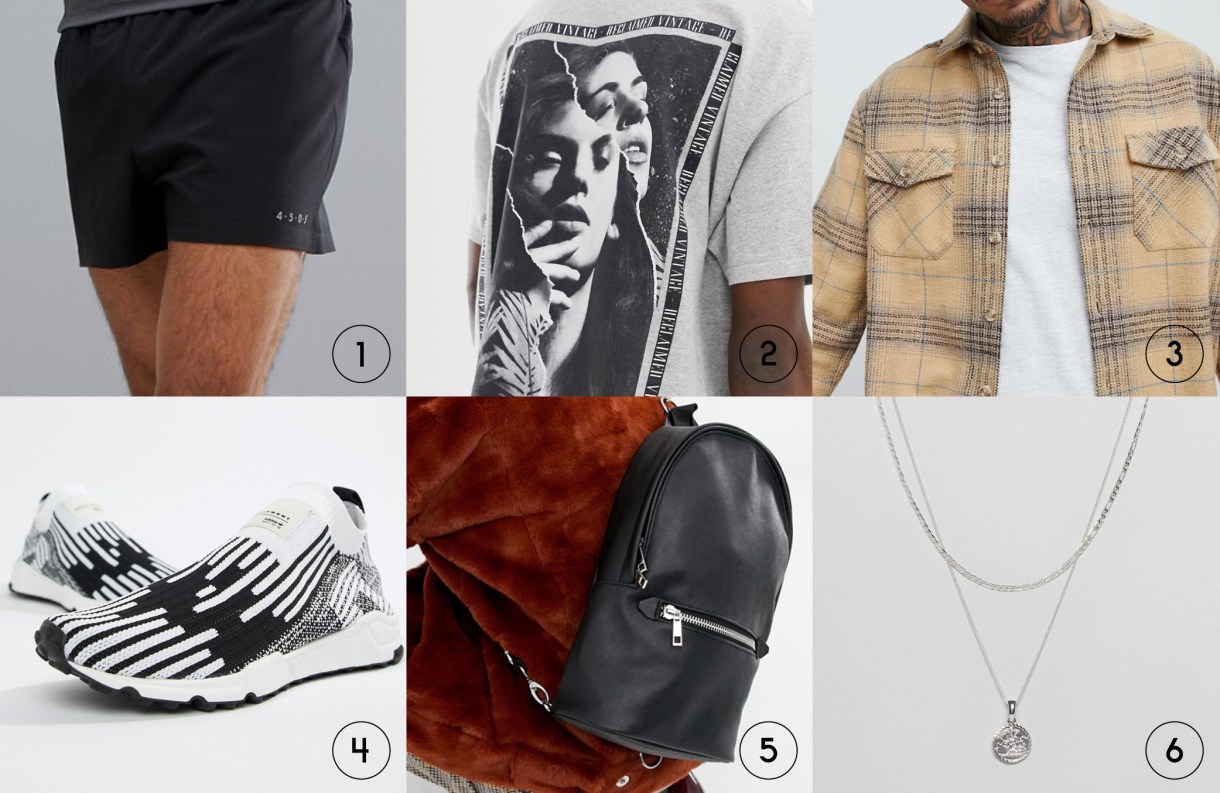 1 / Shorts
2 / Tee
3 / Overshirt
4 / Sneaker
5 / Bag
6 / Chain
Inspo:
Thank you so much for giving me soccer people to draw inspo from!!! As a soccer gay, I have a vast collection of soccer players with dope style and haircuts I literally stalk every single day, and Ashlyn has been one of them for a long time. Her fits are a really cool mix of skate, street style, and formal wear. My favorite type of fit she puts together usually involves something you'd wear on a hot day (it helps she lives in Florida).
Styling:
I think based on your images that you have already a pretty solid foundation in terms of basics, so I just want to expand on that with you and walk you through how you can put together your typical fit (t-shirts and shorts) in a more personalized, edgy, non-traditional way.
Some summer days it's so hot you literally cannot bring yourself to wear pants, so the question is how do you pull off a simple outfit without it being plain? The key is in how you layer. Layer different pieces with different textures and use elegant colors as the base. Using blacks/greys/whites in some of your pieces will move you away from looking like a 12-year-old boy, and give you sharpness. Then to retain that boyish edge, try adding some edgier tones/prints to the sneakers, overshirts, jackets and bags.
I started here with these short shorts from ASOS; I'm not sure how short you are but you want them to hit you about a standard short length. If you're a little taller I think you'll be safe also, because judging by your selfie you're fine with shorts of about this length. My favorite thing about this piece is the fabric; it gives you breathability and brings in that sharpness from the typical athleisure wear look. Another key thing with T-shirts and shorts is contrast; ff you wear tighter shorts, try wearing a boxy top or an oversized tee; if you wear baggier shorts, then try wearing a tighter top. In this case I picked this tee from ASOS, if you have any old band tees or vintage-looking ones, these edgier/washed out tees will work great as contrast to the shorts. Every time you wear black try wearing a washed-out tone or like, 95% black. Since you have black hair this is an easy way to avoid flatness; I do the same every time. Overlay an overshirt or flannel if it's windy or not extra hot.
I picked these ADIDAS sneakers because they are flexible with many outfits. The pattern will add a pop if you wear a lot of black. Ashlyn never leaves that house without accessories, so get some simple thin chains to add dimension to your fit and a bag if you need it.
Date Night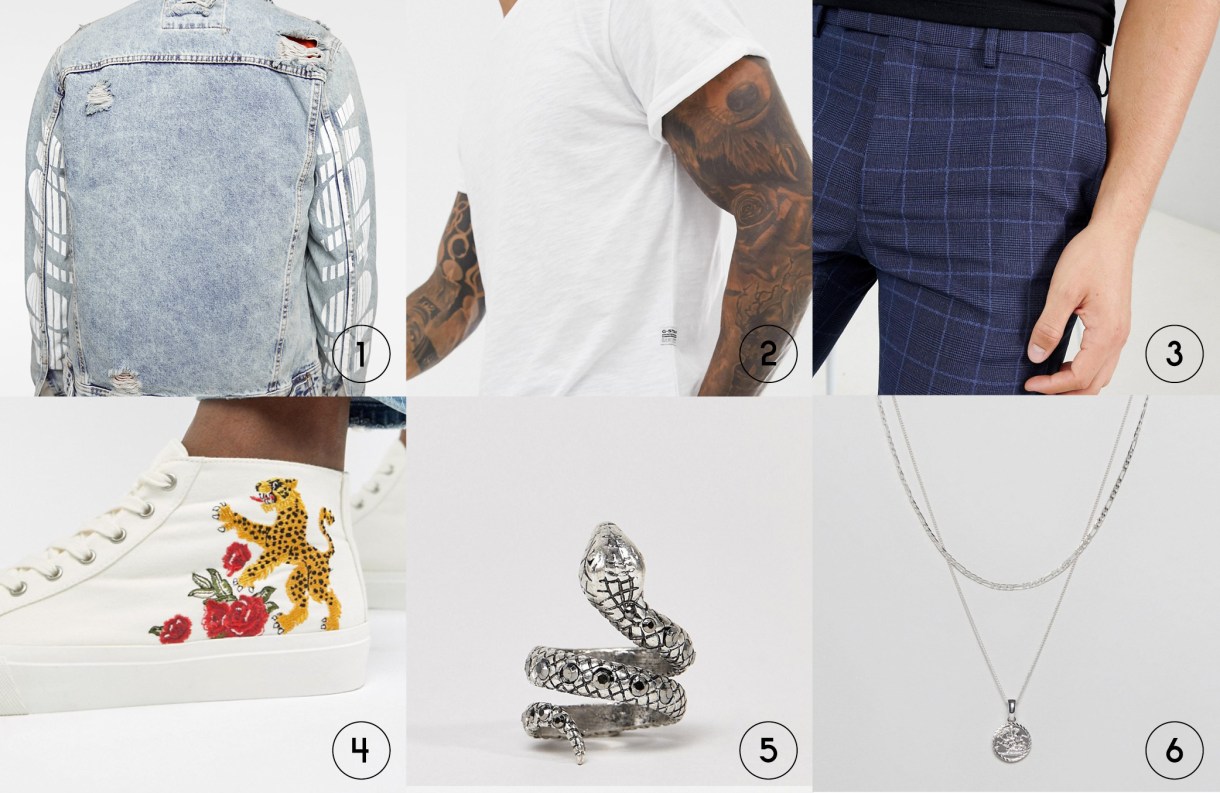 1 / Jacket
2 / Tee
3 / Pants
4 / Sneaker
5 / Ring
6 / Chain
Inspo:
Keiynan is perfect for the feminine/masculine balance I think you're trying to accomplish. Just like Ashlyn, he knows how to mix formal wear with street/edgier pieces. I think the difference with him (besides not living in Florida) is that he tends to go a little harder on the accessories. Because you specified that you think he goes a little more "out there," I wanna reel it in a bit and give you an outfit you can wear when you want to bring in color, and also wear pants.
Styling:
This fit kinda builds on the previous, but instead of focusing on layering I want to talk about contrast. Usually when you're mixing up casual pieces with more 'formal wear' the shoe and jacket are key to balancing it all out.
For this fit I want to start with the trousers. Patterned trousers are definitely very in at the moment, so I picked these blue ones from ASOS. The pattern is delicate enough that it grounds the outfit and just adds that bit of pop we want. Pair these with a simple white tee; I'm not sure what kind of fit you want but if you can get something with just a little bit of texture that would be ideal, and if you don't like texture then something that isn't stark white. You can either tuck it in, french tuck it, or wear it out.
The shoe is really what will decide whether your fits are more formal or more casual. If you go with a simple clean white shoe, you retain the formality but you bring the outfit as a whole to a more casual level, which allows us to go a little more crazy or edgy with the jacket and consequently where you can wear this fit to. I picked these sneakers from ASOS because a) they've been in my cart forever b) the embroidery adds a touch of femininity, color and detail without generally making the whole outfit "feminine." For the jacket I picked this one from ZARA because you can layer denim like this with anything; it's super flexible yet very unique. Add some accessories (chains, rings, bracelets) to finish up the look.
Friday

1 / Shirt
2 / Pants
3 / Vans
4 / Socks
5 / Chain
6 / Sunglasses
Inspo:
Hector is the best for fashion inspo because he's always exploring trends. I think just like Ashlyn he has a little bit of soccer/skate/street pieces to his fits, so I want to put together a look that brings in a bit of that but that you can wear all day or night long if you don't want an outfit change.
Styling:
Right now there's a trend around clashing prints. I want to give you a bit of that edge while keeping it real in terms of what a non-soccer star can wear every day (unless you are and if so, my apologies). I started this fit with the shirt; I wanted to give you something a bit more classy as a pattern instead of all the leopard/wild stuff people are wearing right now. This mustard/purple stripe shirt should do the trick, wear it tucked out with these tapered crop pants from ASOS. These pants are supposed to fit more like chinos, so I also want you to think of them that way in terms of shoe pairing. The side stripe will give you some formality but the crop and the way you tuck your top will, again, define how casual your fit is. If the pants don't expose your ankles, cuff them a bit so you can show them off. You can wear these when it gets colder with a hoodie (maybe a mustard one) and really get that street/formal balance going. Since it's summer time, a pastel/light colored sneaker is your best bet. I picked these mint Vans for you; you can also try pink if you are feeling brave! The gum sole will tie it in with the rest of the fit, so you can really go wild with color choice. Wear some accessories to add that final touch; I picked these sunglasses from ASOS for you because when you're still working up the courage to experiment with the actual items of clothing I always recommend you start with your accessories (that's what I do)!
---
For help finding your fit, write to mika [at] autostraddle [dot] com with a little about yourself, your personal style icons, your size(s), and three or four selfies in your current favorite outfit(s)!