I sure was leery when Netflix announced it was adapting Julie Murphy's beloved young adult novel, Dumplin', into an original film. A southern girl who has a complicated relationship with her mother and feels like she doesn't fit in anywhere finds courage and decodes how to be a human through Dolly Parton's music? There's a lot of ways that one's gonna hit close to home, at one of the hardest times of the year to be thinking about home, and anyway what it if it makes me cry? My beloved east Tennesseean Laneia pushed me to it when she reviewed it thus: "I can't believe how much I don't hate Jennifer Aniston's accent in Dumplin'!"  Well, friends, it did make me cry. Cry cry cry cry. But in oh such a cathartic and toasty-hearted way! But the Lord I CRIED.
Dumplin' goes like this: Texas teen Willowdean Dickson (Danielle Macdonald) is basically raised by her Aunt Lucy, a hardcore Dolly Parton fan, while her mom, Rosie (Jennifer Aniston), relives her high school glory days by coordinating and running the Miss Teen Bluebonnet Pageant year after year. Willowdean is shy and self-conscious about her size, especially compared to the constantly-dieting and never-not-exercising Bluebonnet girls her mom is always fawning over. But Lucy's not thin either and she's got all the confidence in the world to pass onto her niece, often though Dolly-isms. Lucy even introduces Willowdean to a kindred spirit named Ellen (Odeya Rush) when they're only little girls and now they've been best friends for a decade. When Lucy dies unexpectedly, Willowdean and Rosie are left circling each other without much in common and another pageant looming. And so Willowdean revolts! She starts a revolution to take the Bluebonnets down from the inside, and is joined by BFF Ellen; Millie Michalchuk (Maddie Baillio), another fat girl from her school; and Hannah Perez (Bex Taylor-Klaus), a combat-booted coded-lesbian who auditions for the talent portion of the pageant by holding her fist in the air and shouting about destroying the patriarchy.
Is it formulaic? Yes, it's formulaic. But it's fresh, too! The heart of the thing is women with layered, complicated personalities and motivations who support each other and hardly talk about boys at all. The catalyst for growth isn't a desire to change, but the fact that Willowdean and Hannah and Millie find themselves at one of Lucy's old hangouts: a Dolly-themed biker drag bar. The drag queens make them over, hone their talents, nurture and uplift them and cheer them on. They don't tell them to be different; they make them more of who they are. (Though it should be noted that we do have here a magical black drag queen who is both glorious and very trope-y.) And no one's ever telling Millie or Willowdean to lose weight, or that their weight has something to do with their lovability, successfulness, or sexiness. Willowdean's love interest, Bo Larson, is a teen dreamboat and the only thing he says about Willowdean's size is "To hell with anyone else who's made you feel less than beautiful." Also, I've never seen Bex Taylor-Klaus have so much fun on-screen in my life. (Maybe because they weren't playing a lesbian about to get axe-murdered and stuffed in a car trunk.)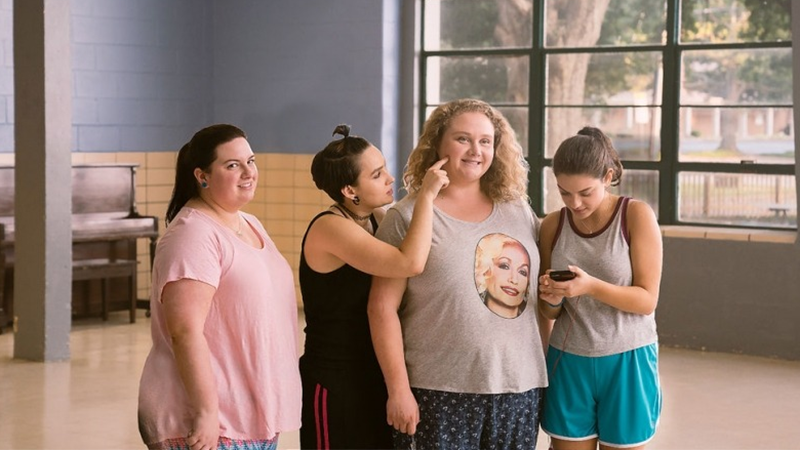 And Dolly. Dolly. Dolly. Dolly. She is the soundtrack to this movie, with old songs and a new song and covers of her classics. She's quoted, danced to, sung with, her posters are everywhere, Willowdean's even got a t-shirt with Dolly's face on it.
When I was a little kid I had a recurring dream around Christmastime that Mary and Joseph showed up at the inn in Bethlehem, which looked exactly like my great-grandparents' barn but trimmed with circus-colored Christmas lights, and instead of being turned away to go birth Jesus in the cold, Dolly Parton would always burst through the barn doors and say, "Come on in! There's room for everybody!" When I told my Sunday School teacher about it she said, "I think you missed the point of the birth of Christ" but by the time I was listening to Dolly Parton's Live and Well album in 2002, hearing her change the lyrics of "Jolene" to "Your smile is like a breath of spring / Your voice is soft like summer rain / Well, I cannot compete with you drag queens" in front of an audience in Dollywood, I knew I was right on Christmas and Dolly Parton was right on just about everything.
Willowdean Dickson gets it. And so does Dumplin'.