BISEXUAL AFFAIR:
Sometimes it's like, maybe all the girls in the office really do want to have sex with each other or something: How to Have a Steamy Office Affair — With Another Woman:"This was the first time I've ever been with a woman, apart from a few drunken, attention-grabbing teenage make-outs, precociously sexual childhood role play, and that summer before college when a gay friend stayed with me for a month and we slept in a bed together and held hands.It started, as every office romance does: with a happy hour." (@lemondrop)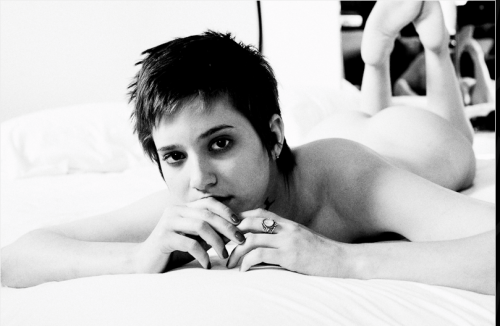 PORN AWARDS:
Bet you didn't know about all the porn awards being given out this weekend. Did you win any? Us neither. Luckily we have been doing a lot of gymnastics and next year should be a shoo-in. Jiz Lee reports from the celebrations at the Postcard Feminist Porn Awards 2010, which seems pretty groovy and had fun attendees like Tristan Taormino and the Crash Pad Series people.
On the other end of the spectrum, the trashtastic AVN Awards took place this weekend and were actually televised for some reason we're yet unsure of.
I know you're on the edge of your seats so let's get it out there: A special flick called Deviance picked up the prize for best all-girl sex scene. It features a lot of girls with large fake breasts and is "filled with double penetration, threesomes, interracial anal and some of the hardest couples sex ever shot," which sounds lovelier than a unicorn. Also sounding really just delightful is the best same-sex release (it took me a long time to figure out what they meant by "release") Evil Pink 4, which is "subitled "Twice as Wet, Twice as Fun" for the fact that all the scenes take place between two gorgeous ladies engaged in water play with garden hoses, bathwater, sprinklers, etc." etc! !!!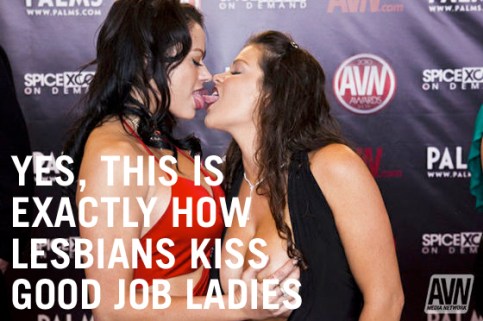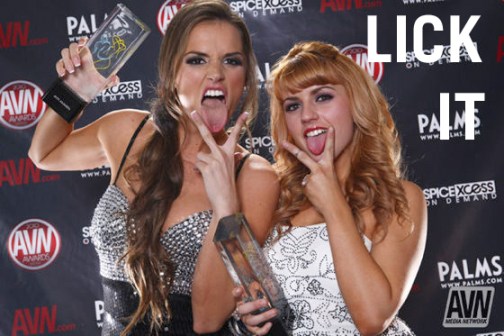 SEXTING KINDA
Do You Interrupt Sex to Check Messages? According to the Retrovo Gadgetology study, 11 percent of youth under the age of 25 who use social media said they would interrupt sex to check a message. (@carnal nation)
SEX & DRUGS:
Annie Sprinkle on sex and psychedelic drugs: "another time, I sat naked in front of my mirror and looked at my repressed anger, and let it surface. I hissed like a snake for several hours, and witnessed my inner Medusa in a remarkably non-judgmental and fearless way. I realized how sexual energy and anger are connected. I realized that in order to go to the next level of my sexuality I needed to learn to better express my anger." (@erosblog)
DIRTY PRETTY THINGS:
Victoria Secret's Izabel Goulart Nude For Hercules. Also, 21st Century Pin-Up Perfection. (@nerve, @coed)
MICHELLE TEA:
Brokenhearted, by Michelle Tea: "I don't like to fuck rich girls, I'm too resentful of all they have and will continue to receive that I don't like to give them anything more, not even a fleeting zing of pleasure, not even the implied compliment of my teeth on the back of their neck. I like girls who are dirty and tough, girls who've been through hell without a safety net dangling in the sulfurous breeze beneath them." (@nerve)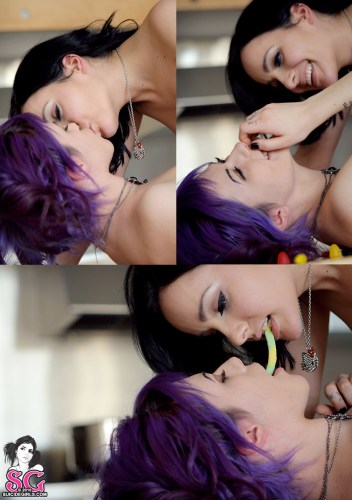 PUBLISHING LESBIAN SEX:
The Naked Reader Book Club: Cleis Press Co-founder/Publisher, Felice Newman:Today, expressions of sex positivity, acceptance, and celebration of every gender and lifestyle are part of the fabric of modern society, but it wasn't all that long ago being different often meant not having a voice to speak in public, much less sing. Pioneering publisher Felice Newman looks back from then to now and beyond. (@sexis)
ORAL SEX:
I'm not sure why this study is just now being talked about but whatevs here it is: "Most young adults agree penile-vaginal intercourse is sex, but less than one in five think that oral-genital contact counts as "having sex," according to a 2007 survey of undergraduate college students." (@webmd)
SEXY TUMBLR ALERT:
xdyke – wanna see jiz lee in a strap-on with a bunch of other alt-porn stars? But also you know, just like, pretty girls cuddling? ok then go there. it's pretty new but maybe this will inspire them to post more stuff.
NAKED PRETTY GIRLS:
Who are "Jessica Weekley and Emily D"? It doesn't really matter though 'cause they're naked and cute: