GAYEST NIGHT EVER ON TV: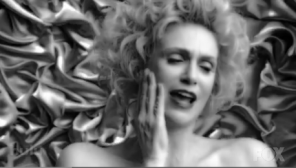 Okay, we've said it before, and we're going to say it again as if we have never said it before — last night, TV got very gay.
1. GLEE:
Last night's GLEE episode, besides cementing Brittany & Santana into the "special friends"/"exhibitionist bisexual" category (which to be honest, is not necessarily so unrealistic for high school girls, it's just annoying within a broader context of other shows & storylines about lez/bi women) was a significant improvement on the repetitive "I quit" storylines and aggressively irritating "fake pregnancy" storyline that dominated the first half of the first season.
Jonathan Groff (gay) was there and gave us Spring Awakening flashbacks singing with Broadway's Lea Michelle. Idina Menzel was there as the coach for Vocal Adrenaline. There was lots of Sue Sylvester.
And then we ended with this AMAZING VIDEO of Sue doing Vogue with Kurt and Mercedes. Who are the other dancers in the video?
Also, everyone is excited about the Lady Gaga episode of GLEE including Lea Michele: "'Just wait until you see Chris Colfer!' Lea tells me excitedly. 'I mean, I can't even…He decides to hang with the girls and do Lady Gaga with us and the boys do Kiss. He was like, 'This time, I'm going with the girls.' And Mr. Schuester [Matthew Morrison] let him. And we were lucky to have him because he was amazing!'" (@eonline)
2. ADAM LAMBERT:
Adam Lambert was a "coach" for the children of American Idol, where he sported a very vertically ambitious hairdo and did his best to whip those kids into shape. During a discussion about Adam's singing style, Ryan Seacrest commented that Adam was "more talented with his tongue" than Ryan was — and then this happened:

…laughter ensued, Adam mouthed, "it's true"… [plz pay special attention to the first angle where Jane Lynch is in the background being amazing?]… and then  the next day we woke up and BAM HELLO ROLLING STONE JAPAN!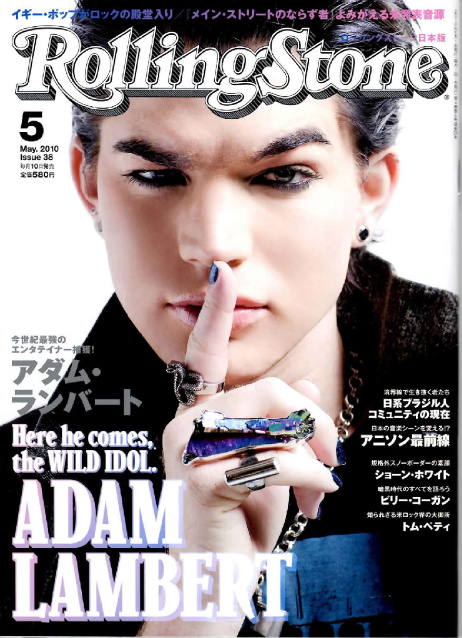 3. BIG GAY SKETCH SHOW:
Yet ANOTHER amazing thing that happened last night was that The Big Gay Sketch Show began its third season on Logo! We talked to all the girls on the show (well, two of them, and just made up answers for the third) about their excitement for Season Three.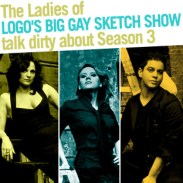 The Advocate interviewed Colman Domingo, the only African-American cast member on the show (Erica Ash is not in the show this season). Colman appeared in the Tony-award winning Broadway musical Passing Strange and won a GLAAD award for his autobiographical off-Broadway solo show, A Boy and His Soul.
What's it like to be the sole black member of a sketch troupe?
I'm always very conscious of what I'm doing and where the joke is, but our writing team is also very responsible. We spoof, but we also have a great respect for the characters that we portray. I'm not playing any crazy thugs or anything, and it's all in light fun. Everyone welcomes my perspective, so I'll absolutely say something if I think a sketch is leaning toward being hateful or offensive. Even as she reads "missed connectionswp_postson Craigslist, I want to make sure Maya Angelou's saying things that are funny but not too vulgar.
And as a bonus, you don't have to compete with anyone when it's time for someone to spoof Beyoncé.
Yes, I don't have to fight anyone for the black characters anymore. Erica Ash and I used to go to the mat! Now I get 'em all. I want to go for the Asian and Latino characters too.
4. RACHEL MADDOW:
Rachel Maddow guested on The Daily Show last night! Two of our favorite liberals in one room being snarky/perfect!
So what did you watch and how did you like it?
UNITED STATES OF TARA:
On Monday night, Marshall, the son of Tara and Max on The United States of Tara, came out to his Dad and his Dad said, "good!" and that was that! (@queerty)
JENNIFER KNAPP COMING OUT:

Christian Singer Jennifer Knapp has been hiding from us personally for many years — she has been hiding away her hotness and her very existence, as we have never listened to Christian music in our lives. But apparently she has also been hiding from the world for a little while, too, because she was in the closet, but now she is out! Jennifer Knapp is a lesbian!
Her sexuality is certainly part of why Knapp left music and dropped out of sight to the other side of the world for nearly a decade. She fell in love with her girlfriend…. and after eight years together, there's no denying that anymore. But there were also conflicts with her business partner (with whom she had a hand in the early Christian music career of Katy Hudson, who has gone on to kiss her own girls as Katy Perry). Music had become about work instead of about joy. And then there was the rift between her faith and her sexuality. "I thought I had to exchange one for the other,wp_postsshe says.

For Knapp, the process of bringing faith and sexuality into a coherent self required her to step away from her life and career in the U.S. The music that had spoken through her voice and hands became completely alienating. "I would think, I don't even have a right to sing a song I wrote, because I am a hypocrite,wp_postsshe says.
TWILIGHT:
It's not fun to hate Twilight anymore: "When the trailer for new Twilight movie Eclipse played at a recent fan convention in San Francisco, the crowd erupted in boos so loud the soundtrack was drowned out. That's when I realized hating Twilight had gotten boring."It's just not fun to hate on Twilight anymore." (@jezebel)
THIRTEEN:
Thirteen explains bisexuality on HOUSE. (@afterellen)