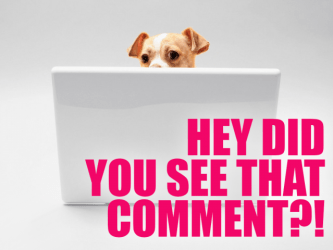 Hello spring chickens!
This week Hansen has 20 DIY gifts that will make your mom happy this Mother's Day (in addition to eating your broccoli). Read Rachel's take on the Cecily McMillan's conviction and Mey's thoughts on the Boko Haram kidnappings in Nigeria.
Recaps for Faking It and Orphan Black  are up and we're continuing our season 2 countdown to OITNB by rewatching some favorite scenes with the cast.
There's also comics, computer building, floral tomboy realness and one more must-see Beyoncé video.
Now sit back, grab a box of wine or a snack and check out the week's most decorated commenters!
---
On VIDEO: #everyBODYisflawless in this Body-Positive Beyonce Remake:
The Crushmonster 2.0 Award to Nora Isabella:

On Sober In The City: Redefining My Queerness on Fire Island:
The Campaign Champagne Award to Hillary Cli*ton:
On 16 Food-Related Euphemisms For "Female Masturbation":
The Eat, Gay, Love Award to Al:

On FRIDAY OPEN THREAD: Tell Me The Most Awesome Thing About Your Week:
The Mixed Signals Award to angrynaps:

The Good Hair Day Award to Lisa W:
On 20 Gifts To Make For Mother's Day:
The AfterEllenPage Dot Com Award to Michelle:
---
See a clever, hilarious or thought provoking comment around this website-ship? Email it to me at: carrie [at] autostraddle [dot] com!