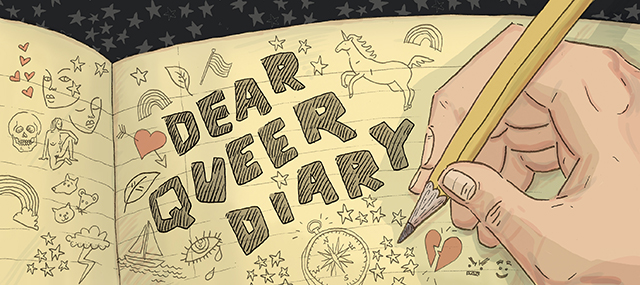 When I open the cover of my journal, I am filled with a passion for introspection, a desire for self-reflection, and a hunger for… delicious snack foods.
My queer journaling role model, the great Virginia Woolf herself, wisely wrote in A Room of One's Own that "One cannot think well, love well, sleep well, if one has not dined well." This sentiment clearly extends to journaling. After all, how can I even begin to think back over the events of my day if my stomach is grumbling for nourishment? Sometimes, one simply cannot journal well without a snack.
Luckily, snacking and journaling is not like drinking and driving. In fact, I would argue that the two activities, when done correctly, complement each other quite well. We have already discussed the virtues of journaling with a hot beverage in hand. Now, let us direct our attention to the matter of selecting the perfect food item to fulfill all your journaling and snacking needs.
1. The first item that we must consider is messiness.
Unless you would like your journal to become a multimedia art piece containing food smears from the various culinary delights you have sampled while filling its pages, the perfect journaling snack is something that can be enjoyed neatly.
Beware chips and salsa, whose remnants resemble the bloodstains on the hands of a Shakespearean villain. Anything coated in cheesedust is a similarly dangerous choice. Yvonne's list of snacks from her South Texas hometown, delicious though it may be, looks as though it too is full of perils for the neatness-oriented journaler.
2. Unless you rely on Siri to record your innermost thoughts and feelings, you will most likely need a snack that leaves one hand free for your writing utensil of choice.
As Wikipedia helpfully explains, the sandwich was the original mode of sustenance for multi-taskers at gaming tables and desks occupied by the British aristocracy. However, in this day and age, I find most sandwiches worth eating far too slippery for easy one-handed consumption (curse you, avocado!). Instead, I like my dear queer diary with a side of nice, chunky granola that I can nibble upon with my right hand as I compose choice phrases with my left.
3. Another criterion to keep in mind is a snack's holding power.
Lucky Charms may be delectable, but those marshmallows might melt away if you spend too long scribbling about your hot date at the local lindy hop. As much as I love ice cream (a generous serving of which may or may not have been savored during the drafting of this very column!), it requires a certain attentiveness on the part of the consumer. If the journaling spirit truly captures you, you do not want to have to worry about whether your snack will still be edible by the time you finish your page.
4. It's hard to believe that we've gotten all the way to number four without mentioning taste.
Let's face it: taste should probably be the first thing you consider when selecting your snack food of choice. Does the moment call for something sweet? Savory? Salty? Think of yourself as a sommelier, tasked with creating the perfect pairing of snack food and journaling mood. Trader Joe's dangerously addictive coconut chips may be an appropriate accoutrement to your diary entry about plans for the upcoming summer, while your long list of things to accomplish might be better matched with a plate of baby carrots and hummus. You are going to need protein to get all those things done!
5. The more practical diarists might also consider nutritional value, cost effectiveness, and other such snack-related details.
Personally, I draw the line at these new-fangled snack services that send you individually pre-packaged items in exchange for a monthly fee. Instead, I will save my disposable income for new journals.
Are you hungry yet, my dear queer diarists? Which snacks best complement your diary-writing ways? Have you been known to eat while journaling?
---
Dear Queer Diary is a column about the joys (and occasionally, the pains) of journaling. We crack open our tiny notebooks and break out the rainbow-colored pens on the regular, so get ready to limber up your writing hands and document all your beautiful feelings!
Header by Rory Midhani