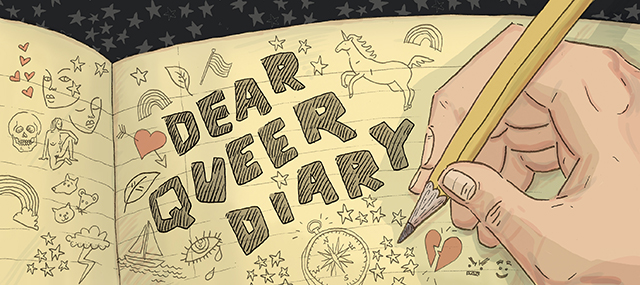 It's less than one week until Christmas, and I have still not obtained presents for at least one member of my immediate family. My sink is full of dirty dishes, and my coffee table is littered with papers I am hoping will eventually make it into my scrapbook. I can barely find my journal, let alone find time to write in it.
I need a cup of tea.
I love tea. I drink it every morning and most evenings and many afternoons, and it has become my number three favorite thing, after reading books and my girlfriend. In case you need further evidence of my dedication, I will take this opportunity to confess that I may or may not have spent several months curating a sort of embarrassing Tumblr devoted to tea and its virtues.
If you actually want to journal about tea, there's obviously a Moleskine for that. But that's not what I want to talk about.
What I want to talk about is journaling with tea, a practice that has, over the last several years, woven itself firmly into the metaphorical fabric (specifically chambray) of my being.
Although I have certainly been known to swill down a cup of strong black tea in order to drag myself through a particularly difficult morning, for the most part, I regard tea less as an avenue to wakefulness and more as a personal indulgence, a little luxury that I can look forward to after I get dressed or at my desk in the late afternoon. No matter how long it has been since I last went grocery shopping, I always have the ingredients, and if you get tired of Earl Grey (which in my book is actually somewhat inconceivable), you can always move on to peppermint, chai, or Assam.
We talked about one kind of drinking and diary-writing a few weeks ago, but this variation on the beverage-and-journal theme is less about attending bumping parties and more about taking deep breaths.
In my book (pun always enthusiastically intended!), the time it takes to enjoy a cup of tea is a magical period of minutes, just long enough to press the reset button my fatigue or frustration. A cup of tea lasts exactly enough time to compose a journal entry that fills a goodly chunk of my page. A really capacious mug might even keep me going long enough to rekindle my faith in the possibility of my someday writing the great queermerican novel, perhaps beginning with the sentence I jotted down in my only slightly tea-stained notebook.
There is a pleasant familiarity associated with making tea in the first place. I know exactly how much I can accomplish in the time it takes my kettle to boil. I know that the red cup is for the mornings and my girlfriend's favorite is the English Department mug with the blue glaze. I know that if I swirl in just the right amount of milk and wait just the right amount of time, my English Breakfast will taste just the way it tasted yesterday and the day before and the day before that.
My journal comes with its own ritual. I flip to the first blank page, reading the last few lines of the preceding entry. I find a pen—preferably the pink G2 with the black ink and the .5 mm tip. I write the date on the right side of the page, including the time of day and day of the week, just as I have for the last 10, 20, 120 entries.
The practice of waiting for one's tea to cool is an exercise in patience—in the same way as handwriting letters one by one to form words rather than typing furiously into a machine that will autocorrect your every sentence.
The appearance of several teas in the both the teacher-themed and work-from-home-themed gift guides only reaffirms a truth that should already be self-evident. Tea is for everyone, and especially for people who like to write things and read things. (The first three letters of the word "teacher" are not coincidental.)
Your homework assignment this week, my journaling acolytes, is obvious. Take a deep breath and select your favorite blend. While the water boils, take out your notebook and find a pen so that, when your tea finishes steeping, you are ready to write. Start with the kind of tea you're drinking and go from there, my beloved Straddlers. And don't forget to drink the contents of that mug at your elbow before they get cold!
---
Dear Queer Diary is a column about the joys (and occasionally, the pains) of journaling. We crack open our tiny notebooks and break out the rainbow-colored pens on the regular, so get ready to limber up your writing hands and document all your beautiful feelings!
Header by Rory Midhani