Welcome to Dear Queer Diary, a column about the joys (and occasionally, the pains) of journaling. We'll be cracking open our tiny notebooks and breaking out the rainbow-colored pens on the regular, so get ready to limber up your writing hands and document all your beautiful feelings!
Header by Rory Midhani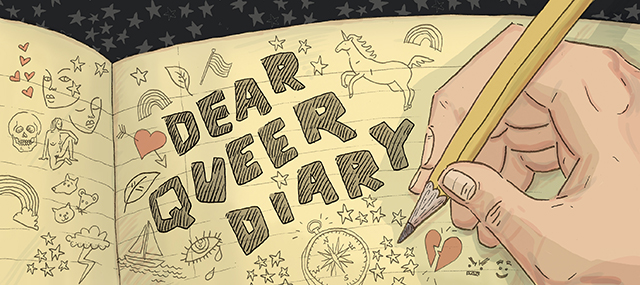 We've been reading a lot about altered states of consciousness lately, between Chelsea's High Femme column and Ali's latest liquor-related post. Perhaps you were feeling a little left out, my dear queer diarists? Well, let me reassure you: Dear Queer Diary is every bit as capable of having a rollicking good time as any other column on Autostraddle!
That's right, my beloved journal-writers. It has recently come to my attention that drunkenness and journaling are two great tastes that taste great together, sort of like Jennifer Lawrence and alternative lifestyle haircuts or leftover Halloween candy and every meal that I have eaten this week.
The best news is that journaling while intoxicated can get you arrested in exactly zero states (assuming, of course, that your state of intoxication was arrived at through legal means), and statistics show that journaling under the influence is less likely to result in injury than other popular activities like jumping rope while high and making grilled cheese while tipsy.
Though the aforementioned pastimes have almost certainly been known to result in tragically scraped knees and horribly burnt toast, the only negative side effects associated with drunk journaling are atrocious handwriting and the inability to form a coherent sentence—symptoms that have also been known to result from journaling while aboard a moving vehicle and journaling during periods of intense exhaustion and/or emotional upheaval.
Now that I've convinced you that drunk journaling is, in fact, the pinnacle of what Michael Scott (and also my girlfriend) refer to as funtivities, I have a confession to make. I, personally, have never engaged in drunk journaling. In fact, I have never even been drunk.
This is the kind of declaration that is often met with shock and awe, and yet, I can assure you that it is true. The one and only boyfriend in my personal dating history (it didn't work out, although not for the reasons with which this readership is probably familiar) once described me as a "teetotaler," and although since turning twenty-one, I have been known to occasionally sip upon an alcoholic beverage, I am so unused to the flavor of booze that I rarely make it through an entire glass of fill-in-the-blank if it is not at least as fruity as our new friend Tiny Pineapple.
Indeed, the closest I have ever come to being drunk involved a pint glass of cider, 6,181 feet in altitude, and only the slightest dizziness, which dissipated before I could get anywhere near a writing utensil and paper.
Because of my own inexperience in the realm of drunk journaling, I have contacted several—okay, one—expert in the field, who has consulted in the assemblage of this post. Said expert, whose drunk journaling beverage of choice is an authentic Kentucky whiskey, has nothing but good things to say about her experiences writing in her journal while something other than sober, and as a result of her testimonial, I can now state with confidence that if/when I do decide to get drunk, I will be rushing to my journal posthaste in order to scribble incomprehensible sentences and sketch hilariously odd line drawings.
In the meantime, if you, like me, prefer a steaming cup of peppermint tea to a gin and tonic, worry not! I am confident that by the year 2020, it will be a scientifically proven fact that the effects of journal-writing on one's brain chemistry produce sensations of relaxation and euphoria very similar to those associated with tipping back a few cool ones. And your pen can't even give you a hangover!
Are there any experienced drunk diarists out there in the Straddleverse? Determinedly sober journal writers like me? Tell us about your adventures with drinking, journaling, and the combination thereof!