In a semi-regular segment entitled Liquor In The ______ that can't be too regular because I'm probably drinking right now, I'm going to write to you about all the different ways you can liquor. I recognize that it's weird, especially for those of you who have actually had a drink with me, because I am what the frat boys would call a "two-beer queer" (what I would call a "no-beer queer," as I'm gay all the live long day). But I get drunk very easily, is the point. Still, I really really like beer, wine and liquor and want to share that love for the artistry of alcohol with you all, my favorite queers. Let's lift a pint to alcohol and our Autostraddle community – they go together like wine and soft cheese.
Header by Rory Midhani
Sometimes Fall is cold. And nothing makes me want a bourbon like cold weather. So that's why I broke out a bottle of New Holland's Beer Barrel Bourbon. Why is it called that?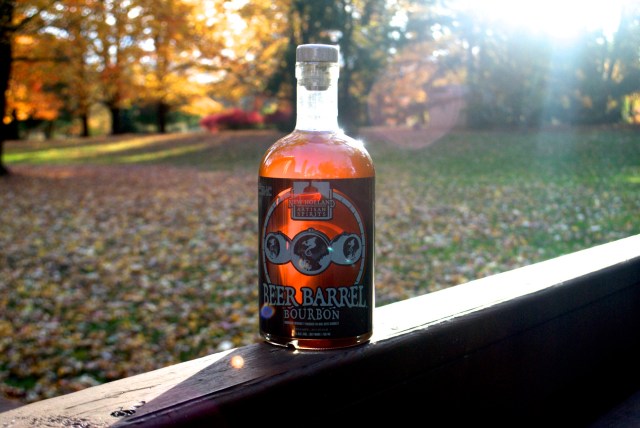 Well that's because after its aged for years in its own barrel, it gets moved to beer barrels for a finish. And those beer barrels are Dragon's Milk barrels. Dragon's Milk is a stout that is aged partially in – you guessed it – bourbon barrels. From what I can tell, New Holland pulls a switcheroo on each of these beverages to make two excellent, crossbred, yummy drinks. So today, I'm going to talk a little bit about both of them.
You'll notice, by the way, that Dragon's Milk was photographed this summer, while the Bourbon was photographed this Fall. That's because when I drank the Dragon's Milk, I felt so strongly that it was a Fall beer that I held it until right now.
Tasting The Dragon's Milk
As we're talking about beer, let me talk a little bit about how to taste beer. Now, I'm sure there exists a "correct" way to taste beer. Like, I'm sure that's a thing. But we're going to talk a bit about how I taste beer. And I taste beer a bit like a drunk mad scientist. Basically, I do five things things: open it, admire it, swirl it, smell it, taste it.
Open It
Duh, open it. It's not like we can absorb the beer by balancing a closed bottle on our heads. But what I really mean here is what's your first impression? As you open the beer, what are the things you notice? In this case, when I popped the cap off of this bottle, I smelled one thing and one thing only. Bourbon. The first impression of Dragon's Milk for me was "holy shit, this smells boozey. Boozey like bourbon. Am I going to basically be drinking straight bourbon?" Of course it's not straight bourbon, but man did I think for half a second that it was.
Admire It
I love tasting beer outside in daylight because that is when beer is its prettiest. Dragon's Milk is gorgeous – a super deep brown, kind of like coffee. Hold it up so the sun shines through it to really take a look at the color. Also take note of how bubbly it is. This one isn't super carbonated, but it doesn't look flat. I got the impression that it's just dense. Almost as if the liquid is so heavy that the bubbles have a hard time…bubbling.
Swirl It
Swirling it, or agitating it, actually does serve a purpose other than making it look like you know what you're doing. It lets you a) admire it further, especially with Dragon's Milk because it's got legs like a bourbon does (as in, it sticks to the side of the glass like a bourbon does) and b) it makes the next step that much easier. Agitation pulls out the various aromas you're about to experience with your nose-machine.
Smell It
Scents I experienced with my nose in my glass of Dragon's Milk: bourbon, first and foremost. But after that, vanilla and an almost coffee-like scent. Not quite like coffee, but in the same wheelhouse.
Taste It
The moment we've all been waiting for – and the cool thing is, I experienced the flavors in this beer much like I experienced the aromas. Bourbon first, then that heaviness in your mouth that comes with drinking a stout. Almost like you're drinking an anvil, except it's a liquid (that's called a mouthfeel, by the way. Literally, how the beer feels in your mouth). The beer isn't bitter almost at all, because the next thing that one might experience is that vanilla flavor. It finishes vanilla-esque as well, with a slight tinge of the same sensation that dark chocolate provides.
Just as an aside, when you're tasting beer (or anything, really) make sure it hits all parts of your tongue. Don't swallow right away or you might miss something extraordinary.
My Overall Impression
This beer is like dessert, and it's definitely a "sit-and-watch-the-leaves-fall" kinda beer. And it's one of my current favorites, if not my very favorite stout. What I really want to do with it is put it in dark chocolate fondue or bake it into brownies, because all my girlfriend and I kept saying is that we wanted this beer with chocolate. That's all we wanted to be eating when we were drinking this. If you don't want to make fondue or brownies, though, might I suggest just pairing these with some dark-chocolate-covered espresso beans.
Tasting The Beer Barrel Bourbon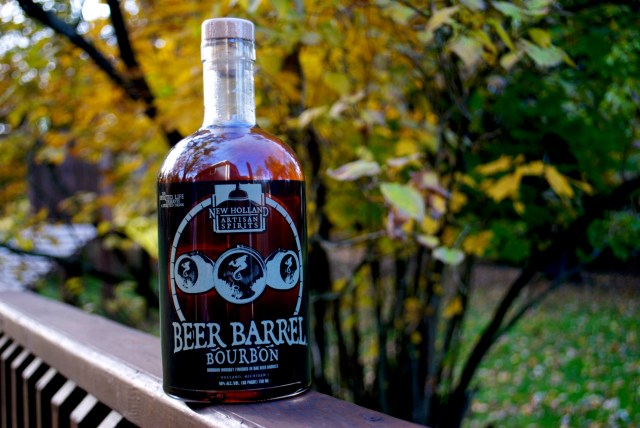 Now y'all know how to taste whiskey because we've written about it on here before. Twice. Three times, actually? Maybe more. We love us some whiskey. But for the sake of continuity, I'm going to use the exact same formula for the whiskey as I did for the beer, with only a few modifications.
Open It
You want to open bourbons a bit before you want to drink them, so they can breathe. I gave this one twenty minutes. Also my first impression surprised me here, because I expected it to smell a bit like beer. You know. Because the beer smelled so strongly of bourbon. But it didn't, it just smelled like bourbon.
Admire It
Gorgeous, caramel brown color. Reminds me of the Autumn leaves, actually! A very warm hue, but not red. More of an orange-brown.
Smell It
Get your whole nose in that glass. Go on, do it. On the first sniff, you'll probably just smell alcohol. But then I want you to roll it around in the glass a little and wham, there it is. Toffee and caramel. And then that hint of vanilla and oak and wham, you can now tell it was put in the Dragon's Milk barrels for 90 days.
(Do Not) Add Water To It
Okay, so some whiskeys (especially those under 12 years of age) benefit from a bit of water to open it up, especially if it bites on the way down. But I never, ever add water to something the first time I taste it. That's like seasoning your soup before you taste it – how would you know what it needs before it goes in your mouth? And based on what I'm about to tell you, definitely don't add water to this bourbon.
Taste It
Take a small sip and let it roll around your entire mouth. You'll notice that this bourbon is so smooth, you almost don't even know you're drinking alcohol. There's not a sting or a bite or a punch – it just goes right on down. And that's why you don't add water to this one. Then you get the small hint of toffee and vanilla. But it's super subtle. The entire bourbon is super subtle.
My Overall Impression
Now you know I like a drink that kicks me in the teeth, and frankly this is almost too subtle for me personally. So this might not be something I drink neat more than once for tasting it. If you're new to bourbons, this might be really excellent. But! I do want to try a couple of cocktails with it. I'd either lean into it and do a sweeter cocktail, like a Manhattan or I'd try to add a tiny bit of bite by mixing something using spicier bitters, like Hellfire.