[WARNING: this post contains spoilers up to the current episode]
The character of Delphine on the TV show Orphan Black is one of the most high-profile depictions of bisexual women in current popular media. In fact, it's one of very few media texts in which a bisexual woman character actually uses the word "bisexuality" in order to describe herself (a rare occasion indeed!). But while it's incredibly exciting to see this kind of depiction, we should also be aware of the role that Delphine's bisexuality plays in the plot.
As a general rule in popular media, bisexuality is never depicted for its own sake or for the sake of the character. More often than not, it's there as a trope, as shorthand for something else, a hint to help us understand something entirely different about the character. In short: it's a form of stereotyping. For example, we can often find bisexuality as a way to emphasize a character's "wild" or "exotic" nature, to underline lack of commitment, or point to immaturity. While Orphan Black seems to be above using such blatant stereotypes, it is however not above using one particular trope: the bisexual femme fatale.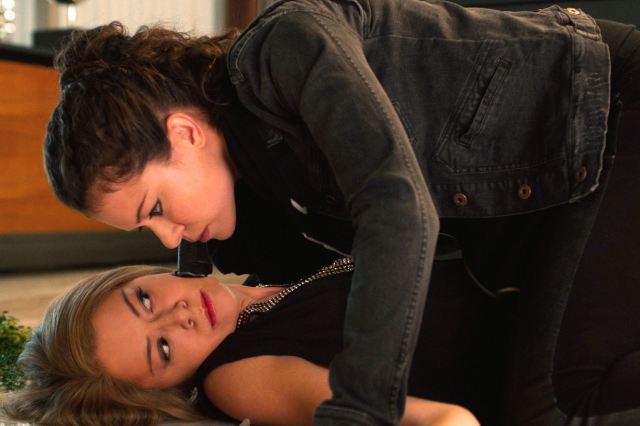 The bisexual femme fatale, first identified by film scholar Katherine Farrimond, is a seductive, but dangerous, bisexual woman. Appearing in many films and TV shows, she often becomes a source of tension and danger for the plot and its protagonist(s). One of the reasons this character is perceived as so dangerous is that we don't know where her loyalties lie. In plots where she appears, she must make a choice between a man and a woman in a way that creates the conflicts, mysteries, and riddles that are at the base of her plot. Since whatever choice she makes determines the outcome, we find ourselves constantly wondering whether or not we can truly trust her.
Delphine is such a character. The first time we meet her, we see her flirting and trying to make friends with Cosima, the quirky, queer, science geek clone. From the very outset, we know that she can't be trusted—we know she's a monitor, an agent sent to spy on Cosima by hostile elements. Indeed, by the end of two episodes, we not only discover the identity of those hostile elements (the Dyad Institute, headed by Dr. Aldous Leekie), but also that Delphine is romantically/sexually involved with Leekie himself.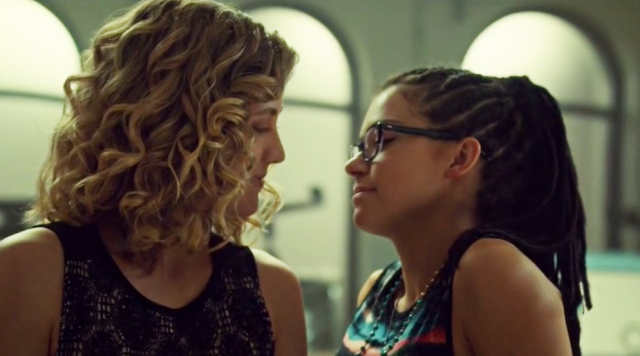 As the plot goes on, Delphine's loyalties become more ambiguous. She becomes an ally to Cosima, helping her attain and decipher secret information about the clones, as well as covering for Sarah (the main protagonist of the show) when she sneaks into the Dyad Institute dressed as Cosima. However, the show also puts up many question marks about her loyalty to Cosima and the clones. For example, she convinces Cosima to take a job at the (still hostile) Dyad Institute as a scientist. Later on, she brings a blood sample of Cosima to Leekie after promising her not to do so.
For the duration of the plot so far, Delphine's bisexuality is the premise for the moral tension that she causes, and a key to the danger that she poses to Cosima. Her choosing between Leekie and Cosima is one of the things that will determine the fate of Cosima's engagement with the Dyad Institute, for better or worse. This choice will also mark her as either an enemy to Cosima and the clones, or as an ally to them. The reason why we don't know whether we can trust her is that we don't know who she will choose.
While I want to acknowledge that this is a problematic depiction, I also don't want to be too hasty about throwing Delphine (or any bi femme fatale) away. As bi women, we mostly have to live on scraps, scavenging on leftovers from queer representation and innuendo. For this reason, explicitly bisexual characters are precious. And very often, can also give way to wonderful counter-readings, disregarding the original intention of the text and instead giving it an interpretation that's helpful for us.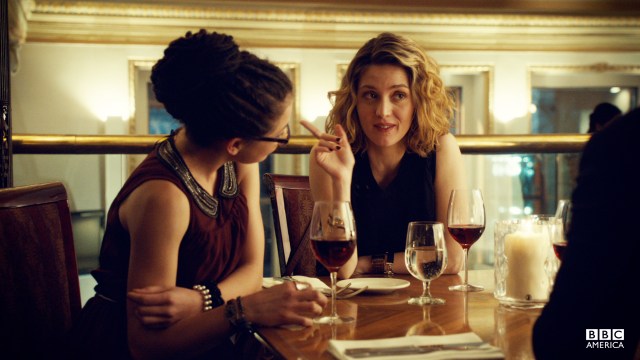 I like to think that bisexual femmes fatale represent the threat that bisexuality poses to clear cut boundaries, and to the hierarchies that these boundaries create. Significantly, their function in plots represents an anxiety from breaching the boundary between heterosexuality and homosexuality, and the hierarchy that follows with it. As dangerous women, they also represent a threat to patriarchy—they have the ability to choose, and their choice has the power to change reality for the other characters. At the very least, that makes them women with agency, a characteristic widely associated with dangerousness when it comes to fictional women. And since they can choose, the femmes fatale are as dangerous to men as they might be to women. In fact, in many plots we might find them posing danger to men (for example, as in Basic Instinct).
Though Delphine's bisexuality exists not in its own right, but as a (problematic) function in the plot, I'd still like us to appreciate her as an agent of chaos, a woman with power, and a destabilizer of boundaries. I hope that sometime in the future we wouldn't have to do with scraps and scavenging. For now, while we scrape and scavenge, we should be aware both of the problems with these depictions, and of what we can get from them.
---
In order to make sure that the comments section on this article is a healthy and welcoming place for our bisexual readers, please note that any comments that question the validity of bisexuality or sexual fluidity as a sexual orientation, question Autostraddle's decision to publish pieces discussing bisexuality, or make essentialist claims about bisexual people (ex. bisexuals are cheaters, bisexuals turn out to be gay) will be swiftly deleted.