I was going to start this article, like all articles on nice box wines these days, with some semi-apologetic run-down of how box wine has come a long way baby, and is not the sad crates of alcoholic capri-sun of yesteryear, but I mean, screw that.
Box wine doesn't need an apology. The wine world has finally wised up and started putting some really nice wines en boîte. The benefits of the box are profound and numerous. Whatever wine drinking situation you have going on, box wine has your back. Obviously its cheapness and lack of pretension make it perfect if wine is your go-to everyday drink, but since, unlike the treacherous bottle, it stays good for weeks or months; it's also great for the occasional wine drinker.
If you are going to a party and want to bring something nice but don't have any money, you can skip the store's eight-dollar-est bottle and instead make some box-wine sangria or mulled wine (depending on the season) and seem like a hero. The icing on the cake: boxes are also really environmentally friendly since they save a lot of packaging and shipping weight by wrapping four bottles in one light box. So no apologies, love the box and be happy!
That said, life is too short to drink shitty wine, so here's a list of seven wines that come in a box and are totally delicious.
What makes me qualified to advise you on wine? Well, I drink a lot of it, I read giant books on the subject, I once lived an hour from the French border, and I own several berets. So I'm pretty much a wine expert.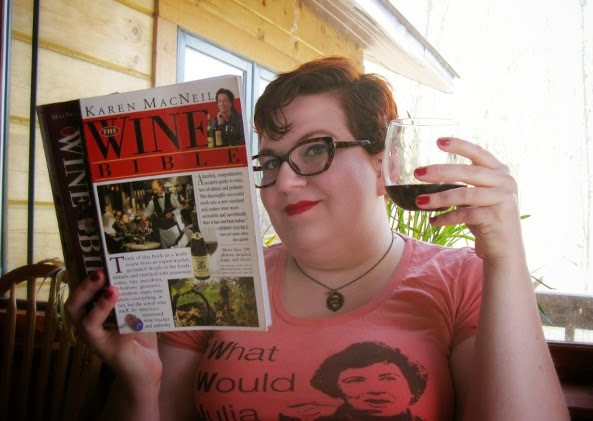 ---
The Reds
Black Box Malbec: Black Box was one of the first box wines to really turn serious oenophiles' heads, and they're still the gold standard IMO. They're a little more expensive than everyone else, but they go on sale all the time, even at the infamous State Stores of Pennsylvania. I think the list price is something like $25, but I've never paid more than $20. Black Box also sells little wine juice boxes (which tragically do not come with little straws) of all their varieties, so you can try everything and stock up on your favorite when they go on sale. The Malbec is great if you like reds that PUNCH YOU RIGHT IN THE FACE with flavor. It's fruit-forward (especially cherry) with a little bit of smoky-leathery-chocolatey-ness at the back end, medium-bodied and just a little bit tannic. More meal-time than drink in the tub, it's equally great with a rare steak or some rustic Italian fare.
Big House Cardinal Zin: I have this friend who buys all her wines based on how funny she thinks the name is. It sounds kooky, but it works out more often than it really seems like it should. In this case, in addition to the funny name and entertaining box illustrations, you get an easy-drinking wine that's medium-bodied with a good balance of acids and tannins. The flavor is jammy, packed with blackberry and cherry flavor, with a good amount of spice and a hint of vanilla. It's great with chocolate and since it already has some spice it makes a nice mulled wine come Christmas.
Big House is another company that makes reliable box wines. Their Cabernet and Unoaked Chardonnay are also top picks.
Bota Box RedVolution: Unlike the previous two brands, Bota Box is a little hit or miss. They have some really good wines and some that are just eh, so I definitely recommend getting a little wine juice box before committing to drinking 3 liters of the stuff (it's normal to have commitment issues about your wine, right?). Anyway, their newest type, Redvolution, is a great little red. It's light and just a little bit sweet, with a flavor that's fruity but definitely won't punch you in the face. It's balance and mildness make it the ideal cooking wine, but it's also easy drinking and pairs nicely with spicy Southwestern or Mexican dishes. Oh, and I consider myself an aficionado of unnecessary capitalization, but the RedVolution was a bit much, even for me.
Bully Hill Banty Red:
This wine is my personal sponsor of
those
days. It's not a technically correct wine at all, but quaffable in the extreme. It's got a sweetness and grapey-ness that pulls off just shy of Manischewitz territory, making those traits assets rather than downfalls. This wine is just enjoyable. That's all it's about, and there's something beautiful about that. Drink it in the bath while singing along to [redacted because the internet doesn't need to know that much about me]. Be warned though, it's so easy drinking that before you know it you've had a bit much and
texted something really unfortunate to your ex
.
---
 The Whites
Badger Mountain Pure White: Remember how I said box wine is environmentally friendly? Well, Badger Mountain upped that game by using only organic wines. At about $20 for a 3 liter box, it's certainly the cheapest organic wine out there, by a mile, so it's nice that it actually tastes good. Pure White is a blend of about half sweet Washington Riesling and a few other light, dry wines (Chenin Blanc, Semillon, etc). Overall they create a nice balanced white that displays some genuine fancy-ass terroir, with flavours of apple, pear, and peach that remind me of summer fruit stands from my days in Tacoma.
Trader Joe's Block White: Like you would expect from the people that brought you Two-Buck Chuck, this is both the cheapest box on the list at $10, and excellent. It's an Australian Chardonnay (although it took me awhile to suss that out from the word collage on the box), lighter and crisper than is typical for a chardonnay, more citrus and apple than oak and butterscotch. Its delicate flavor and clean finish make it easy to drink and allow it to go with pretty much everything, but it's at it's best complimenting rich, creamy dishes like salmon cream cheese omelettes, white pizza, or Tollhouse cookies. I understand the Block Red is nice too, but my TJ's never seems to have it in stock so I haven't had a chance to try it.
Target's Wine Cube Sauvignon Blanc: I'm kind of annoyed by the whole cube thing because it takes up more space in my fridge than other wine box configurations (the most space-saving is the skinny rectangular prism employed by Bota Box and TJ's), but I put up with it for this wine. It's basically just what a sauvignon blanc should be: bright, crisp, slightly grassy, and a bit lemony. It's my go-to white cooking wine, but it's also the perfect summer drinking-on-the-porch wine.
---
Sangria
After all this talk of sangria I suppose I can't let you go without a recipe.
You'll need:
1/2 box/ 1.5 liters of red wine, something fruity and not too tannic like the Banty Red or RedVolution
2 Oranges (plus more for garnish if desired)
1 each: lemon, lime, green apple
1/4 cup sugar (optional)
1 bottle Reed's Ginger Beer, or 1 inch piece of ginger and 12 oz. cups of club soda
1. Slice up all your citrus (and ginger if using), leaving the peel on. Roughly chop apple, and place everything in a large pitcher (about 2 qt/ltr). Add sugar, if using.
2. Pour on the wine, stir a little, and leave to soak for 12-24 hours.
3. Pull out as many of the apple pieces as you can before mentally saying "fuck it," and reserve for garnish.
4. Take a potato masher or big wooden spoon and mash up all the fruity bits into the wine. Now, if you want to have a really fancy presentation, place a large strainer over a second pitcher and pour the sangria into it, squeezing out all the wine and juice from the fruit now trapped in the strainer. If you aren't feeling so fancy, just skip it. No one's going to care by the second glass.
5. Pour in the ginger beer (or club soda), and stir.
6. Serve immediately, over a bit of ice, with some more sliced oranges and reserved apple as a garnish. All you would need to adjust in order to double the recipe is an extra pitcher (or an enormous pitcher, either way), otherwise just double everything across the board.
7. To make white sangria, follow the same process, but replace the oranges with tangerines, leave out the lemon and lime, put in a peeled cut up peach and a dozen hulled, halved strawberries. Replace the ginger beer with cheap champagne (Trader Joe's and Target have some decent ones), and garnish with sliced strawberries and whole blueberries.
Spring seems to have finally come to the East Coast (just in time for summer!) so I don't even want to think about mulled wine or anything vaguely associated with cold weather. Why don't you file away this great recipe from Jamie Oliver for darker days. I leave you with the wise words of Hannah Hart: