Being that I often make drinks and share them with you, queermos, it may not surprise you to learn that I have a bar in my apartment.
This is my bar:
I would like to tell you I built it myself, but I very much did not. It's this bar right here and I needed one other queermo to help me put it together.
Now I know what you're thinking, I can feel it through my screen — stocking a bar in your home is a pricey hobby. Here are all the reasons I find it to be a good idea anyway:
It's actually a cost effective option, if you think about it! Going out to bar in my area means at least one drink priced anywhere from $8-$15, depending on what I order and where. If I purchase a bottle of tequila, that's two and a half of the expensive drinks out at a bar. Plus many bars aren't my scene — I'm more of a Speakeasy kinda gal, and that means the drinks are always on the pricier side. I just like to speak easy, ya know? Which brings me to my next point —
Entertaining becomes more entertaining. Abby and I love having our friends over for dinner, and being able to mix fun drinks makes that even more fun. You can create the kind of environment you wish you had going out — quiet enough to talk, fancier drinks at a low price, specialized theme menus (we just did a "brunch at night" dinner party. Next up, we think, is vegetarian taco party). And by the way —
Having a bar makes me feel like an adult, even if much of the time I question whether or not I am. I'm super serious. And I don't actually think it has to do with a bar or alcohol: I think it's the ability to host guests with a personal flair. I imagine it's the same kind of feeling as having a tea box with, like, options (a thing I do not have) or always having an air mattress ready in case your friends need you (something I do have!). So I definitely don't equate booze with adulthood, but I do equate taking care of your friends in your house/creating a home environment that you love with adulthood. I'm also in that weird in-between-place where I'm an adult and I do adult things and have an adult career and a girlfriend and bills and cats, but I still look around sometimes and think "where is my adult supervision? Who is giving me permission to do [whatever it is that I'm doing]?" Which brings me to my final point about why having a home bar is awesome—
Mixing drinks makes me feel like I'm studying at Potions at Hogwarts. Except without the threat of death by dark wizards. I get to discover new flavor combinations and search for pre-prohibition favorites to play with. And that's a ton of fun!
So without further ado, I give you the Autostraddle-generated guide to stocking your fabulous home bar. And it will be fabulous because it's yours.
---
The Basic Bar
Here's what you need to get started and make the popular classics.
Equipment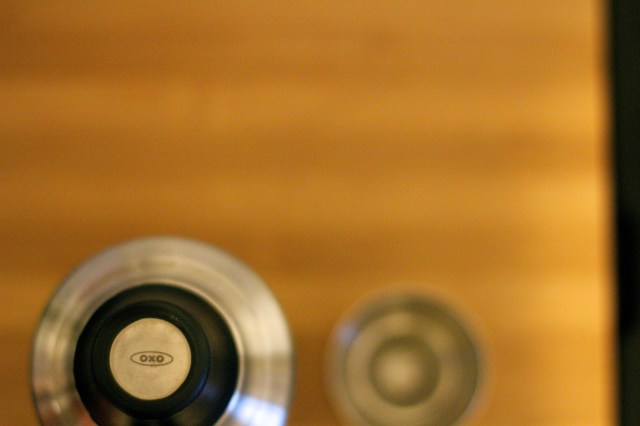 A Shaker
One shakes drinks when they contain fruit juice, cream and eggs because it introduces little bubbles and makes things light and airy. Never shake carbonated things, that would be bad/messy. Shakers come in three varieties: a Boston, Cobbler and Parisian. A Boston shaker is two pieces consisting of a large metal tumbler and a smaller, separate vessel made out of either glass or metal that you bang into the top. A Cobbler shaker is a tumbler with a cap and built in strainer. A Parisian shaker is the nifty hybrid of those two, minus the strainer. My very favorite type is the Boston Shaker, but you may recall that I broke mine (by shooting my pint glass across my kitchen by accident while trying to put a silicone bumper on it; learn from my mistakes and use metal) so I currently have only a Cobbler (less versatile, still gets the job done).
A Jigger
Ah, one of the most important parts. Always measure everything when you're making a drink. And to do that, you'll need a jigger. A jigger is actually the name of a measurement: 1.5 oz. So the piece of equipment that shares its name has a 1.5 oz barrel on one side (also with measurements for 3/4 oz. and 1/3 oz.) and a 1 oz. barrel on the other (also with measurements for 1/2 oz. and 1/4 oz.). Once again, I recommend OXO because it's got this nifty rubber bit in the middle, so even if my hands are all over water I don't risk dropping it and making a mess.
A Strainer
I don't use the strainer in my Cobbler shaker because I find that it sucks — the holes are too big and stuff gets through, especially if any bits of ice have chipped off during shaking. I instead use the strainer that I used when I was mixing with my beloved Boston shaker — a Hawthorne strainer. I purchased two of them so I could mix two kinds of drinks without switching, and both of them are from OXO. Highly recommend.
A Muddler
This is a three dollar piece of equipment used to pound the crap out of ingredients, mostly fruit, so they release flavor/juices. It doesn't really matter what the hell you get, as long as it feels good in your hand. Mine is wood because it lends to the wizard feel.
A Bar Spoon
It is just a long spoon. Again, it doesn't really matter what you get as long as it feels good in your hand. Mine has some heft to it so I can get a good rhythm going.
A Juicing Contraption
Fresh juice is always better. Juicing with a juicer is always better.
A Mixing Glass
This is the glass used for stirred drinks. Mostly you stir drinks when they're made out of entirely liquor, or liquor and a dash of lime juice sometimes. If you're gonna skip something, skip purchasing the mixing glass and use the pint glass from your Boston shaker instead. If you want to get fancy, though, there's no shortage of options.
Something To Make Ice Cubes
I have these neato burrito silicone ice trays that make nifty perfectly square ice cubes. Mostly I hate them — they're hard to use and if I'm just looking to shake a damn drink, the fact that they are perfectly square doesn't make one tiny bit of difference. But then sometimes I love them — large ice cubes are good for actually putting into finished drinks, as they melt slower. And perfectly square ice cubes just look cool. Your normal ice trays will be fine for this, though, and preferable if you're using a lot of ice. Learn from my mistakes: have normal ice trays.
Knives
Probably you already have knives because probably you have a kitchen.
Peeler
For garnishing, also probably in your kitchen.
Liquor
There are a million recommendations for the liquors that "absolutely have to have to stock your home bar." As you can imagine, I don't really subscribe to that theory: You Do You applies to your home bar, too. When you're making your liquor selections, I recommend you think about what kind of drinks you're likely to make — are you big on gin but tequila makes your clothes come off? Is bourbon your preferred whiskey over rye almost every time? If it is, I don't understand you and you're wrong. Naw, just kidding. The point is, it's your bar. I will also say that my favorite "this is what you have to have" kinda thing is the Kitchn's Nine-Bottle Bar, and I don't even agree with all of it.
Whiskey
We at Autostraddle love whiskey. We have a whole kitten dedicated to where the whiskey comes from. So we are going to start with whiskey. Here is my recommendation when it comes to whiskey — get one bourbon and one rye. You can now make approximately 50% of everything. My current bourbon has a bit of personality (New Holland Beer Barrel Bourbon, I also have Rebel Yell for when I need less weirdness), and my current rye is sort of the classic (Rittenhouse, also out of stock in my bar because I AM A BAD LIQUOR COLUMNIST). The real point is, don't mix with the good stuff. The good stuff is for sipping. Go for something on the mid-shelf.
If you have whiskey in your bar, try these recipes: The Bloody Valentine, Hot Toddies, Irish Coffee (if you stock Irish Whiskey), and homemade eggnog (click to find out why you'll want to do it right now). If you want to do some music listening, you should also try a Dark And Stormy expertly paired by Jeanie.
Gin
We are a gin household. Many people think gin tastes like Christmas, but I think it tastes like Spring. So there. Most recommend a London Dry gin, like the Broker's which also comes with a wee bowler hat on it. We've got Knickerbocker and Farmer's. Now that you have whiskey and gin, congrats! You can make, like, 75% of all things.
If you've got some gin, try all four of these kitten-approved gin and tonic recipes, the Wimbledon and the Hatterday #2. French 75 Popsicles are also a thing you will probably want to make, along with an actual French 75.
Vodka
To be honest, guys, I'm not a vodka drinker. But some people are, so to accommodate my Russia-inclined friends, I have a bottle of Absolut tucked away in the freezer. Because I so rarely use it, I am ashamed to say that I did not spring for the good stuff. See, it's my firm belief that mixing with vodka doesn't really require much artistry. And for the expensive, nuanced vodkas — well, those nuances don't really hold up when you mix it. So don't get spendy on the vodka. However, I will say that rather than spend money on Absolut (which is fine, whatever) like I did back when I didn't know any better, go for the Tito's. It is completely counter-intuitive that good mixing vodka would come from Austin, Texas. But it's officially the smoothest vodka I've ever mixed with, goes great in sangria, highly recommend would drink again.
If you've got some vodka lying about, take a look at Bloody Marys, Skittle-Infused Vodka and Silk Panties.
Tequila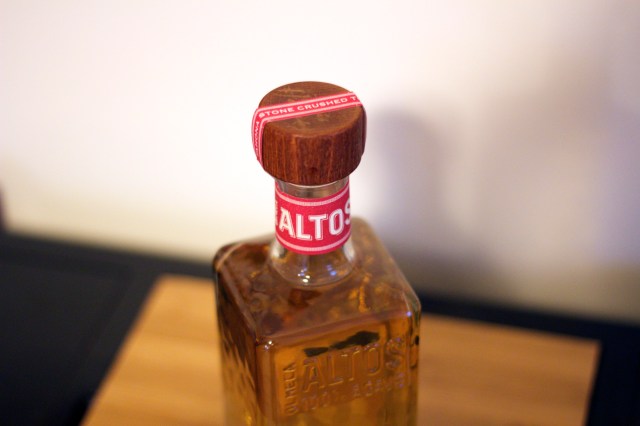 Tequila makes my clothes fall off, so I don't drink it that often. But summer is coming and margaritas are A Thing and if I regulate myself, I don't think I will go Emperor-Nudie-Pants too quickly. The biggest thing to remember about tequila is that you want 100% agave. Tequila comes in three varieties — silver, reposado and añejo (not really for mixing, añejo, it's a bit overbearing). That has to do with how long they're aged for, silver being the youngest and añejo being the oldest. If you're going to stock only one, go right down the middle and get a reposado. I will also tell you that I know absolutely nothing about the tequila that I currently have in my bar, Olmeca Altos (it's a reposado because I took my own advice). I tell you this because I want to also impart a little bit of advice — don't be afraid to step outside your comfort zone a little and try new liquors. Do this with the guidance of your friendly liquor store owner/operator. Because my tequila knowledge is limited by exactly how much clothing I have to shed, I asked the friendly liquor store owner about it after the bottle caught my eye (what!? It's a pretty bottle, don't judge me!). He said he first sampled it last November and put three bottles on the shelves. It was gone in three days, which is pretty significant since I don't live in a large town at the moment.
If you're in the mood to get naked with tequila, check out the Café Royale. Oh goodness, have I not made a Margarita with y'all yet? My stars, we'll have to do that.
Rum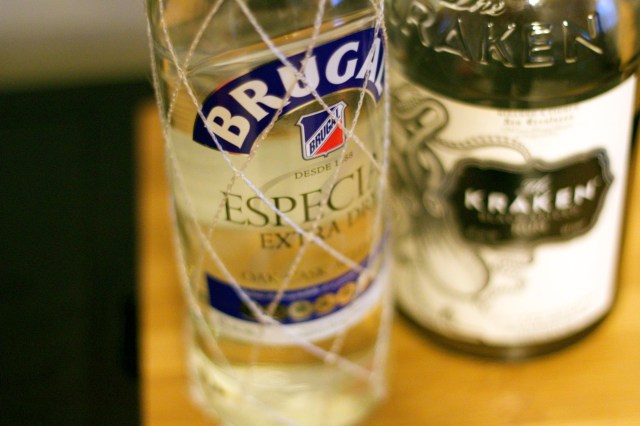 It makes you feel like a pirate. Rum comes in sort of two general categories, light and all other rums. If you're gonna stock only one, go with light. I went with Brugal. If you're gonna stock something other than light rum, Sweet Lesbian Jesus, the Kraken. It is so delicious, but not super versatile. Still, I recommend stocking one light rum and one "personality" rum like that (we'll talk about adding personality to your bar later, in the Level Up section).
These are the rum posts we've done so far: Infused Rum, Flaming Doctor Pepper, The Warmest Drink, and Homemade Eggnog.
Brandy
Yeah, this is one of those "don't get good brandy" kinda things. Get mid-shelf brandy, something you really wouldn't drink out of a snifter by itself. I have a few different kinds — Korbel, EJ, Hennessy. I don't know why I have so much brandy? It keeps getting sort of adopted when friends and family don't know what to do with it and they give it to me. My brandy, in short, reproduces.
The only recipe we've done so far with brandy that I can find is mulled wine, so it looks like I'll have to make you a Sidecar in the near future.
Vermouth
Get one bottle of sweet (or rouge, they're both the same damn thing) and one bottle of dry. Congratulations, you can now make a spectrum of martinis among many other things. Vermouth is perishable, though not the in the sense that it goes bad, just in the sense that it loses its flavor. Keep it in the fridge after opening, don't let it get to be more than a month and half old after you've opened it.
If you're looking to use up that vermouth, try the Fizzing Whizzbee featured in the gin and tonic post. And also like six million other drinks.
Cointreau
You guys, it's used in a lot and it's a lot of fun. It's also a bit pricey ($40 by me). But it's an orange liqueur and it's used in margaritas, which you'll probs want come summer. If you don't get Cointreau, Curacao is another option but they taste a bit different. Grand Marnier is a third, cognac based option. Whatever you do, don't get $13 off-brand Tripel Sec as a replacement. It will wreck your ish.
Bitters
In my opinion, you need only three bottles of bitters — Angostura, Peychauds and Orange. Now I've only got two of these right now (Angostura and Orange) because my Peychauds got misplaced at an A-Camp and I haven't gotten around to replacing it yet, and I've been doing just fine. So do with that information what you will. Angostura bitters are available pretty much everywhere and there's really only one kind. Orange bitters, though — there are many options for that. I'm liking Fee Brothers at the moment.
Mixers
I recommend only stocking two or three things. The two definites: sugar, for making simple syrup, and tonic water. A commenter pointed out that I'm not using the best tonic water here, and yes, I know, it really hurts my heart. But try as I might, I haven't found anything local to me that's better and whenever I'm out at tonic water, I tend to just pick it up at the grocery store rather than planning ahead and ordering online. One not definite is club soda, but mostly because I prefer to tonic things. If you're going to stock club soda, the plain generic grocery store brand is more than enough. If you're an "and coke" kinda human, maybe do that too. I just really hate pop so I don't stock it.
You could stop here, and that would be a great bar setup that would make you the envy of your friends and lovers. But if you're ready to level up past this, let's keep going.
Pages: 1 2See entire article on one page