Originally I was going to write a review for Blue Is The Warmest Color, but after the really intense response to our giveaway post I emailed Laneia. "How about," I said, "I make this here graphic novel a book club." Because obviously, all of y'all really want to read this. And I do too. And thus it was decided. We're reading Blue Is The Warmest Color.
Blue Is the Warmest Color, by Julie Maroh, was originally conceived when Maroh was 15 (according to this author talk right here) and published en français in March 2010. Its title, Le bleu est une couleur chaude, was  re-worked in English translation to Blue Angel. But it's back as Blue is the Warmest Color after the film adaption (winner of the Cannes Palme d'Or and reviewed here on Autostraddle) used that title. This book chronicles the life of Clementine, an adolescent with a lot of sexuality questions, as she meets Emma, a bright blue-haired queer woman who answers some of those questions and brings up even more. A coming of age story, a love story and – well – a couple other stories mixed in there, too.
So here's the deal with the Autostraddle Book Club: let's all take one month to buy the book and read it. Because it's a graphic novel, actually getting through it doesn't take a ton of time. BUT! Because it's a graphic novel, there's twice the content to discuss in December: we need to talk story and art.
And! Because I'm the one doing the book club and I also write one of the liquor-related columns, I have a bit of an added element. Queermos, I present to you:
Liquor In The Book Club: The Warmest Drink
Sipping cocktails and reading are two of my favorite things, and I love doing them together. So I invented a drink to reflect my experience reading this book. I'm not going to tell you exactly why – that's one of my discussion questions for a month from now – but I am going to give you the recipe so you can enjoy sipping on this while metaphorically rolling around in this wonderful art.
The Warmest Drink has two components – the drink itself, and a Vanilla-Rum whipped cream. You should start with the whipped cream. It's an adaption of Mom's Whipped Cream (originally posted here). Just to warn you, this whipped cream is legitimately my greatest accomplishment to date. So.
Ingredients for Mom's Whipped Cream, Vanilla-Rum Style:
+ 1 cup heavy cream
+ 1 tablespoon sugar
+ 1 teaspoon vanilla
+ 1 teaspoon dark spiced rum (I'm using The Kraken)
Directions for the whipped cream:
In a medium or large mixing bowl, combine the cream, sugar, vanilla and rum. And do be aware – you don't have to be one hundred percent exact on the rum. I overspilled a little, which was a really solid decision. Grab an electric mixer unless you want your arm to turn into a spaghetti noodle and whip the mixture until peaks form. Cover your brand new Vanilla-Rum Whipped Cream and stick it in the fridge. Lick the sprongy things on the mixer and move onto the drink part of The Warmest Drink.
Ingredients For the Warmest Drink:
+ 1/2 cup sugar
+ 1/4 cup cocoa
+ 1 dash of salt
+ 1/3 cup hot water
+ 4 cups milk (I'm using 2%)
+ 3/4 teaspoon vanilla extract
+ 1 oz dark spiced rum per person drinking (again, using The Kraken because it is a perfect spiced rum)
+ 1 dash Bitterman's Hellfire bitters (that's Habanero Shrub, y'all)
+ ground nutmeg to garnish
 Directions for The Warmest Drink:
If you're keeping score, you'll notice I got the Hot Chocolate recipe from the side of the Hershey's Cocoa box. It's called Favorite Hot Chocolate, but I'm about to make it more favorite by adding rum and hellfire.
Combine the cocoa, sugar and salt in a sauce pan.
If you're wondering what a dash of salt looks like in my recipes, this is that dash of salt.
Add the 1/3 cup of water and stir until there are no more clumps. Then chuck that mixture on the stove, medium heat. Bring it to a boil, then stir at a boil for about two minutes.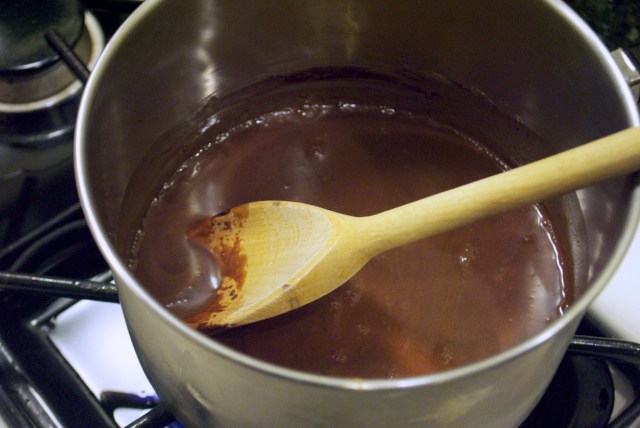 Then add the milk. Reduce the heat a bit because you want to make the hot chocolate hot, but you really don't want to boil it. Because then the milk will be all scalded and it will taste weird. You're also going to want to reduce the heat a bit because you're going to want to step away and prepare the alcohol part of this drink.
In your desired serving mugs (we're using smaller mugs because I like boozey drinks) use your jigger to measure out 1 oz of Kraken into each.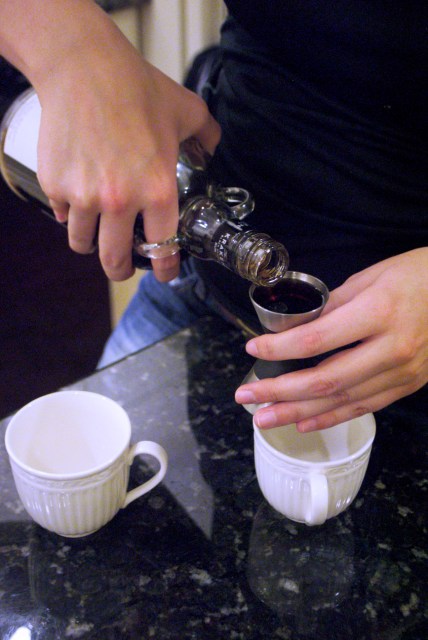 Then grab your Bittermans. I love Bittermans because each bottle comes with a dropper. Now a dash of Hellfire is about a quarter-full dropper or 15 drops from said dropper. It looks like this –
When your hot chocolate is hot enough, remove it from the heat and add the 3/4 teaspoon vanilla to the pot. Top your rum-and-hellfire-filled mugs with hot chocolate. Grab your bar spoon and stir everything together. Remember that whipped cream from the fridge? Put a nice big dollop on top of your Warmest Drink. Garnish with a sprinkle of nutmeg.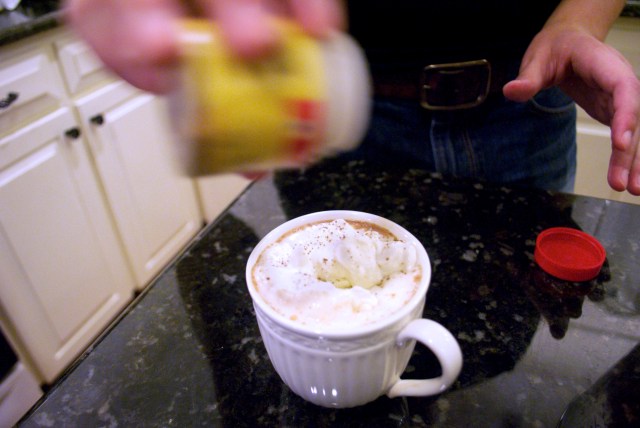 Options for this drink: when you're making your hot chocolate, throw two cinnamon sticks in the bottom of the pot. Or! Add a cinnamon stick to the garnish.
Drink, read and be merry! And remember, don't drink so much of this that you can't form cohesive opinions regarding Blue Is The Warmest Color by Julie Maroh! Grab your copy in French or in English and let's get cracking.