Welcome to Dear Queer Diary, a column about the joys (and occasionally, the pains) of journaling. We'll be cracking open our tiny notebooks and breaking out the rainbow-colored pens on the regular, so get ready to limber up your writing hands and document all your beautiful feelings!
Header by Rory Midhani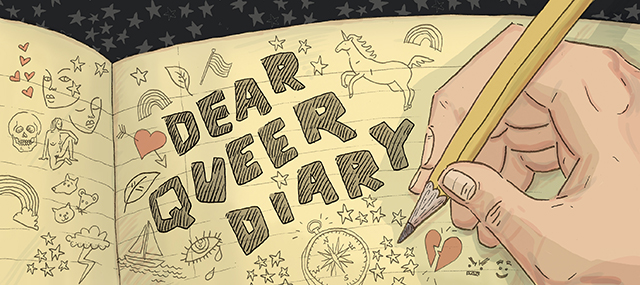 Sometimes your journal is like a poltergeist.
It doesn't wake you up in the middle of the night with disturbing thumps, of course, or drive your family members insane by leaving mysterious marks on the walls of your decrepit manor house, or even sing humiliating songs to you when you are accused of paralyzing members of the Hogwarts student body. What it does do is much more disturbing, irritating—and, I daresay, pernicious.
It just sits. In my case, it sits on my bedside table, quietly gathering dust and making me feel like I am about as worthless as the used tissues that have also (somehow) collected next to my lamp and my phone charger.
"Why haven't you written in me, Maggie? Do you see this increasingly thick layer of dust that has collected on my formerly attractive black cover? Aren't you supposed to be some kind of journal-writing big shot?"
As an (aspiring?) writer, I am almost constantly wracked with guilt about how I am not writing. And a dusty journal doesn't make me feel any better.
This is not to say that guilt is always bad.
I once lived with a published poet who used to wake up early on Saturday mornings to drink espresso, listen to classical music, and compose sonnets. And aside from making me want to vomit all over his artistically coffee-stained Moleskine, the guilt I felt when faced with this gentleman's persistent did motivate me to write more than I probably would have otherwise. Yet most of the time, PoetMan and his annoyingly scribbled-in notebooks just made me feel crappy.
Journaling should not make you feel crappy.
In fact, I am here to tell you that journaling should never, ever (ever!) make you guilty or sad or stressed-out. Journaling should make you feel calm and happy and filled with wonder at the beauties of the world.
You know your super-clingy ex-girlfriend who sent you 94 texts in a row whenever she knew you were within twenty miles of your previous love interest and then complained when you didn't respond immediately? Your journal is not like that. Your journal is like your really chill friend from high school who you meet for boba tea whenever you're both back in whatever-city-you-grew-up-in but is totally happy to be ignored for 11.89 months out of the year because it just means you'll have better stories for her when you see each other.
As much as I love journaling, there are years (yes, years!) when I have cracked the cover of a notebook three times, and while, sure, I would love to be able to look back on a more thorough recounting of that time, it's probably just as well that I was off spending way too many hours in college theaters and eating naan. Because as much as I love journaling about life, it should not (as Stephen Chbosky has kindly reminded us) get in the way of participating in life.
In reality, my dear queer diarists, your journal is not a poltergeist.
Your journal doesn't mind waiting while you fall in love or get a new job or go to Alaska. Your journal just hopes you will come back some day with a nice postcard to paste onto one of its pages or a paycheck you can use to buy nicer pens or a girlfriend to whom you can read all the now-adorable/formerly-pathetic things you wrote about how you just wished you had someone to cuddle with while you watched Downton Abbey.
Your journal is patient.
Your journal wants you to make realistic goals for yourself—like writing an entry every Thursday, when you know you are going to have an extra hour after work and before your lesbian needlepoint circle.
Your journal wants you to accept that you aren't going to write a novel every day. It wants you to accept that you're not even going to write a word everyday. Then, it wants you to be happy when you get a few minutes to jot something down, rather than worrying that you haven't written in too long, or you didn't write enough, or you aren't as smart as that girl from your college writing seminar who was just published in The New Yorker for the second time.
It's tempting to listen to your guilt, my dear queer diarists. Try listening to your journal. I will be trying too.