In a semi-regular segment entitled Liquor In The ______ that can't be too regular because I'm probably drinking right now, I'm going to write to you about all the different ways you can liquor. I recognize that it's weird, especially for those of you who have actually had a drink with me, because I am what the frat boys would call a "two-beer queer" (what I would call a "no-beer queer," as I'm gay all the live long day). But I get drunk very easily, is the point. Still, I really really like beer, wine and liquor and want to share that love for the artistry of alcohol with you all, my favorite queers. Let's lift a pint to alcohol and our Autostraddle community– they go together like wine and soft cheese.
Header by Rosa Middleton
---
Irish Coffee is basically all my favorite things: Irish Whiskey, whipped cream and, of course, coffee. I drink 2-3 cups of coffee per day and can think of nothing better than adding alcohol to it.
The thing about Irish Coffee is that it's only as good as your base ingredients, so even though I'm lazy in the morning and use my Keurig, I went ahead and used the French press and some freshly ground coffee beans for this cocktail. I also emailed my mother and got the recipe she uses for homemade whipped cream (the kind that goes on top of my father's chocolate cream pie). See, I have this thing about my cocktails. Yes, my machine-made Keurig and commerical whipped cream are good for the everyday, but if I'm going to be enough of a lush to make myself this gorgeous, delicious cocktail, I am not going to make it the fast food of cocktails. I'm going to use solid ingredients because it is going to taste so fucking good. You can use whatever coffee and whipped cream recipe you'd like, but I'm going to offer up my recipes for all the components, not just the cocktail itself. Besides, my mom's whipped cream is awesome (and also probably similar to all of y'all's parents' whipped cream, as there are only so many ways to make whipped cream). I did some sweet, sweet modifications on the recipe used by the owner/mixologist at Little Branch, published in Speakeasy Cocktails.
Supplies
1 1/2 ounce jigger (you guys…I caved and bought myself the jigger I listed in the team gift guide) A muddling spoon
Glasses (the kind made for hot drinks)
mixing bowl
French press
whisk
measuring cup (1 cup)
Measuring spoons (teaspoon and tablespoon)
kitchen timer
Ingredients
Mom's Homemade Whipped Cream
1 cup heavy cream
1 tablespoon sugar
1 teaspoon vanilla
Coffee
2 tablespoons freshly ground coffee beans per person
6 oz boiling water per person
The Cocktail Itself
1 1/2 oz Irish Whiskey per person (I used Bushmills)
2 brown sugar cubes per person
Directions
Start with the whipped cream. Combine the sugar, vanilla, and cream in your metal mixing bowl. If you want a nice, quick whipped cream, use a hand mixer like my mother suggests. Or you could be like me and not own a hand mixer, so you take turns whisking the shit out of the cream with your girlfriend. Beat it until peaks form. According to my mother, the trick is knowing when to stop. Whisk too long and you'll make butter, and butter does not go well with Irish Coffee. I even whisked a little too short because I don't want fluffy clouds of whipped cream, but rather a thick, almost-foam for the top of my cocktail. Put the whole mixing bowl in the fridge and move on.
Now move on to the coffee. Boil the 6 oz. of water per person. Take it off the heat and let it sit for 30 seconds to let it cool off. Scoop your ground coffee into the French press, pour the water over it and set a timer for four minutes. After a minute, stir the crust that forms on the top into the water. Put the lid on, then when the timer goes off, plunge the French press.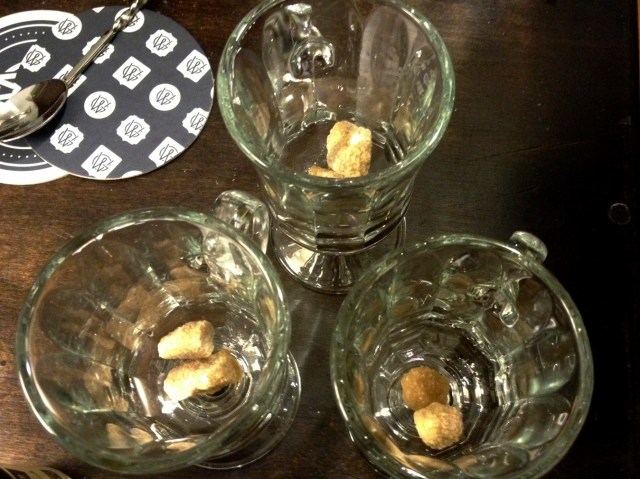 Now for the boozey part. Put two brown sugar cubes into each glass and fill half-way with coffee. Break up the sugar cubes with the flat end of your muddling spoon Use your jigger to measure an ounce and a half of whiskey into each glass. Fill the rest of the cup with coffee.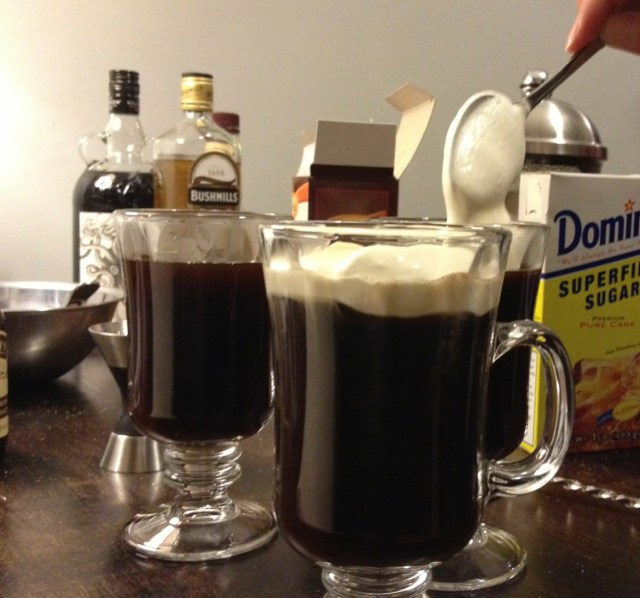 Grab your whipped cream from the fridge. Using a spoon, drizzle the cream onto the top of the drink, trying your damndest not to break the surface of the coffee. Serve to your family/friends/roommates/harem of girls and enjoy! Happy Winter!