This Tuesday marked the seventh day that Chief Theresa Spence of Attawapiskat First Nations has been on a hunger strike. She has spent the past week drinking only water (once in the morning and again in the evening) and staying in two teepees, one on Parliament Hill and another on Victoria Island. Canada has a reputation of being a fair and pleasant place to live. When people, including Canadians, think about Canada, it's usually along the lines of "Sure, it gets real cold in the winter, but overall, what a wonderful place full of kind people who say 'sorry' a lot, full of equality and devoid of the kind of racism that exists in the United States."
I've talked to many people who, under the "Canada is nothing but wonderful" delusion, think things are getting better for First Nations. These people need a reality check: things are only getting worse, which is why Theresa Spence, and other Indigenous people across the country, have gone so far as to deny themselves food until things get better or someone listens.
On December 14th, the Harper government passed Bill C-45, effectively cancelling treaty rights that have been around for over a hundred years. What this means is that if a company wants to, say, build a pipeline through an Indigenous community, the people whose community the pipeline disrupts, whose well-being will be most affected should anything go wrong, don't get to have much of a say. Historically, corporations and the government have had to consult Indigenous groups before engaging in activities that could potentially affect them. Of course, this "duty to consult" has often been ignored, but now, thanks to the passing of Bill C-45, ignoring it is perfectly legal! This is confusing to me because treaty rights are written into the Canadian constitution, and I didn't know the constitution could just be waved away to suit Harper's colonialist agenda, which is to silence Indigenous people so that companies can do their thing and build pipelines, expand tar sands, and cause cancer without contestation from the people they're most affecting, the people who were in this country first.
In a press release from the Confederacy of Treaty No. 6 First Nations, Grand Chief Craig Makinaw stated,
"Harper's government is not acting in good faith and is acting in a way that brings dishonour to the Crown. The Confederacy of Treaty No. 6 First Nations Chiefs call on the the Government of Canada to bring back the honour of Crown to the process and fulfill the legal duty to consult First Nations prior to any legislation or enactment which would impact on First Nations Treaty, Inherent and Aboriginal rights."
A new movement, recently named Idle No More, has been drawing attention to the unjust, abusive relationship between Indigenous people and the Canadian government. Idle No More is affiliated not only with Chief Theresa Spence's hunger strike, but with Bill C-45 protests across the country, in cities including Vancouver, Winnipeg, Saskatoon, Toronto, and here in Edmonton. Last Monday, thousands of people gathered in Edmonton's Churchill Square, and it's not often that thousands of people gather in Edmonton in wintertime. As a protester told my brother, "I'm risking frostbite, but this is important."

The Idle No More manifesto states,
"The Treaties are nation to nation agreements between Canada and First Nations who are sovereign nations. The Treaties are agreements that cannot be altered or broken by one side of the two Nations. The spirit and intent of the Treaty agreements meant that First Nations peoples would share the land, but retain their inherent rights to lands and resources. Instead, First Nations have experienced a history of colonization which has resulted in outstanding land claims, lack of resources and unequal funding for services such as education and housing."
But that's only a small fraction of the manifesto. I suggest you go to Idle No More and read the whole thing, because Indigenous rights are important.
Yet even with this importance, there hasn't been enough mainstream media coverage of the devastating effects of Bill C-45 or of the protests. As a Canadian, I feel ashamed and embarrassed by the institutionalised racism of my government and media, yet I'm not surprised, and I'm sure Chief Theresa Spence, as she fasts on Parliament Hill, isn't either.
Last year it took her declaring a state of emergency on Attawapiskat First Nation reserve for people to start paying attention to the injustices happening in the Northern James Bay, Ontario community, where people were living in dire housing conditions because the infrastructure on reserves is not a priority for the Canadian government. In freezing November temperatures, 2,000 people were living in mouldy shelters and wood frame tents, some without proper insulation or plumbing. What's scary is that third-world living conditions on reserves isn't the exception; increasingly, it's becoming the norm.
Charlie Angus, the NDP member of parliament who represents the area said, "This whole crisis was a real moment for Canadians. It was a moment that Canadians were shocked, first of all, that these conditions exist, and it's not just Attawapiskat."
Indeed, Angus criticized the Conservative and former Liberal government for its handling of infrastructure crises on reserves: "We've had perhaps 13 states of emergency over the last eight years in three communities I represent. Most have to do with collapsing infrastructure," he said.
"(The government) never once said, 'We need to make a medium and long-term plan for these communities, we need to deal with the infrastructure crisis.'"
People living in mouldy homes with no running water or insulation – this is what racism in Canada looks like; but it doesn't end there. Racism in Canada is also violence against Indigenous women. Amnesty International reports that if you're an Indigenous Woman in Canada, you're five times more likely to be murdered. As I explained the last time I wrote about the disastrous effects of another Harper Omnibus bill, there are far too many missing and murdered Indigenous women, and nothing much is being done about it. On the contrary, as things for Indigenous people in this country get worse, Indigenous women are being made even more vulnerable, with government funding cuts to the First Nations Statistical Institute, the Native Women's Association of Canada, and the National Aboriginal Health Organization. For some of the racist stereotypes on Indigenous women, watch the Sh*t Canadians Say to Aboriginal Women video.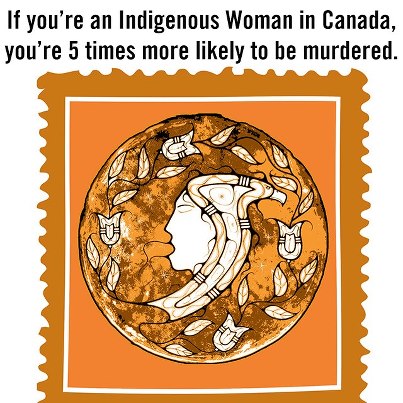 Blogger âpihtawikosisân, who has written what I think are some of the best articles on Bill C-45 and the many injustices facing her people, says that negative stereotypes about Indignous women, and Indigenous people as a whole, are part of what's allowing the Harper government and mainstream media to ignore Chief Theresa Spence's hunger strike, even though she's right there in front of them on Parliament Hill. The government and the media can be as silent or as sparse in their reporting as they want, but people are still going to find out about the blatant colonialist racism towards the Indigenous people of this country. Chief Theresa Spence is not going on this hunger strike for nothing; there is a movement behind her — people are marching and blogging and tweeting and fighting. Canadians are waking up to the injustices and are increasingly becoming Idle No More. I'd like to end by quoting âpihtawikosisân writing about why Idle No More is so important:
"We are dying.

No one should expect us to stay quiet or polite about this. We have done what has been asked, we have played along to the constantly changing rules. It hasn't worked. It hasn't saved us. Idle No More is about saving ourselves.

We will continue to talk, and meet, and submit hundreds of thousands of reports each year…but we will also rise. We are rising. You will find that you have many issues in common with us, as Aaron pointed out. This is not us against you. This is hopefully all of us. Together.

Let's move past chats in cafés, okay?"