Welcome to Underwear Week, a whole week dedicated to your favorite bum-hugging clothesthings. As we said many moons ago, we feel a lady is at her best when she's not wearing pants. And while our last adventure around this neck of the woods took us only as far as boyshorts, this time around we're exploring the vast and many-flavored land of underwear. From edible panties to hoopskirts and history, we've got you covered. Just like your underwear. 

---
Let me tell you a secret: vodka-based drinks are the easiest. You can legit do anything with vodka because it has little to no taste, unless you get something specialty. This vodka drink is especially easy because there's not much fancy about it, but it looks really lovely which means you look v. fancy without having to put in a crap ton of effort. Today, we're making Silk Panties. This falls into the fruity category of drink and tastes more like juice than liquor. It's not art. It's not complex. It's juice. But sometimes that's what you need is some boozey, boozey juice. And it has panties in the name, which is great because underwear week/may be relevant to your interests. Panties panties panties. Let's make a vodka drink.
 Silk Panties
Ingredients:
+1 1/2 oz vodka (I'm using Absolut).
+1/2 oz peach schnapps (I'm using DeKuyper, but you can use anything without the number 99 in the name).
+1 oz cranberry juice (not the sugary stuff, not cranberry juice cocktail. Straight up, boring cranberry juice).
+a jigger to measure all this with (please measure! Measure with pleasure!).
+a cocktail shaker (I will be using a Boston Shaker).
+a Hawthorne strainer.
+ice cubes.
+a martini glass.
+a peach (we're gonna slice it for garnish).
+toothpicks (to make the peach look nice in the glass. Get some that are a bit on the long side).
Instructions:
Start by chilling your martini glass with ice (it's the little things).
I'm also going to take a brief interlude here to tell you that the person photographing this drink-making-panty-extravaganza is my mother (I am visiting my family for the day). There's nothing like discussing the kinds of photos you want out of this while saying "Panties" over and over again to your mom. And having her saying it, completely straight faced, right back at you. Panties.
Add your vodka, peach schnapps and cranberry juice to the metal tin of your Boston shaker. Add a healthy helping of ice (about halfway up the tin). Don't go too high on the ice because the pint glass portion of the shaker needs to fit comfortably.
Here's the tricky part. Put the mixing glass into the tin at a tiny bit of an angle and whack it to create a seal. Then shake your panties. Keep one hand on each half of the Boston shaker to prevent accidents. I find it works best shaking vigorously over your shoulder.
Empty the ice from the martini glass and strain the drink into the glass. By the way, you could serve this in other glasses, but given the drink's nature as something that looks like it belongs in Sex and the City, I thought the martini glass was especially appropriate. Half of what's cool about making drinks is creating an atmosphere and experience; the glassware is part of that experience. Plus I find that it's really easy to smell the peach when you raise the glass to your lips if the glass is wide at the top. Plus plus martini glasses are easy to garnish (maybe because they're just kinda pretty on their own). Guys, I'm drunk off this Panty Juice.
Slice your peach and skewer it with a toothpick at a diagonal. This will make it stand nicely.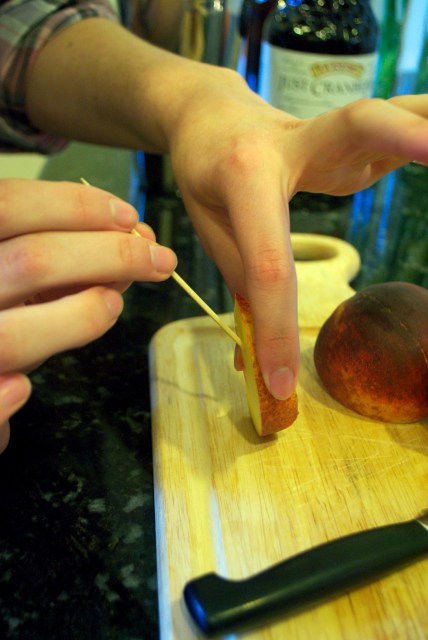 Pop it in the drink and serve. And be careful – this is a really juicy drink, so it won't really feel like you're drinking alcohol. Please sip wisely. Cheers! Panties! Panties for all!