Hello! Did I ever think I'd be writing an article about alcohol for the internet? No! But that's exactly what happened after I shared a picture of my rainbow jars with my cabin mates (Runagayhearts!!!) from A-Camp 4.0 on Facebook. BTW, Vanessa can be very convincing, who can say no to her?!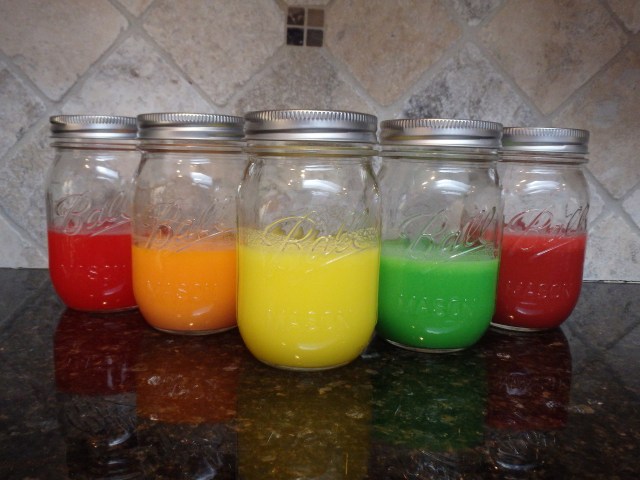 Let me tell you how I got this idea. It started with me going out the night before Halloween in search of a last minute pumpkin to carve. Turns out that's not the best plan because everywhere I went was sold out. I also had to go to the grocery store to pick up some extra candy because I ate most of ours ahead of time. (It's also not the best plan to buy Halloween candy two weeks early). As soon as I saw the big bags of Skittles, I thought about infusing it with vodka. I've heard of people doing it before but I never had. However, I've done the vodka gummy bear thing before and those are delicious. So, I got some more Halloween candy and the big bags of Skittles. I knew I already had vodka because I had just bought a bottle the previous week, but unfortunately I'm not hipster enough to have mason jars laying around, so I went to the hardware store to pick those up.
Here's What You Will Need:
• Skittles and Vodka* (about 10 Skittles per ounce of vodka)
*You will lose some vodka during the filtration process so plan accordingly
• Bowls or plates or a big table so you can separate all the colors
• Something to filter out the waxy stuff (Coffee filters, French press, Aeropress, etc.)
• A funnel, if you take the coffee filter route
• A mason jar or something with a lid for each flavor you want to make
• Another jar or small pitcher to use when filtering
• Newspaper or old table cloth so that you don't ruin your table (things get sticky)
• A freezer to chill the final product
• Sprite or ginger ale as a mixer, if you don't want to drink it straight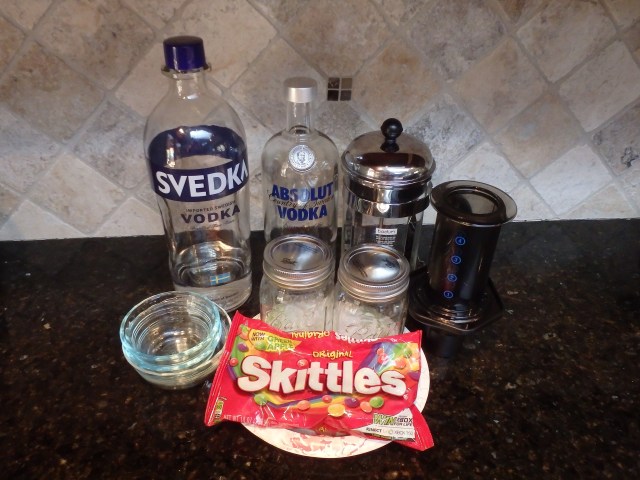 Instructions:
1. Start by separating the Skittles by color.
2. Add the Skittles to the mason jars, one color per jar.
3. Add the vodka to the jar. Put the lid on and shake. You will see that the alcohol melts the color coating right off the candy and you will have a beautiful rainbow display.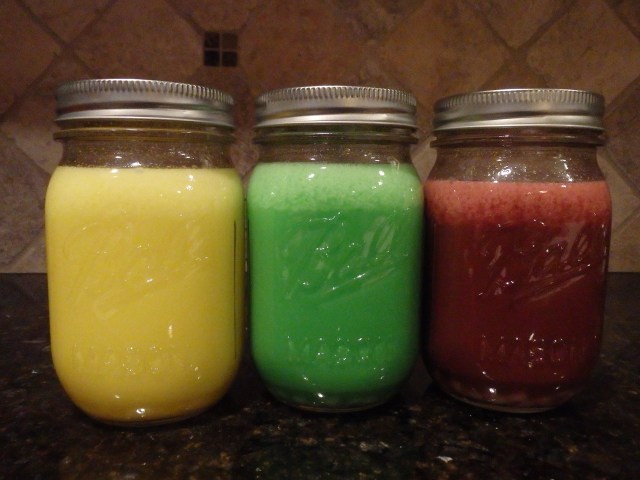 4. Now, you just have to let them sit for 24 hours or so. Shake them occasionally so everything gets well mixed. While you wait for the magic to happen you could go to where the "magic happens." Relax, I just went to bed and woke up the next morning and shook the jars before going to work because I'm boring, but you can do whatever you want with those hours. It would be a great time to marathon everything saved on your DVR or finally watch the Lord of the Rings series because you've never seen it and people have a hard time believing it (I know, I know, I'm halfway through the second one, okay… they're just really long movies, guys). Anyway, You Do You!
5. Okay, time's up! Here's where the fun/slightly annoying part comes in. You will notice that there is a layer of waxy stuff on top. Most of the Skittles should have dissolved, but you could still have some stuck on the bottom. That is the inside of a Skittle, the part you usually eat, but we will be getting rid of it during the filtration process.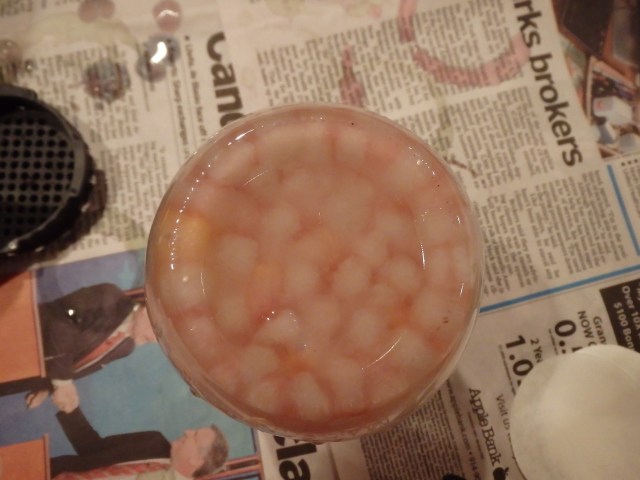 6. Get your Aeropress or whatever you decided to use as a filter and an empty jar/container. Assemble the Aeropress and put the empty jar underneath. Pour the Skittle-infused vodka into the press a little bit at a time so you don't make a mess and press it through. Change the filter whenever you notice a buildup of Skittle residue. Heads up: it will be often. (I don't have the steel filter for the Aeropress, but if you do, use that first and then switch to the paper filters. It will work much better and save you some time.)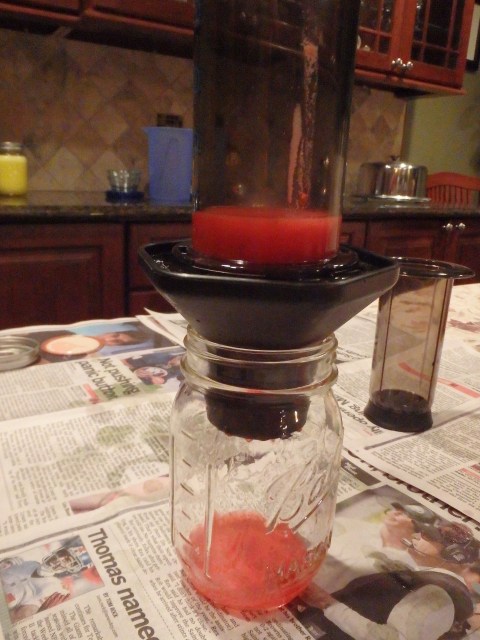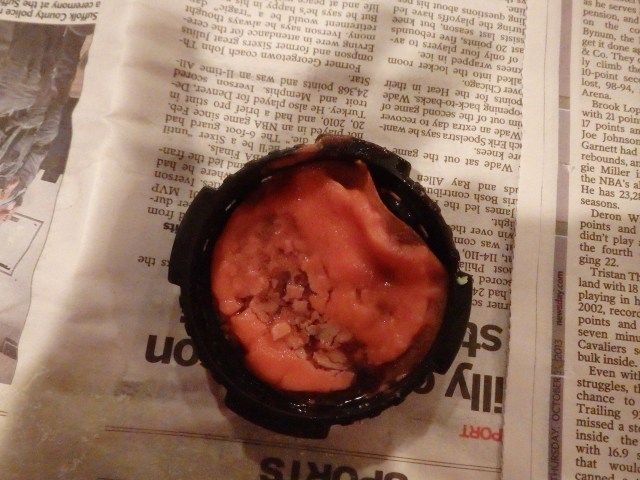 7. It's super important to clean everything after each filtration so you reduce the amount of wax that makes it into your drink and also because it can get very sticky and you don't want to contaminate the different colors/flavors.
8. Repeat this process as many times as needed until you are satisfied with the result. You are (trying) to achieve a wax-free liquid. It will take some time, but be patient; you get to drink Skittle flavored vodka at the end. It's also not the end of the world if you drink some of that stuff, since you would normally eat it if you were having Skittles in their solid form, so it's fine. It's mostly an aesthetic thing because people are less inclined to drink something with particles floating around in it.
9. If you are a bit of a perfectionist, like me, you can use the French press on your final filtration to get rid of any residue left behind. I didn't use the French press to start with because I thought the filter would be too fine, but it might have been perfect, I don't know. If you used a French press from the get go, tell me how well it worked in the comments section; I'd really love to know for future attempts!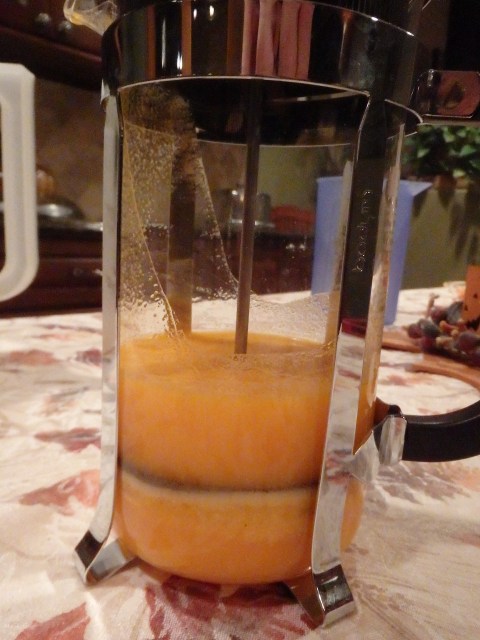 10. Congratulations, you are finished! Now, you could just drink it right away, but it will be at room temperature and drinks are always better when chilled in my opinion. You could mix it with an ice cold Sprite or Ginger Ale to do the trick. I recommend putting the jars in the freezer until you're ready to drink.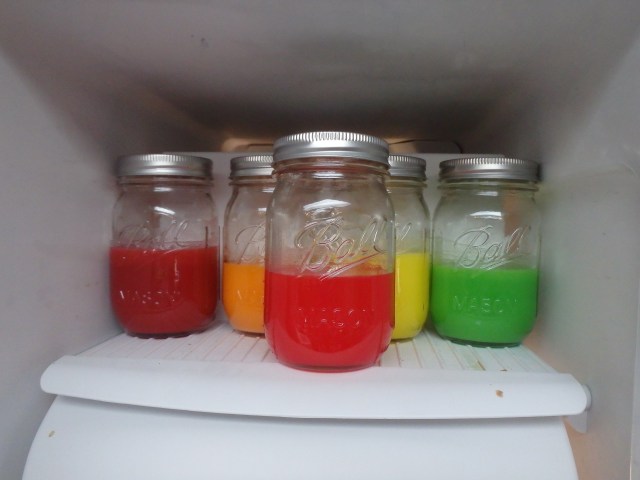 11. Pour a shot for you and your friends and there you have it, Skittle-Infused Vodka. CHEERS! Taste the Rainbow…Responsibly!
NOTE: Sugary drinks like this might give you a bad hangover, you've been warned. Hydrate!
---
Rachel is a soft spoken Long Islander and a proud member of the Runagayhearts family.  She has a super chill cat and a gigantic dog.  Sunrises, brunch, and sequential date (number) patterns are a few of her favorite things and she will never not do a crossword puzzle in pen.