In a semi-regular segment entitled Liquor In The ______ that can't be too regular because I'm probably drinking right now, I'm going to write to you about all the different ways you can liquor. I recognize that it's weird, especially for those of you who have actually had a drink with me, because I am what the frat boys would call a "two-beer queer" (what I would call a "no-beer queer," as I'm gay all the live long day). But I get drunk very easily, is the point. Still, I really really like beer, wine and liquor and want to share that love for the artistry of alcohol with you all, my favorite queers. Let's lift a pint to alcohol and our Autostraddle community– they go together like wine and soft cheese.
Header by Rosa Middleton
---
This morning, I woke up with a sore throat due to a veritable plague that's been going around work. Three mugs of tea, still no sign of my voice. I feared it had gone for good, packed its bags and fled to Rio. So, figuring it couldn't possibly get any worse, I poured some bourbon in my tea and lo, a hot toddy and lubricated vocal chords (I can't even type the word lubricated without giggling, that's how awesome these hot toddies are).
I got this brilliant idea because I thought hot toddies were originally used for medicinal purposes. Turns out they weren't: they were co-opted for "curing the common cold" (they don't, but we can pretend) in 19th century medical journals. Hot toddies come in two major varieties: without tea (traditional) and with tea (not traditional, but tasty). There is also another major category of with lemon or without lemon. One thing is for certain: you need hot water, sugar (I'm using rough cut demerara sugar cubes), and liquor. Bourbon, Rum and Whiskey are the most common choices, but I even found a recipe for a Tequila Toddy. Basically if it's liquor, you can probably make it into a hot toddy. For today's post, I'm making two toddies: one traditional, non-tea toddy and one medicinal, Ali's Cure For The Lost Voice Toddy.
A Traditional Hot Toddy
You will need:
1 pot
1/2 cup water
2 Demerara sugar cubes
1 1/2 oz Bourbon
a jigger to measure with (please always measure the liquor)
3 slices of lemon, one will be for garnish
2 cinnamon sticks, one to garnish
mugs or another variation on heat-resistant glasses
a muddling spoon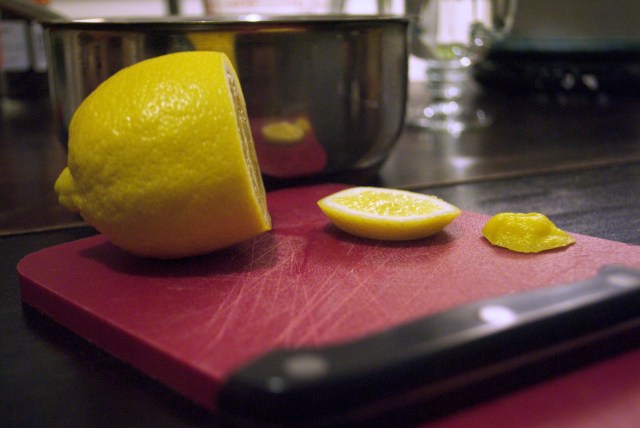 Warm your glasses/mugs by filling them with warm water first (it's the little things). Boil the water and two lemon slices together. Throw a cinnamon stick in thar. When that business is close to boiling, toss the warm water out of your mug and toss, in its stead, the two sugar cubes and the 1 1/2 oz. of brandy.
Pour the hot water over the sugar and brandy and use the back of your muddling spoon to break up the sugar. Then stir until the sugar dissolves. Garnish with a lemon slice (floating on the surface of the toddy) and a cinnamon stick.
Ali's Cure for the Lost Voice Toddy
(This may or may not actually help with a lost voice — I am not a doctor, but it made me feel better.)
This recipe is based on this one over at the Kitchn for adult Bourbon cough syrup and this one for a tea toddy.
Chamomile tea (loose or bag, your preference)
a pot
1/2 cup water (we will be boiling this)
a large pinch of cloves
3 lemon slices, one for garnish
tea strainer
1 teaspoon honey
1 1/2 oz Bourbon
mugs or heat-resistant glasses
stirring spoon
Warm your glass with warm water (this is a trick my dad taught me and it has never failed me, that's why I keep typing it over and over). Boil the water with a large pinch of cloves and two of the lemon slices. When the water is boiling, turn the heat off and put the tea bags in. While that's steeping, toss the water out of your mug/glass and coat the bottom of the glass with the teaspoon of honey. Throw the bourbon in on top of it.
Pour the tea mixture through a strainer right over top of the bourbon/honey and give it a quick stir to make sure everything is mixed up well. Garnish with one slice of lemon.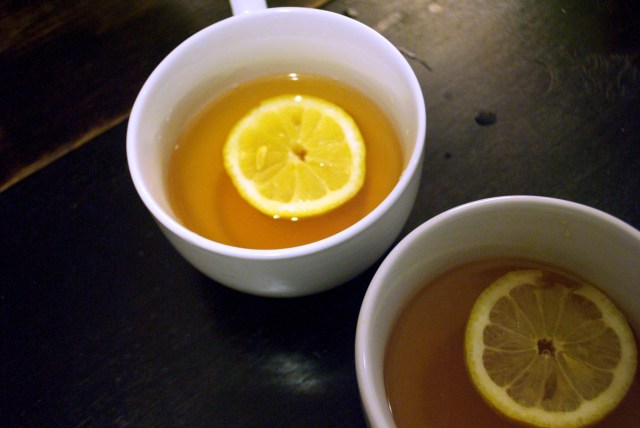 I will close with this thought: The traditional toddy wins for taste, the sore-throat toddy wins for making my throat feel better. Cheers!