Welcome to the another installment of Make A Thing, where we make handmade gifts for people. Or ourselves. Who doesn't need something special in their life? Join in on the DIY fun and avoid the unnecessary consumerism of the world (and I promise you'll save a few dollars while you're at it).
Header by Rory Midhani
---
It's Christmas! If you're reading this post on Christmas and even the day after, rest assured that I am getting appropriately inebriated in the company of my relatives. If you're also this brand of holiday person, perhaps you're drinking something great. I'll be drinking my brother's Christmas present: infused rum!
Let me tell you, this stuff turned out delicious and it was easy to turn into a gift. Here's how I did it.
Infused Rum
Supplies needed: White rum, an orange, two vanilla beans, two cinnamon sticks, jars, patience, funnel, coffee filters
Level of difficulty: You could probably make this while extremely intoxicated.
1. Clean out all of your jars.

2. Prepare your infusions. Peel the orange skin and split the vanilla bean, scraping out the beans. Toss everything in separate jars. I got crazy and added a little vanilla to the orange, but do whatever your tastes will allow. I found infusion inspiration from this website, which also has a lot of vodka infusions if you're a vodka person.
3. Fill the jars up with your rum, then screw the lid on tight. Give it a good shake, then store it in a dark, cool place. I recommend the linen or medicine cabinet, right next to the children's Advil and generic flu relief medicine, personally.
4. The infusions have to sit for 3-4 days, but I accidentally left them for a fifth day and they were still great. Each day, take out your jars and give them a good shake.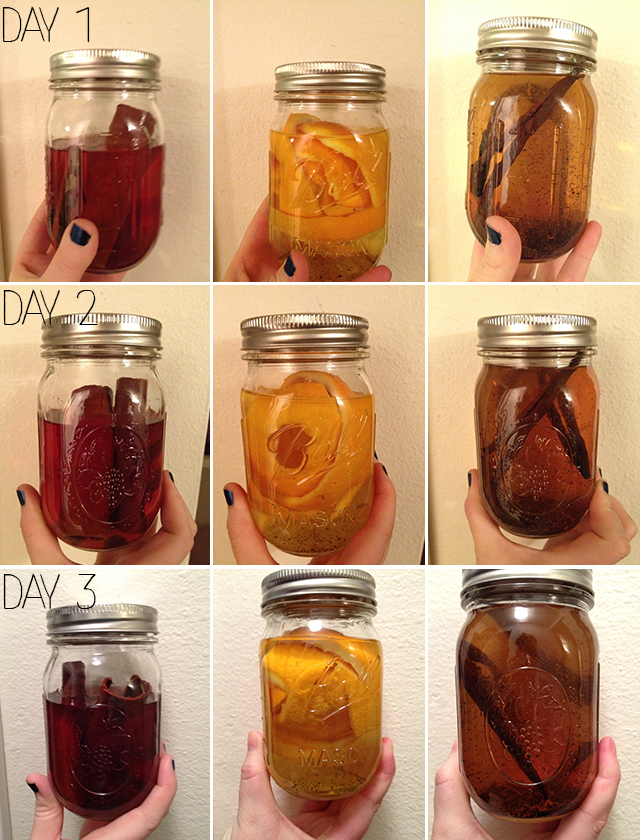 5. When your infusions are done, give them a little taste. They should be pretty tasty!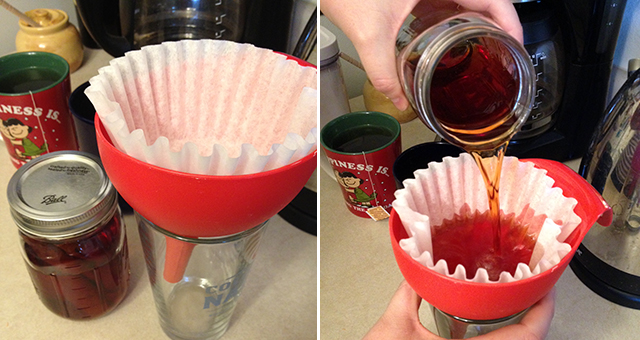 6. Now you're going to filter the rum. Place a coffee filter inside of a funnel and pour the rum into a glass. For the vanilla infusion, I strained it twice because it was still a bit murky. Then we just poured them back in the jars. I also left some of my vanilla beans inside the jar because they tasted incredible.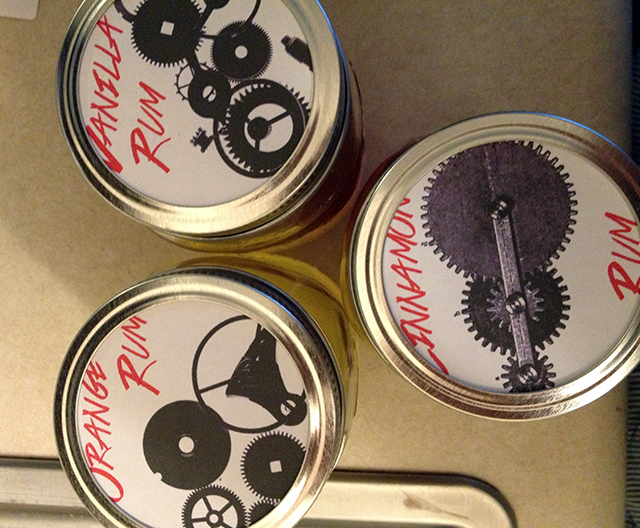 7. My lady friend designed some lids for the jars to match the glasses I stencilled for Broseidon and then they were done! Easy as that. No one would be sad to get this for a gift, I'll tell you that.
Enjoy!
---